Digitalization is the hot topic in field of HR at the moment. The search for talent and the upskilling of employees is taking up an ever increasing amount of time. HR departments are looking for new ways to automate routine tasks and thus gain more freedom for strategic HR tasks. Employee self-service, which can be used to digitalize communication between employees and HR departments, is playing an increasingly decisive role in this.
Are you planning on introducing employee self-service into your company? Are you currently in the process of selecting employee self-service systems such as SAP ESS? Then you've come to the right place. In this blog post, we introduce you to the most important functions and benefits of employee self-service for companies, HR departments, and employees.
What Does Employee Self-Service Mean?
Employee self-service, usually abbreviated to ESS, refers to digital applications that employees and managers can use to independently perform and handle numerous standard HR processes. These include managing personal data, triggering approval processes as well as routine HR tasks such as logging working hours and reporting sick days.
Definition: Employee self-service enables employees and managers to use digital self-service applications to maintain personal information, initiate approval processes, and manage development plans.
In the past, companies handled their personnel processes on paper or via email. Today, HR organizations have web-based and mobile solutions available, with IT applications such as SAP ESS that can digitalize a significant portion of routine tasks. This both relieves HR departments and helps to cut costs. At the same time, younger generations of employees, who grew up in a digitally connected world, especially appreciate the possibilities that self-management affords.
Younger generations of employees, who grew up in a digitally connected world, especially appreciate the possibilities that self-management affords.
HR departments that manage their processes on the basis of SAP can extend their SAP ERP system with the self-service module SAP ESS. With SAP MSS (manager self-service), managers have access to an application that provides a consolidated view of all areas of responsibility and management tasks, such as the management of targets and support measures. This way, SAP ESS/MSS extends the standard SAP with self-service functions that support HR departments in digitalizing their tasks and workflows.
With employee and manager self-service to HR 4.0
How to successfully develop your human resources in digitization. With employee and manager self-service to HR 4.0. ESS and MSS Are an Important Building Block for HR Digitalization and for the Human Resources of the Future.
What Are the Features of an ESS Solution?
Since their inception, ESS applications such as SAP employee self-service have evolved step by step. Initially, the focus was on communication between the HR department and employees and the management of personal data. Today, ESS solutions also cover more complex HR functions such as training, career planning, and the management of personal goals.
In the following, we categorize and describe the most important ESS functions that every modern SAP HR application should be able to provide.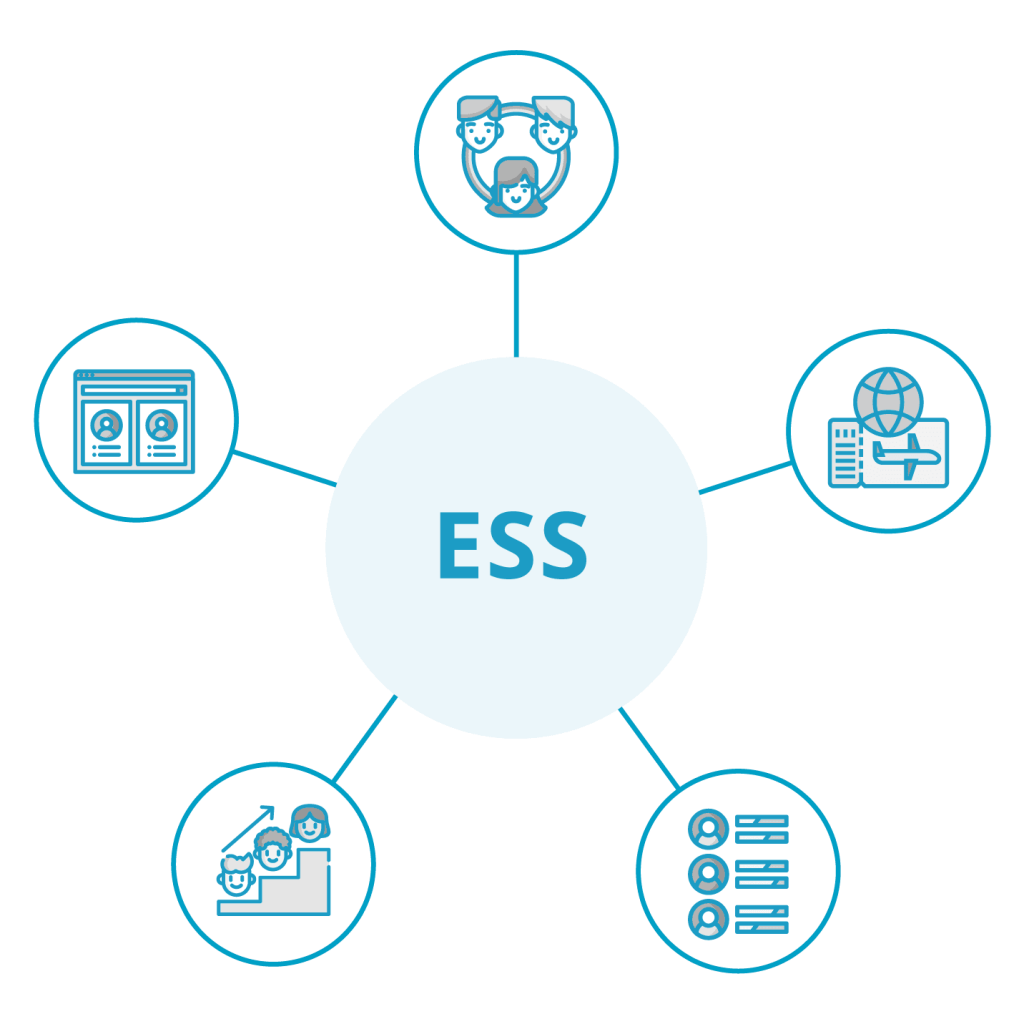 Acquisition, maintenance and updating of employee information
Maintenance of contact information and addresses
Updating bank details
Updating data after events such as marriage or the birth of a child
Logging working hours and absences
Documentation of working hours
Monitoring of working hours by supervisors
Filing of payroll accounts
Preparation of applications for business trips and vacation periods
Preparation and submission of vacation requests
Indication of remaining days of vacation
Creation and modification of travel requests
Preparation and processing of travel expense reports
Approval of travel and vacation requests by superiors
Management of development measures
Documentation of the employee appraisal process
Monitoring the attainment of objectives
Creation of a development plan
Registration for training courses
Proposals for development goals by line managers
Advice and information concerning the company as a whole
Company telephone directory
Overview of current vacancies
Information on company agreements
Information about company events
General information on training and qualifications
Employee surveys and evaluations
What Are the Advantages of ESS Solutions?
On the one hand, ESS solutions give your employees increased autonomy in the handling of HR-related matters. On the other hand, self-management relieves your HR department of time-consuming routine tasks.
We have summarized the most important advantages of employee self-service for you.
Faster path to the digital HR department: A web-based user interface gives employees easy access to basic HR functions – an essential step towards digitalizing your HR department.
Mobile access on the go: Scalable ESS applications can be conveniently installed on smartphones and tablets. This enables your employees and executives to enjoy easy access to HR functions on business trips or from home.
Increased processing speed: The self-management of key HR functions eliminates intermediate steps and waiting times, for example when processing applications. This speeds up your HR processes as a whole.
Around-the-clock availability: Digital access via self-service decouples the availability of HR functions from office hours and time zones. All important processes can be accessed at any time and from anywhere.
Greater efficiency and lower costs: Self-service conserves the resources of your HR department by relieving HR employees of administrative tasks. This makes all processes more efficient and reduces processing costs.
Fewer media disruptions, fewer sources of error: Integrated ESS applications process HR data within a single system. You can bid farewell to inefficiently exporting data and processing it in Excel or Word. This significantly reduces the number of media disruptions and possible sources of error.
Greater autonomy and transparency: Delegating the input and maintenance of personal information strengthens the autonomy of your employees. They play an active role in the process and gain a better understanding of all procedures.
Which Companies Are ESS Solutions Suitable For?
In principle, ESS solutions are suitable for companies of all industries and sizes. Each individual employee that assumes more personal responsibility for maintaining their personal data and independently using HR functions leads to a noticeable reduction in the workload of your HR department.
Studies have shown that the efficiency benefits of employee self-service are particularly impressive in organizations with at least 500 to 1,000 employees. The desired economies of scale through the digitalization and automation of HR processes are particularly effective when a company has reached a certain size.
However, the market for enterprise self-service is developing at a rapid pace. ESS functions based on sophisticated solutions such as SAP HCM and SAP SuccessFactors tend to be aimed at medium-sized and larger companies. At the same time, many smaller software providers are working on cloud-based SaaS solutions, so that HR software with integrated ESS functions is now available for almost any size of company.
What Should Companies Consider When Choosing an ESS Solution?
When selecting your ESS solutions, you should keep in mind a few basic aspects which we have summarized for you below.
Integration into existing system landscape: ESS solutions are a functional extension of your existing HR application. For example, if you use SAP, employee self-service is a solution that integrates seamlessly with your existing SAP system landscape.
Mobile applications: With more than five billion smartphones in use, the mobile use of your business applications is of huge importance. Choose an ESS solution that is convenient to use on smartphones and tablets. Your sales representatives and frequent travelers will be especially grateful.
Adaptable rights management: In times of flexible employment models ranging from project-based engagements to permanent positions, your ESS solution should be just as flexible. Ensure the system offers the ability to customize ESS access rights.
Intuitive user interface: The success of your ESS solution depends on its acceptance by your employees. Choose a solution that is easy to use. Complex training courses and user manuals are a thing of the past.