Did you know that 80% of customers would choose to leave a brand if they had an unsatisfactory customer experience? This reality, which was uncovered by the management consulting firm Bain, is why creating positive customer experiences is becoming increasingly crucial for companies. Having high-quality products and services with lots of great features is no longer sufficient to stand out from the competition. Instead, companies can create real added value by staging experiences.
In this blog post, you will learn what experiences are, how experience management works and the vital role that data plays in this regard. We also give you four tips on how to properly collect and use data to optimize your experiences.
In a nutshell, experiences refer to all the impressions and insights that a stakeholder gains when interacting with a brand or company. However, don't think of stakeholders as just customers; employees, applicants, suppliers and partners are also important interest groups that need to be taken into account. After all, every experience influences the levels of satisfaction and loyalty to a brand.
But where do experiences originate? They are based on the expectations that are automatically formed in each of us. If they are fulfilled or even exceeded, we have a positive experience. By contrast, disappointing experiences have a negative effect and can put pressure on the relationship in the long run. Knowing the expectations of your stakeholders in advance can help you to deliver a better experience. It's crucial to understand that expectations tend to increase as time goes on and will continue to evolve ever more rapidly. To be able to better react to these changes, successful businesses rely on experience management.
Experience management was first described in the Harvard Business Review in 1998. The theory behind it is to use data to measure stakeholders' experiences in real time with the aim of improving them.
This measurement results in the experience gap, i.e. the difference between what a stakeholder expects and what they experience in their communication, interaction and transactions with a company. This gap has a direct impact on the intensity and consistency of the stakeholder/brand relationship.
The goal of experience management is to close this gap by becoming familiar with the interests and preferences of stakeholders and taking them into account on an ongoing basis. In turn, this can become a decisive competitive advantage.
There are two types of data that are relevant to capturing and optimizing the experiences that you as a brand offer your stakeholders: O-data and X-data. We explain what they mean here.
Operational data is primarily quantitative data that arises in day-to-day business and is mainly related to the past. This includes master data (e.g. customer data, material data), transaction data (e.g. sales, storage) and inventory data (e.g. stock and cash balance).
This type of data is absolutely necessary for proper management, as it is relevant  for a large number of operational planning, control and decision-making processes. However, it cannot provide information about the personal ideas, opinions, expectations and perceptions of stakeholders. That is where X-data comes into play.
Experience or emotional data helps you to understand how stakeholders perceive your company. It gives you insights into the experiences and attitudes of your customers, employees, suppliers and partners, e.g. with regard to the relevance of a trend or new service. A survey about how businesses use X-data revealed that only 39% of companies even collect this data. Of these, more than a third don't use the X-data. That's certainly wasted potential.
The same survey also revealed that only around 42% of the companies that collect both types of data link them together. It is only by combining these two types of data that you can generate actionable, and therefore valuable, insights.
Once you know what your stakeholders expect based on your X-data, you can use your O-data to meet that need while maintaining the best possible cost-benefit ratio. In addition, you can verify whether your company's activities meet the expectations of stakeholders and achieve the desired results.
Let's look at an example from the recruiting department. Using O-data, you can determine whether the response rate to a job post meets the target figures. X-data can then be used to check whether this performance meets the expectations of your applicants or whether it exceeds or falls short of them.
In cooperation with KPMG, EASY SOFTWARE has implemented its first projects with an XO app that visualizes experience data in sales and procurement processes, for example, and provides immediate suggestions for process optimization. This solution is based on the EASY ApiOmat Multi-Experience Platform. In addition to the digitalization of processes, the platform enables you to capture experiences in real time and in the right context. Find out more here.
You probably already suspect that it's not sufficient to send one survey a year to your customers or employees in order to conduct effective experience management. We will show you how to collect and use X-data and O-data correctly.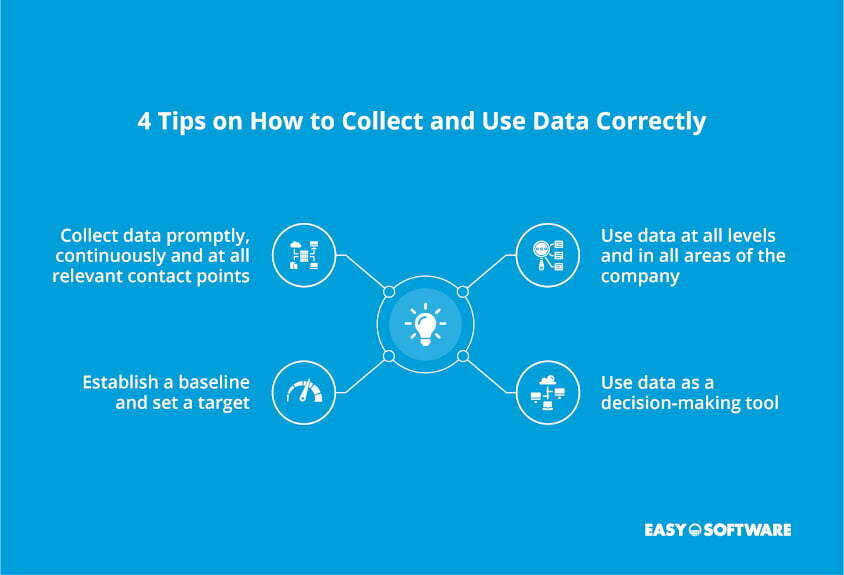 In order for your stakeholders to give constructive feedback, their experience should be as fresh in their minds as possible. For this reason, the point at which you collect data should be close to the actual experience.
Since expectations are volatile, continuously collecting data is paramount. The more recent the data, the more valid its significance. Especially if you want to use the data for operational decisions, you need current data. Use the most important touchpoints with your stakeholders to collect the data.
Before data collection can begin, you must establish a baseline. You then measure the changes in the KPIs from this starting point. Only when you know the baseline can you set meaningful goals and define a time frame within which you want to achieve them. For instance, one goal could be to improve a baseline value by X percent.
Up to now, primarily senior and middle management use X-data as a guide for long-term planning. But, applying it at the operational level would be particularly important. This is where specialists are in direct contact with customers, applicants, suppliers and partners. They are most able to respond to stakeholders' expectations and influence the perception of the company.
It goes without saying that collecting data is not an end in itself. When you ask your stakeholders for feedback, you should take it seriously. Otherwise, frustration may arise. For this reason, you should apply what you learn from the data to improve your products and digital services.
Use the data to find out what needs to change in communication and interaction with your stakeholders to achieve your business objectives – from increasing customer satisfaction and identifying trends to minimizing risk and improving quality.
KPMG and Forrester discovered that companies adopting a holistic approach to experience management are twice as likely to achieve their business goals, customer expectation objectives and desired return on investment. In addition, organizations that consistently align their value creation with the expectations of their customers will set themselves apart from their competitors in the long run.