STFA Construction Group
STFA and the digital file
Building the perfect bridge
The Turkish STFA Construction Group is one of the leading developers, planners, and implementers of construction projects in the Middle East and North Africa. Among other things, bridges, tunnels, housing complexes, hospitals, airports, dams, harbors, water treatment plants, power grids, and even power plants and pipelines all arise under the direction of STFA.
Projects like that require absolute transparency and a perfect filing system. In other words, a digital workflow. Today, the document management system from EASY SOFTWARE supports the STFA company in completing international projects. It reproduces all relevant documents from the company's building projects in digital files with a structure predefined jointly with STFA. Thanks to a clear structure and extensive search options, data about the major projects are now available to any authorized person in a very short time.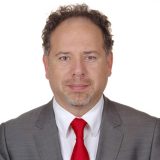 Thanks to EASY SOFTWARE, we not only gained corporate security, but also saved a lot of money.

EASY document management in the construction industry
Do you want to know more about our reference story
STFA Construction Group?
These references might also interest you:
EASY SOFTWARE implemented EASY for SAP and the digital personnel file at Heinrich Schmid GmbH & Co. KG. Switching from paper to greater transparency.