Digital contract management
made easy
Put an end to the file hunt
EASY Contract is the modern, web-based contract management software for the creation, central management and processing of contracts. All documents and other information can be quickly found by all involved parties, while a uniform, current information status is guaranteed. Digital contract management with EASY Contract means providing a significant gain in efficiency and transparency in your company, anytime and anywhere. Keep an overview of all concluded contracts and receive electronic support in the creation of new contracts with contract templates.
Even deadline management works in no time with EASY Contract. You are automatically reminded before a deadline expires, so missing a contract renewal becomes a thing of the past. EASY Contract keeps you up to date, even when you are on the move with access available on a smartphone or tablet. Working somewhere outside of the office? No problem. Our digital contract management software is always in synch and backs up changes automatically.
The advantages of our contract management software at a glance
Transparency
Location-independent management of contracts of any kind; authorised representatives of the responsible departments always have access to contracts.
Integrated deadline management
Multi-level deadline calendar with escalation mechanisms ensures that missed deadlines are a thing of the past thanks to automatically sent reminders.
Revision security
Storage of the contract documents in the revision-proof EASY storage system; a detailed logging of the work steps facilitates revision security.
Fine-grained authorisation concept
The authorisation concept of EASY Contract stands out thanks to high adaptability while at the same time retaining clarity. This provides a clear regulation of responsibilities.
Reduction of cycle times
Shortening of cycle times thanks to process controlled support from creation to signing of the contracts.
Full text search
The EASY contract management software offers high-powered search options and convenient search and filter functions: thanks for one thing to the simple key wording of contracts and also thanks to the full text search option.
Why is contract lifecycle management unavoidable?
This whitepaper provides recommendations for sales, legal, procurement and finance professionals who want to grow within their businesses.
Learn how the lifecycle of contracts affects your business
Find out why your company should use contract lifecycle management
Experience best practices for contract lifecycle management
What questions should your company ask itself when deciding on a solution?
Top features of contract management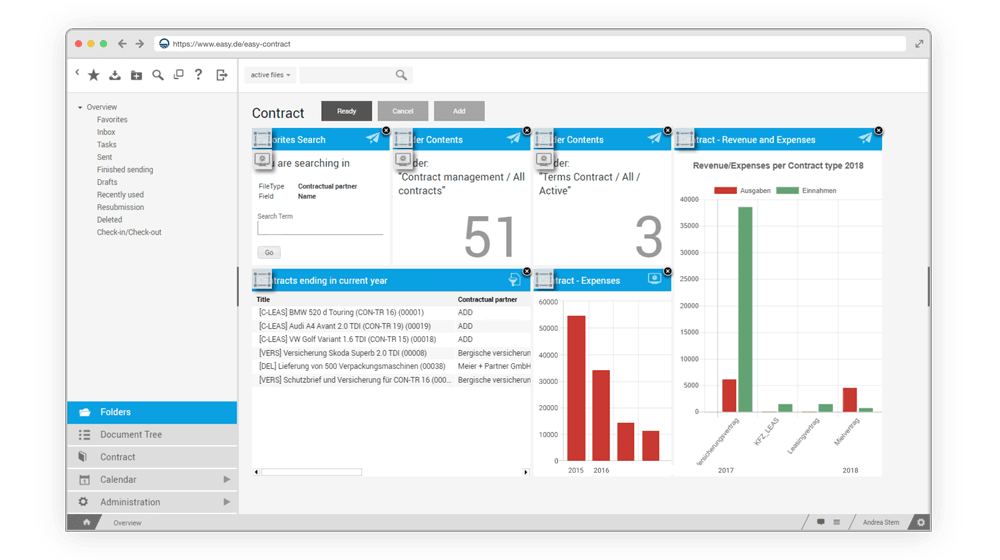 Editable dashboard
The dashboard for the overview of all contracts is customizable if desired. That way, you always have your overview of all contracts, all important figures, data and facts available. The best part is that with a simple click on the individual graphic elements, you can drill down into a more detailed view. Even on a smartphone or tablet. And so perfect for when you're on the way from here to there – or during contract negotiations when speed is called for.
Integrated chat functions
Gone are the days of back and forth by email and telephone. EASY Contract offers a chat function for every contract. Do you have questions about a contract detail? If you're not in a hurry, just go ahead and start chatting with other colleagues who are authorized in the contract management. The best part is that the context is preserved – and that way there is no annoying and time-consuming communication about which contract the questions refer to and so on.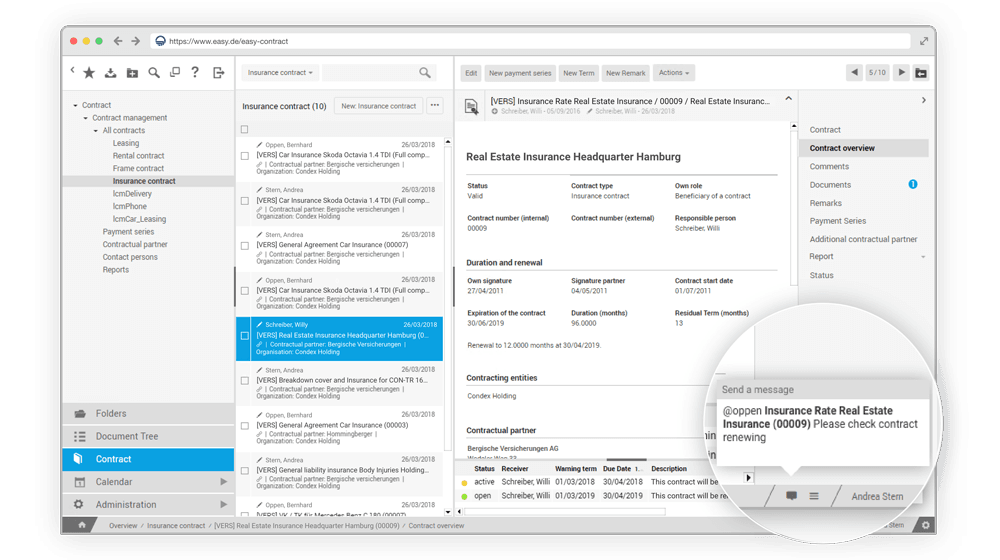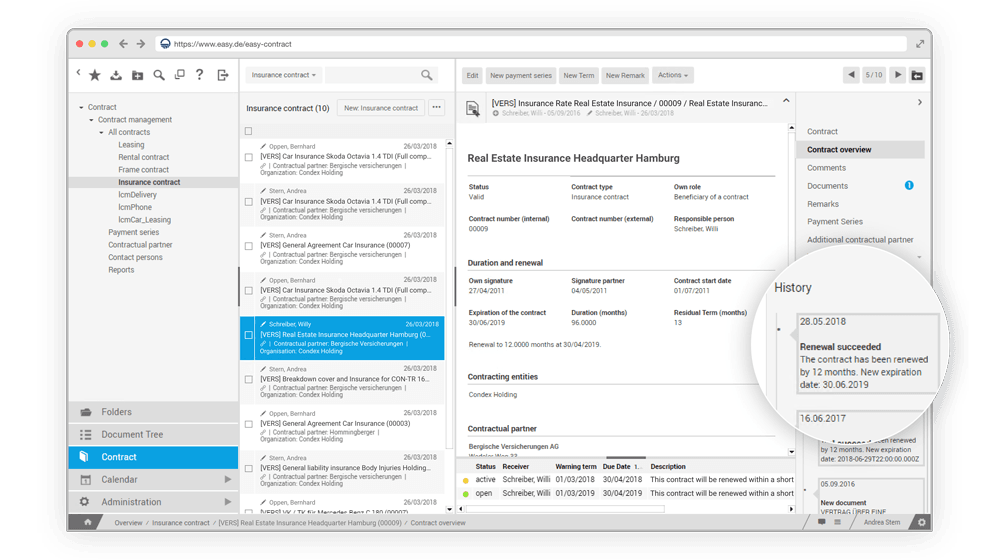 Contract contents and history – cleanly structured
EASY Contract structures contracts hierarchically. Framework contracts can be defined. In that case, the contract management solution dynamically creates a new tab on which all of the contracts subordinate to the framework contract are listed. Dependencies can be spotted at a glance. Modern contract management is that easy; "traveling" into the past – of your contracts – is that easy.
Simple management of payment series
It has never been so easy to manage a variety of payment types. No matter if there is a one-time payment for the contract or if it is a lease contract with a series of payments. You can set up several payment plans for each contract in no time – and comply with the budget planning using the contract management. Of course, you can also display this graphically through EASY Contract.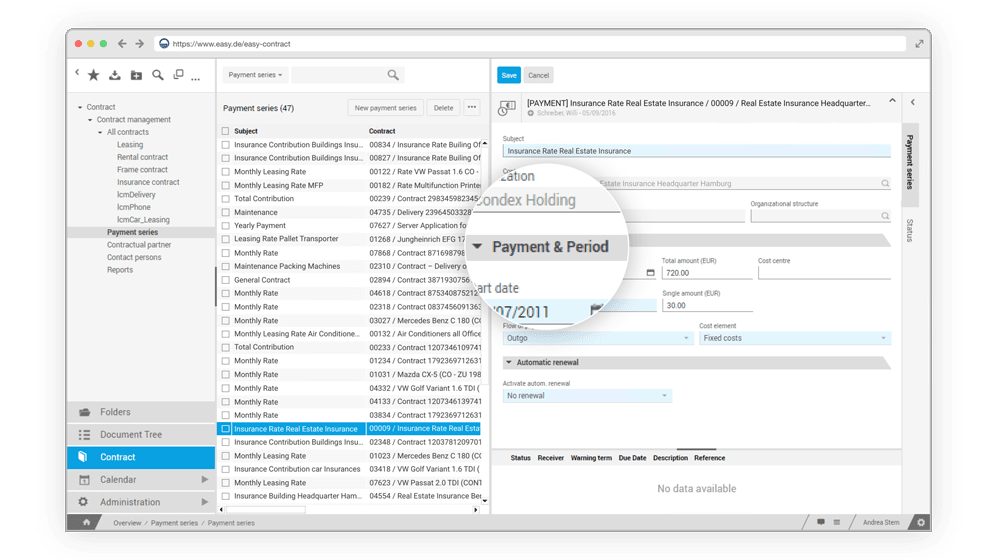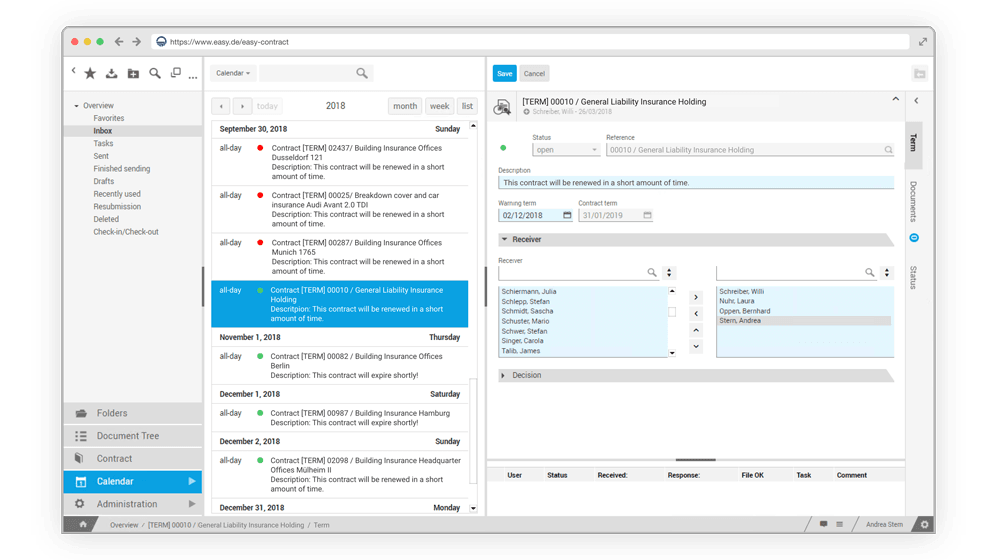 Deadline management – keep an eye on deadlines
Of course, deadline management is a feature of EASY Contract. Thanks to multi-level deadline calendars with reminder function and escalation mechanisms, missed deadlines are a thing of the past. Get reminded directly in the contract management or by email. Never lose another advantage to a missed deadline. That pays off!
EASY Contract – ready for enterprise mobility
EASY Contract is ready for enterprise mobility. Use the contract management software as an app on an iOS/Android smartphone or tablet. Or as a responsive web application on any device. A real helper when it counts – even without a working mobile network, if you happen to be sitting in a plane. Every contract in one app. Modern contract management can be that easy.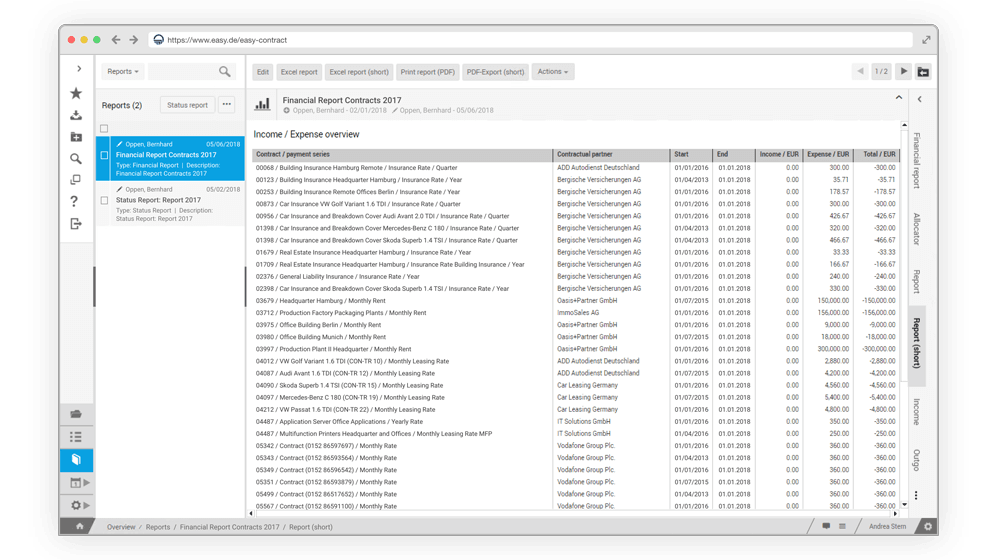 Potentials in the process and process flow of the electronic contract management
Our contract management software supports the complete lifecycle of a contract: contract proposal, contract creation, contract monitoring, contract controlling. With Contract, you have a handle on even complex approval workflows with version and template management. No matter if it's service, maintenance, lease, cooperation, purchase, or support contracts. Regardless of the contract type – you always have secure control over your contracts and gain efficiency with EASY Contract. Contract management software that provides a wide variety of applications – such as electronic purchase requisition, invoice, and HR – with the relevant legal documents.
EASY Contract in use – customer references
Commerzbank
In tandem with Commerzbank AG, EASY SOFTWARE installed a modern contract management solution for managing vendor relations.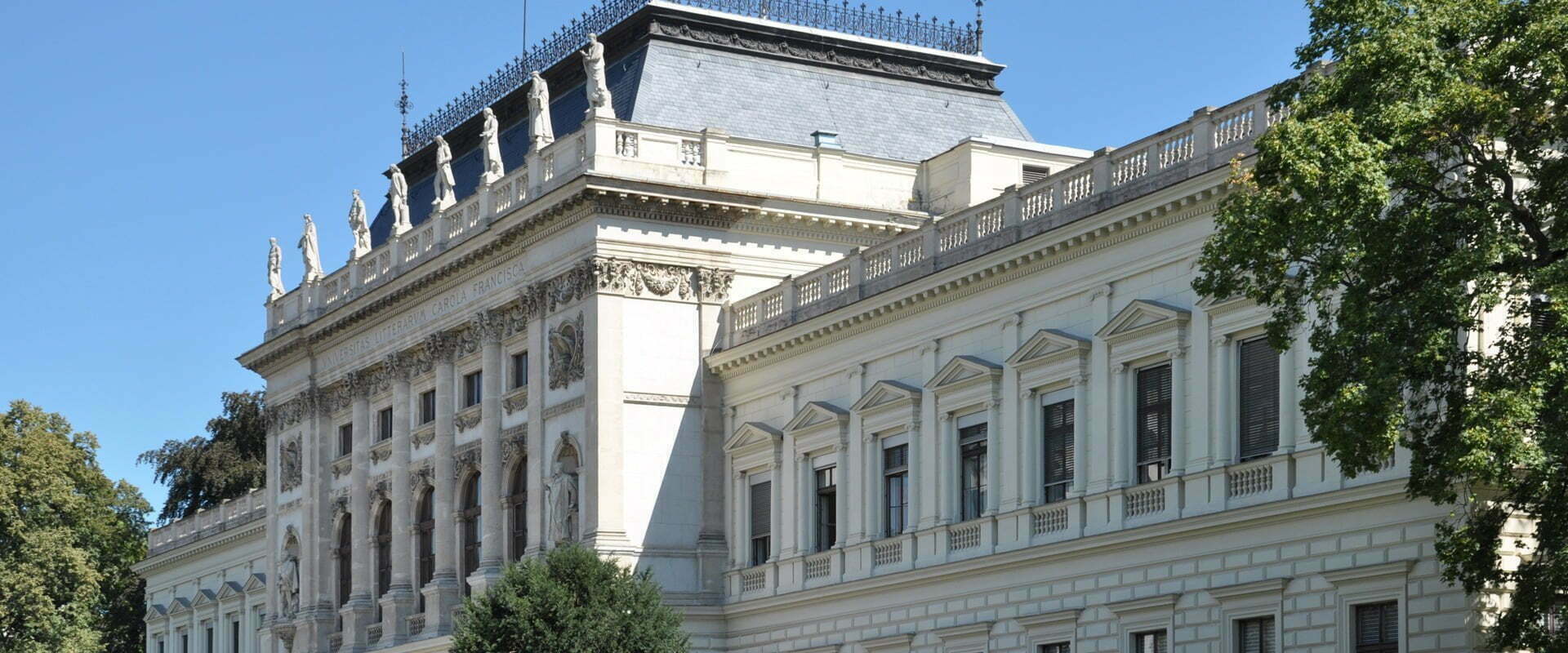 Karl-Franzens University Graz
EASY SOFTWARE implemented a contract management solution at Karl-Franzens University Graz. The goal: Transparency by standardizing previous solutions.
This might also interest you: