The Navision Interface
Easy for Dynamics Nav
Seamlessly integrated – certified by Microsoft
Add central functions for document management and revision-proof storage to your Microsoft Dynamics NAV solution with EASY for Dynamics NAV. Simply capture incoming and outgoing data in Microsoft Dynamics NAV via drag-and-drop for all modelled business process, including almost every data type – from scanned documents and records to email and other digital information media. With our Navision interface, that happens right in the ERP client on the relevant objects for the operational processes, such as creditors, receivables, items, facilities, orders and projects. In addition, all incoming and outgoing NAV records which are required to be retained in order to obey legal regulations are archived revision-proof.
Highlights of the Navision interface
DMS meets ERP
Our Navision interface enhances the ERP system with important functions and conjures up a Navision DMS or financial accounting Navision.
Maximum integration
EASY for Dynamics NAV has the highest degree of integration on the market. Our Microsoft Navision interface supports the following versions of Microsoft Dynamics NAV: Dynamics NAV 2018/2017/2016/2015 and Dynamics NAV 2013 / 2013 R2. Look ahead: Support of Dynamics 365 Business Central will follow (on-premises and in the Cloud).
No additional archive client necessary
Employees continue to use the Microsoft Dynamics NAV ERP client. The Navision interface is seamlessly integrated into the ERP client.
Almost no need for training
Thanks to the high degree of integration, employees require little training for the Microsoft Navision interface. That results in high acceptance by the end users.
Searches without NAV client are also possible
In this case, the NAV license costs do not apply, of course.
Expertise:
EASY SOFTWARE and partners have a broad practical knowledge from a large number of projects for the integration of the Navision interface.ce.
Natively integrated into Navision in every aspect: the EASY Factbox for all views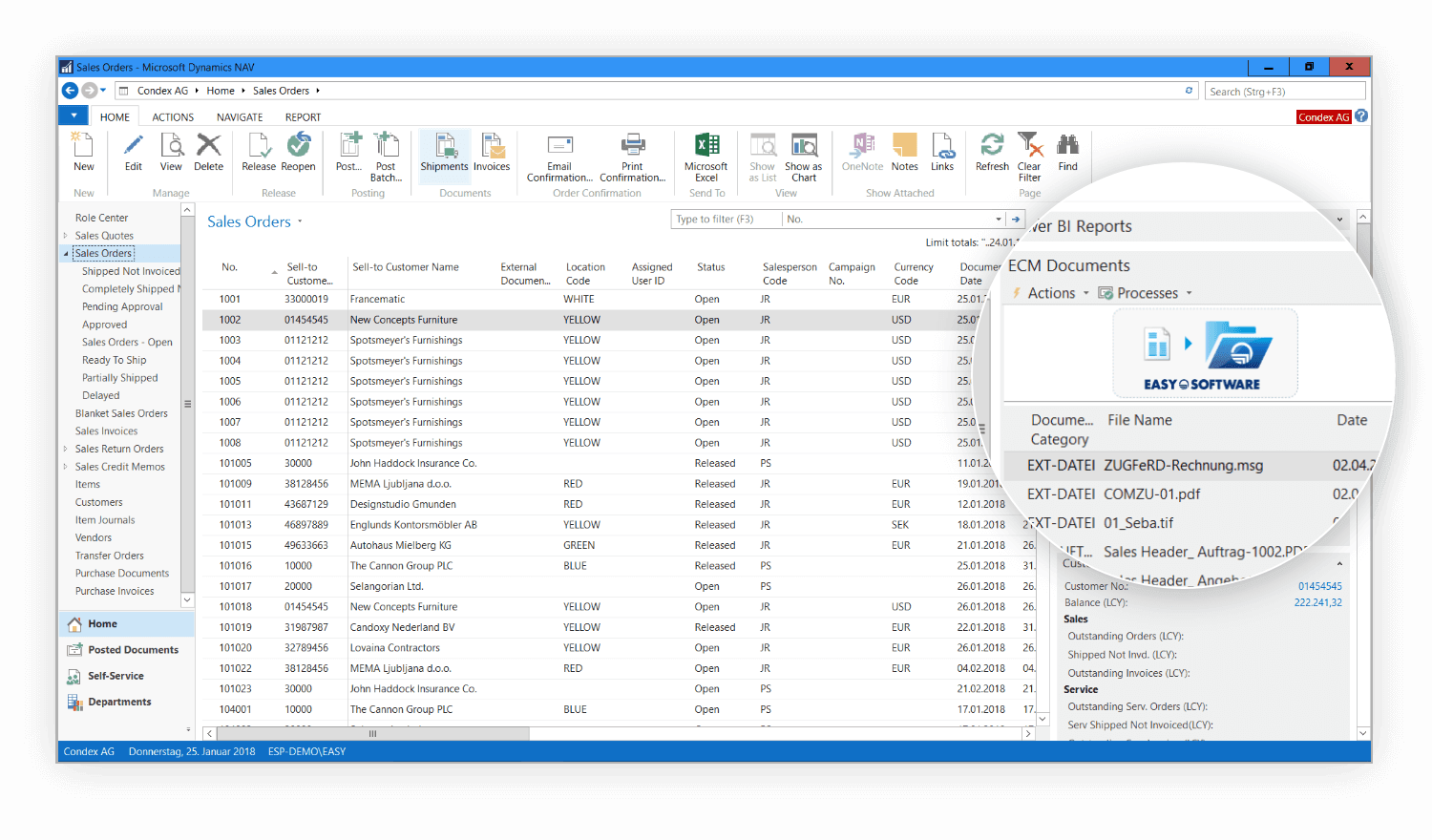 360 degree view: all processes at a glance
Of course, the EASY for Dyn NAV Factbox also integrates seamlessly into the Dynamics NAV client. For example, the list view: This way, it is possible to see archived documents in all list displays (processes, creditors, receivables, items, posted records, etc.) – without opening the individual process. That is how our Navision interface works: without a break in the user experience, easy to use, practical and well integrated.
Losing track is a thing of the past – thanks to the Factbox
Accounts receivable card shows the display of the Factbox using the example of a creditor card. With our Navision interface, the same is possible for all other cards in NAV. That way, you always have quick access to what you need, depending on processor and authorisations. Switching between programs is a thing of the past. Thanks to the ideal integration of the Factbox in the Microsoft Dynamics ERP client.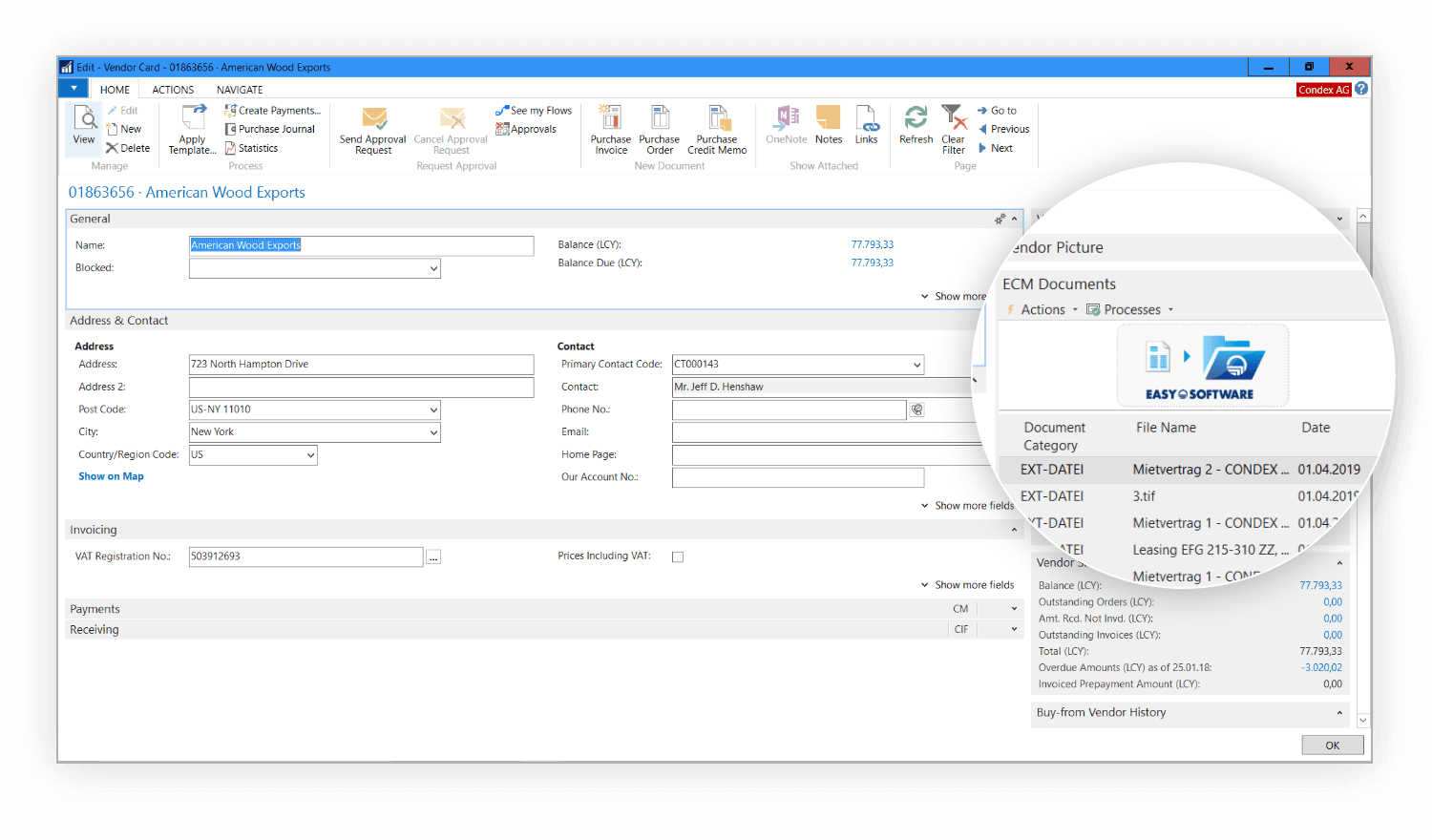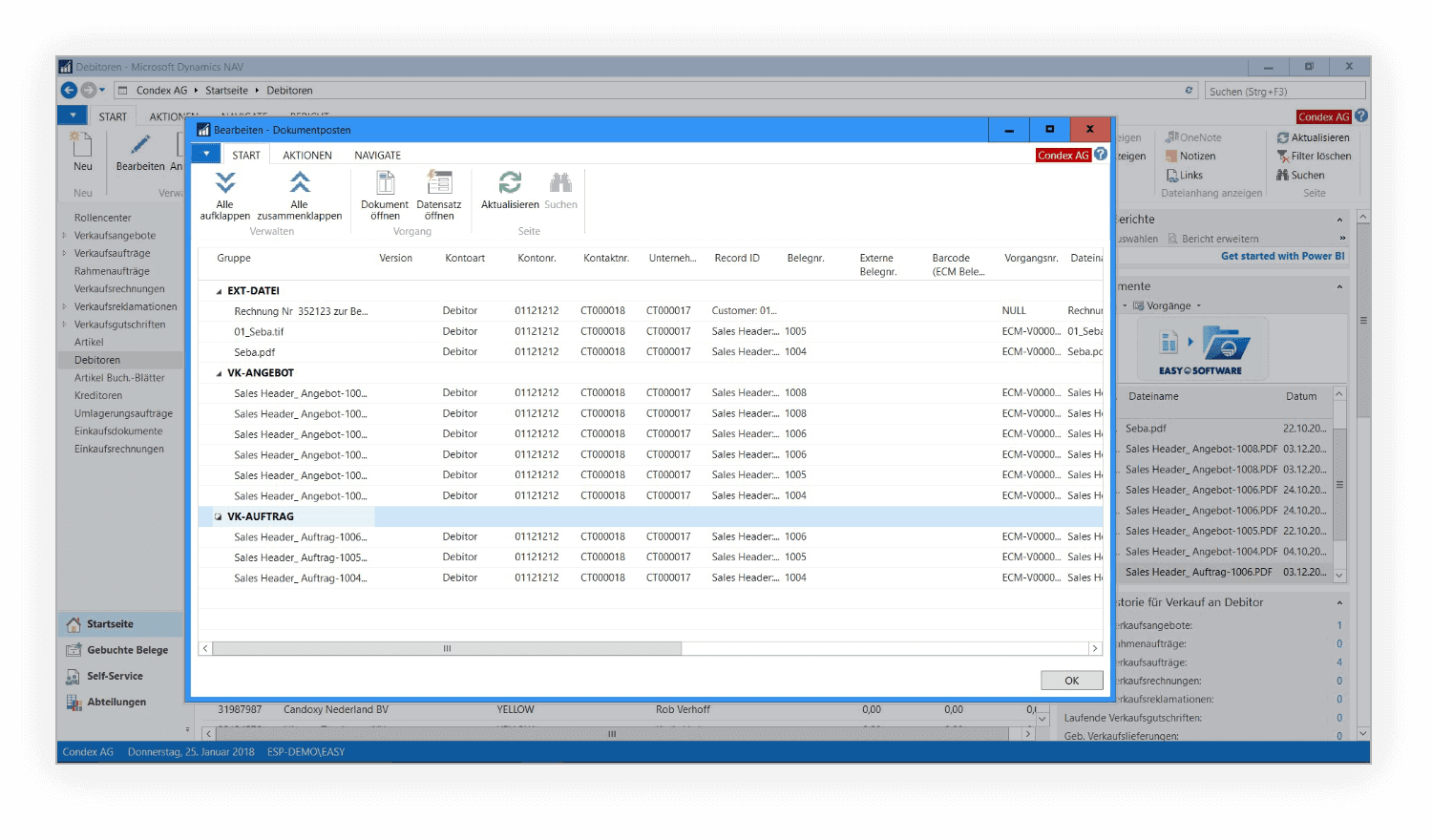 Archive search – directly in the Factbox in your Navision client
Searching in the archive can also be done natively in the ERP client with EASY for Dynamics NAV – a highly praised feature of our Navision interface. Here a possible search result in the archive via a process with the respective archived documents.
EASY for Dynamics NAV in use - Customer references

DK Recycling und Roheisen
"With EASY for Dynamics NAV, the EASY Archive could be directly linked to our Dynamics NAV. As a result, we are able to display the associated archive documents directly from all NAV processes and archive new documents very simply by drag & drop via the EASY Dropzone."
Marc Hüfing, Head of Information Technology, DK Recycling und Roheisen.

GEMDAT OÖ
"Thanks to the integration of the interface in our Dynamics NAV, we see the individual archived documents for all processes, receivables, creditors and so on without having to switch the client. We can now see at a glance which offers, delivery notes and invoices have already been created within an order."
Michael Gugler, Leitung ECM-Services, GEMDAT OÖ.
Take a look at the software together with us
The features, the high degree of integration, the Microsoft certificate as well as the user acceptance make our Navision interface to something special.
Schedule your personal demo appointment to discuss your questions and the individual requirements of your company with our experts.
An individual demo is the perfect way to determine whether EASY for Dynamics NAV meets your requirements.
This might also interest you: