SAP® ILM for GDPR
compliant data archiving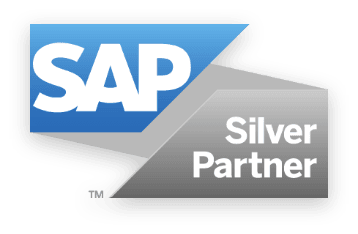 Since 2018, a uniform regulation for the protection of personal data has applied throughout the European Union: the EU General Data Protection Regulation. Companies in particular have had to deal intensively with this subject and still must if they haven't already. This especially affects companies whose focus is on digitised business processes.
Information lifecycle management – always GDPR-compliant
Do you use easy Archive in combination with an SAP ERP system – and are therefore required to archive in compliance with the GDPR? Then your search is at an end. easy has the right interface between easy Archive and the leading SAP ERP system: easy WebDAV for ILM. Do you want to know how easy WebDAV for SAP ILM works?
As a result, the customer must implement technical measures that meet the requirements of deleting and / or blocking such personal data. These technical and organizational measures (TOM) specifically include the implementation of SAP Information Lifecycle Management – in short: SAP ILM.
With the creation of a comprehensive blocking and deletion concept, the definition of a valid lifecycle management of data and documents and the use of SAP ILM, the company receives the ability to meet the requirements for the mandatory implementation of the GDPR. By doing so, fines for specific violations of data protection are permanently avoided, and financial risks are minimized.
Furthermore, the company obtains an effective lifecycle management of its data and can thus meet the requirements of digitization much more robustly.
EASY WebDAV for ILM the bidirectional interface between SAP and EASY Archive
Ideally, your SAP system already supports SAP ILM. You can find further requirements for the smooth operation of easy WebDAV for ILM in the following overview.
A configured SAP ILM system
easy for SAP
easy archive
easy WebDAV for ILM as an extension module for easy for SAP
SAP ILM – a detailed look at Information Lifecycle Management:
All personal data have a lifecycle. SAP Net Weaver ILM (SAP NetWeaver Information Lifecycle Management) adds the ability to manage the lifecycle more productively and to control archived data and documents based on rules to the standard SAP delivery. SAP NetWeaver ILM uses expanded data archiving functions specific to SAP ILM.
With the use of easy WebDAV for ILM as an extension to SAP ILM, you gain the ability to conform with all comprehensive requirements for the mandatory implementation of the GDPR. easy WebDAV for ILM particularly meets the requirement for providing ILM-capable storage for archive data and archive documents. The following diagram illustrates the interaction of SAP ILM, EASY WebDAV for ILM and easy archive.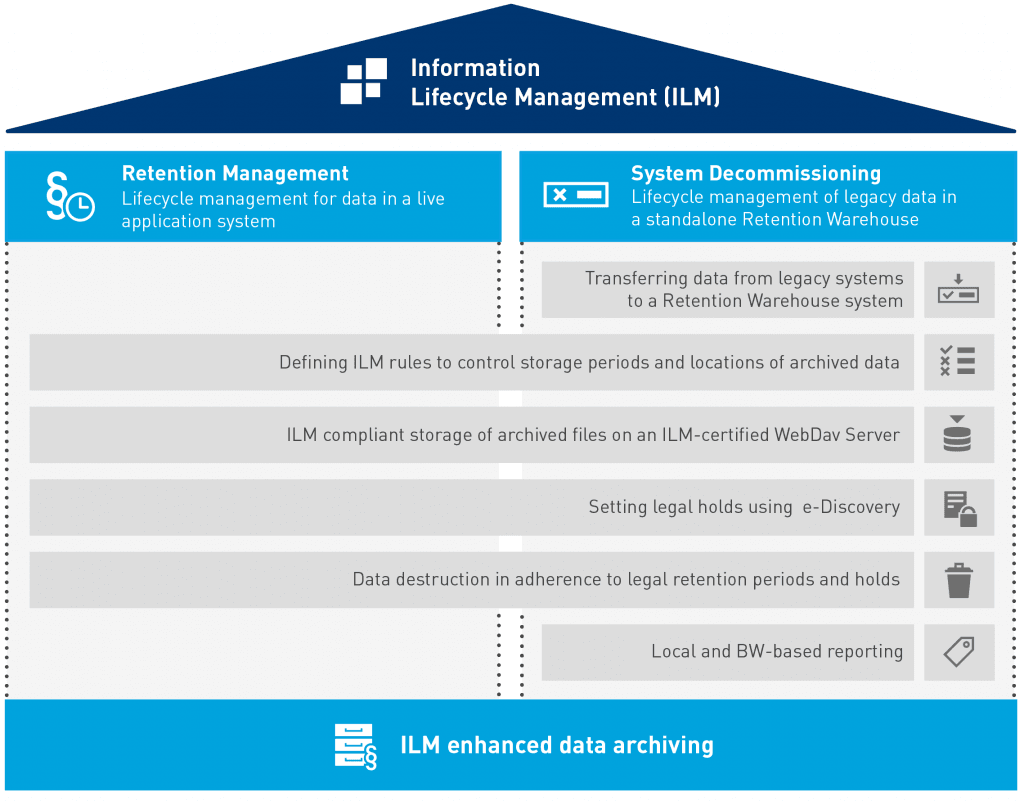 easy WebDAV for SAP ILM includes the ILM-capable document archive storage via an easy WebDAV server and meets all the requirements of SAP for ILM-capable storage:
Definition and management of retention policies
Storage and retention of information in file systems
Simplified blocking and deletion of data and documents (as a subfunction of the information retention management scenario (IRM) of SAP ILM)
Elimination of data or documents from the archive or a database
Establishment of extraordinary retention periods, including the support of preservation of evidence procedures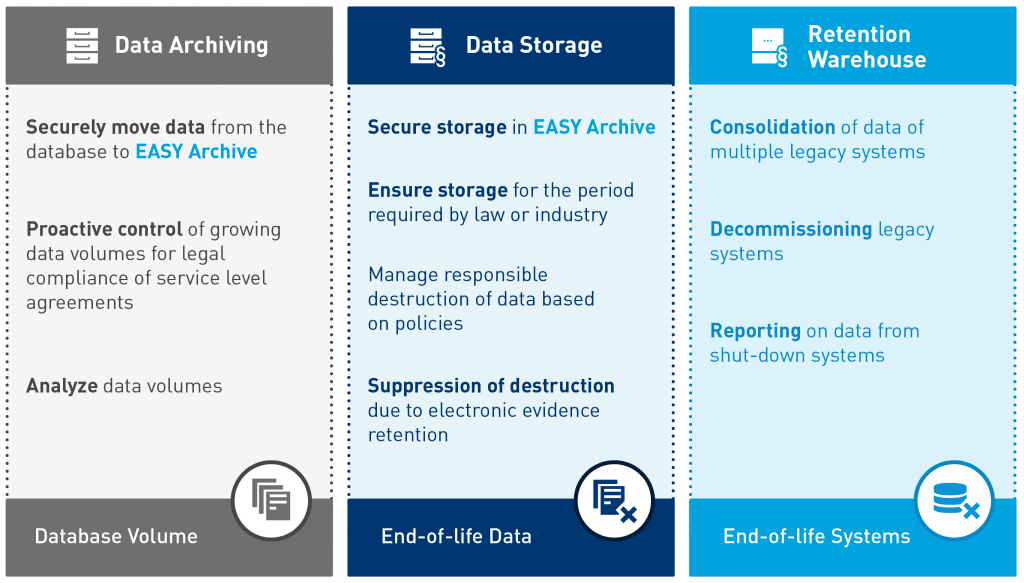 S/4HANA
Cost-optimized data archiving before switching to S/4HANA
Moving to the new S/4HANA system requires enormous resources. Everything needs to be well planned: A detailed roadmap and a clear migration path requires several man-hours. After all your efforts, you will achieve a successful transition to the new S/4HANA system. S/4 is high performing because it resides in an in-memory DB. This is where the difficulty lies. S/4HANA will certainly perform better than any other SAP system has before. But this is exactly where SAP keeps silent: What costs will you have to deal with? One thing is clear, with the migration to S/4HANA, you can expect a gigabyte-based volume license. Every gigabyte in the HANA-DB costs money. At this point, a well-thought-out strategy can significantly reduce costs.
Plan your transfer cost effectively
Data Cleansing: Determine data records that are to be archived from your SAP production system.
Data Archiving: Archive the determined data records in an audit-proof archive.
Reduce costs: Save cash with your archiving strategy when moving to S/4HANA.