We digitize your paper-based processes
Work less, achieve more –
that is our promise.
Together, we digitize your paper-based business processes. We provide software solutions for document management, human resources, invoice processing and contract management. For legally compliant and decentralized document processes.
Join us at the ICC, the largest annual gathering of SAP Professionals across the UK & Ireland, in Birmingham on 28/11/2021 – 30/11/2021 where we will be showcasing our SAP integrated solutions with advice and support from our experts.
Document Management
& Archiving
EASY DMS brings structure to your documents and transforms your company into an efficiency powerhouse. Accompanied by an EASY Archive in compliance with local and international requirements (EU-GDPR).
Purchase-to-Pay
Procurement and purchasing processes perfectly harmonized – all the way to payment and archiving. Perfectly transparent and retraceable. Suitable for nearly all ERP systems.
Smart contract management instead of automatic administration: from contract initiation and collaborative contract creation to digital signatures.
Looking to minimize routine jobs and make more time for strategic human resources activities? EASY HR has your back in the "War for talents".
EASY Portal Experience combines self-services for employees, suppliers or customers into a single portal, e.g. for HR or invoice processes. For any service, on any device, whenever and wherever users need it.
EASY add-ons enhance your business processes in SAP. Certified by SAP. The final touch for the old SAP world and the modern S/4HANA era.
In fact, we're on a bit of a drive towards flexible working now, and our EASY solution is a real enabler. If you live a long way from the office, there's really no reason why you should have to come all the way to the main building; you could do most things from home, or just go to a local office and do a few hours there as needed. That's the way the modern workplace is going."
In our insurance business, the speed of information access has a direct impact on the customer experience too, minimising delays in the event of a claim."
They give us everything we need and support us fantastically. And to have achieved such a smooth upgra­de and have had no issues during the peak of the lockdown – when HR had so many other things to deal with – is priceless."
Career
Working at EASY
We offer a modern, people-focused and cooperative work environment. Our staff support, challenge and inspire each other every day – no matter from which location. Become part of our diverse team, grow with EASY and help EASY to grow.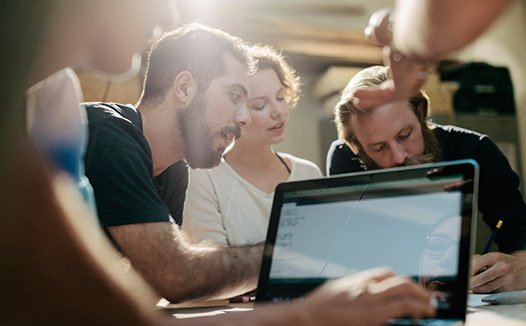 Newsroom
Stay up to date with our EASY Newsroom – the blog for digitization of business processes. We examine innovative technology trends and how they are applied by companies. You will find everything from useful checklists or tips to how-to articles.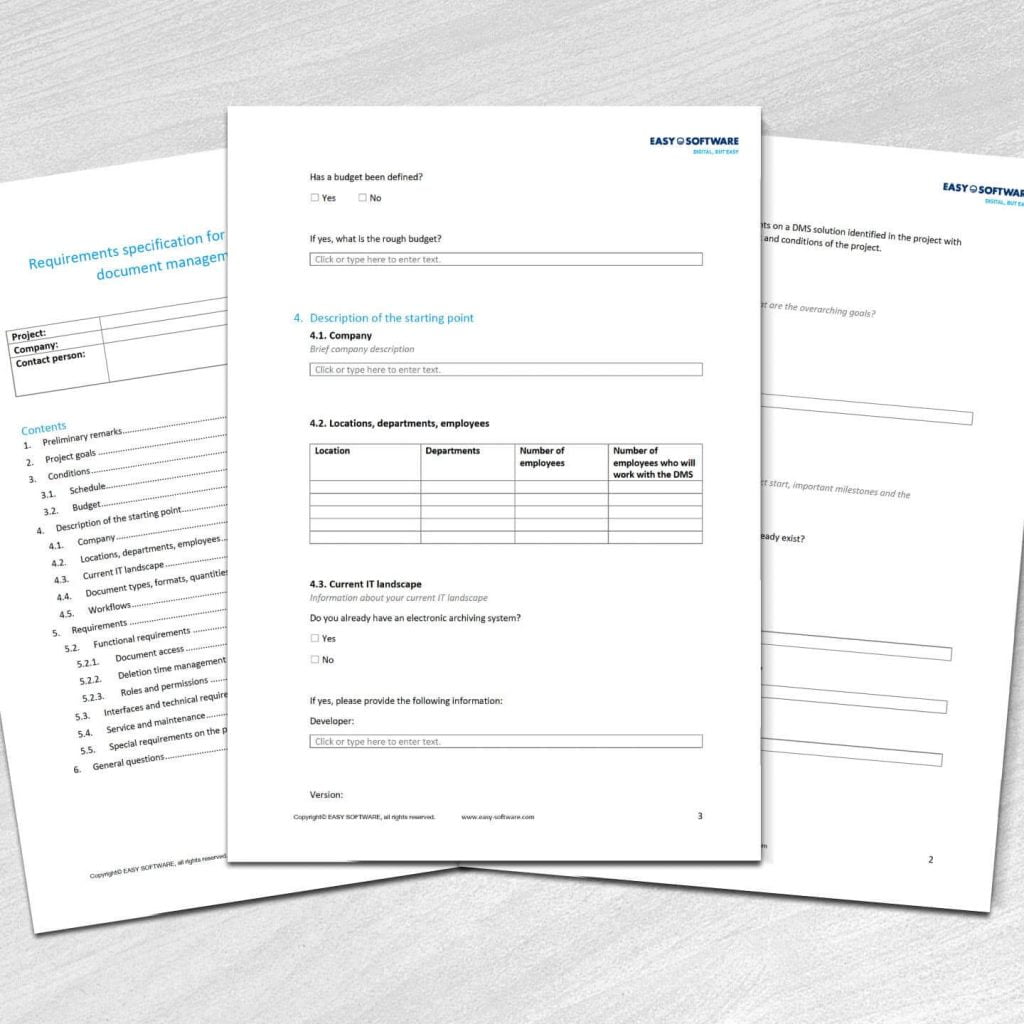 Template – Software requirements specification for the introduction of a DMS
The software requirements specification plays a central role in the DMS selection process. For these reasons, you should start drawing up the specifications at an early stage. Our free Word template will help you to do this.
Factsheet: EASY for Dynamics 365 Finance – The heart of legally-compliant archiving
Companies in Germany and the EU have to meet various legal requirements for document retention (GDPR) and data protection. The fact that these legal framework conditions present you with challenges is one thing. Unfortunately, these requirements also have an enormous impact on many user processes and the efficiency of the ERP system as a whole.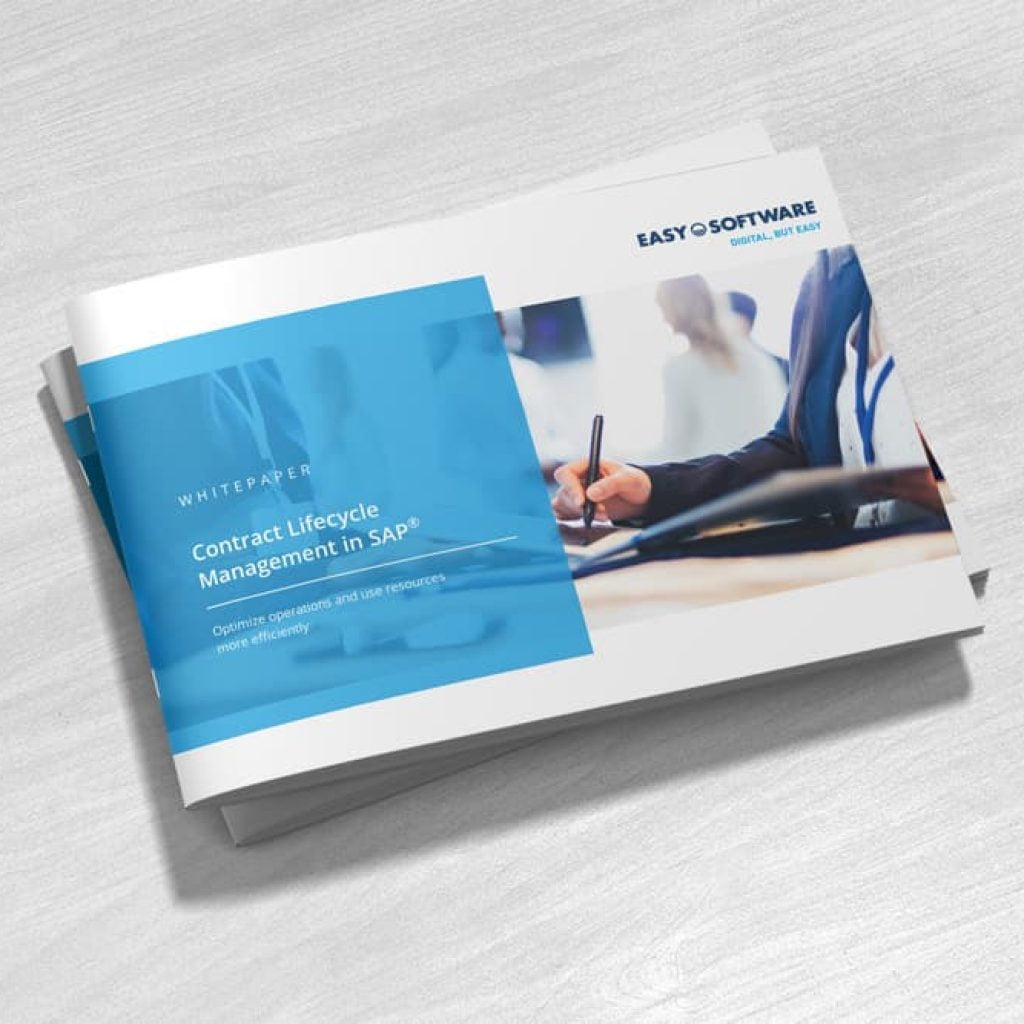 Whitepaper: Contract Lifecycle Management in SAP®
Digital contract management automates all aspects of the contract lifecycle. The goal: Gain control while reducing operating costs. Learn how it works.