Managed Services
Cost-effective, fast, and professional
Focus on your customers. On developing your business. On your strategy and your vision. The Managed Service options from easy software give you the freedom to do this. They offer you what you need for cost-effective and secure operation, for fast and successful projects. Flexible, competent, and always up to date. Our scalable and comprehensive range of managed services are impressive. We provide you with exactly the service you need. Cost-effective, fast, and professional. We are there for you!
Our Managed Services in detail
easy Managed Application
Would you like to operate easy software solutions without building up the necessary expert knowledge internally or burdening employees with additional tasks? Then take advantage of our easy Managed Application service. Our operating team will take over all the necessary work as part of out-tasking – in close cooperation with your IT team.
easy Managed Application Hosting
You want to hand over complete responsibility for the availability of your easy software solutions? The easy team of experts operates your easy software solutions for you on the easy Cloud Application Platform. The easy Cloud Application Platform gives you full flexibility for your IT projects. You decide whether it will be an easy private cloud solution, a public cloud service or a hybrid cloud service on state-of-the-art and scalable infrastructure. We will be happy to advise you to design the optimal solution for you.
contact us
easy Cloud Application Platform
With the easy Cloud Application Platform, easy provides you with state-of-the-art and highly scalable IT infrastructure and cloud application hosting services at attractive conditions for your applications and IT projects.
With our many years of managed service expertise, we are a guarantee for the success of your projects. You, the customer, are at the center of our service.
easy Managed Service Contact
24/7 operation of the easy Cloud Application Platform
easy Managed Service operated from 08.00 to 18.00 CET
Operation from Monday to Friday, excluding public holidays as well as Christmas Eve and New Year's Eve
24/7 easy Managed Service Incident Management – optional
Data availability 99.999
Virtual server availability 99.5
ISO 27001 certified data center in Frankfurt
2 fire zones
Backup location at another site – optional
Public and private cloud
Hybrid solutions based on on-premises, public and private cloud
Support of the Hyper Scaler Microsoft Azure and AWS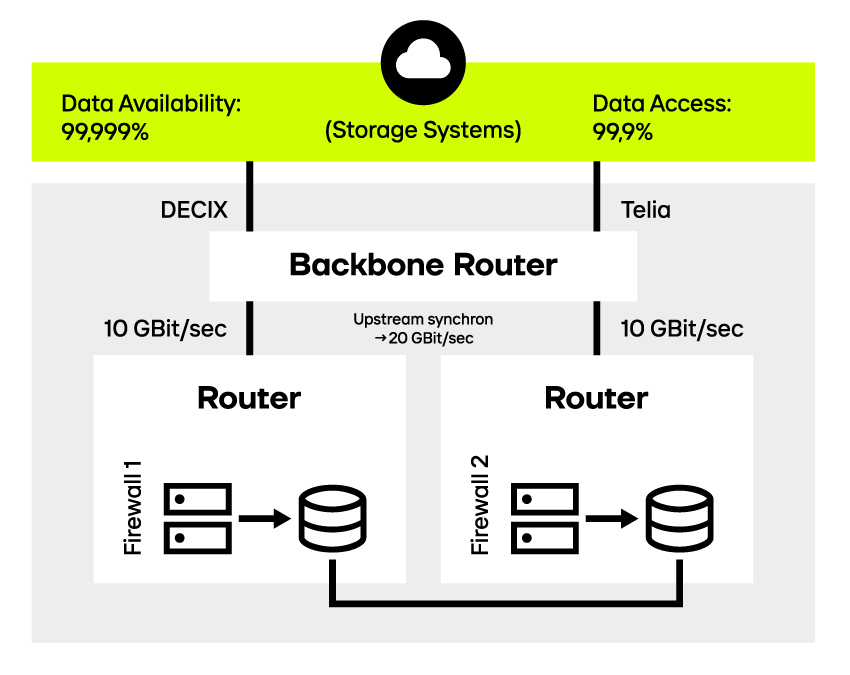 Many customers have opted for the easy Cloud Application Platform. The entire spectrum from medium-sized companies to international corporations and associations appreciate the advantages of the easy Cloud Application Platform.
End users from Europe, USA and Asia access easy applications from the easy Cloud Application Platform.
Have we made you curious? We would be happy to help you plan your project free of charge with our many years of managed service and cloud data center experience.
It's best to make an appointment with our team of experts today.
Attractive conditions
Transparent cost models
Fast onboarding
Scalable and flexible cloud services
Personal contact person
easy Remote Admin Package
Anytime, anywhere: As an easy customer, you have flexible access to the helping hands of easy Managed Service experts at short notice – within 24 hours. You can book the easy Remote Admin Package as a fixed contingent of hours – and use it flexibly. Find out more in our brochure.
Managed Service advantages
We are part of your team. Whenever you need us.
Managed Service from easy supports you in many ways. And at the same time in the only way that makes sense: the way you need right now. You will find easy experts for operation, the hosting and support of easy solutions, and their concentrated expertise in every aspect of operation management.
This is how you benefit from the knowledge of our Managed Service team!
Enhance your IT team with the software expertise and operator know-how of easy
Leave the hosting and/or operation of your easy solution to us.
Put the creation of operating concepts for easy solutions in the hands of our specialists.
Let us optimise and monitor your easy solutions.
Rely on the support of the easy Managed Service team on your way to the Cloud and SaaS solutions.
Rely on the consulting expertise of your contacts in the Managed Service team throughout the entire lifecycle of your easy solutions.
Regardless of whether it is operation, update, migration, sizing, performance tuning, deployment, or adjustment of your easy solution, the Managed Service team is always on your side. Fast, expert, committed.