Incoming invoice processing in SAP®
For a plus to efficiency
EASY Accounts Payable for SAP Solutions is the efficient solution for digital invoice processing directly in SAP®. Paper invoices or invoices received electronically are processed in a uniform, transparent process. The scanning of paper documents and the automatic recognition of invoice contents represent the beginning of the overall process. The same is true for the processing of electronic incoming invoices in various standardized formats. After the transmission of the incoming invoice to SAP®, it is automatically processed as far as possible. The invoice documents are archived revision-proof across all processing steps and are available with a click at any time. The SAP®-based invoice ledger supports accounting clerks in their daily actions, and comprehensive key process data serve the long-term process optimization. A web-based approval mask is available to auditors and budget managers, who can also use it via smartphone or tablet, if necessary.
Advantages of incoming invoice processing in SAP®
Speed and efficiency

Today, fast month-end and year-end closings, especially close to the period, are practically standard requirements for financial accounting. Maintaining compliance guidelines and concrete figures for cash flow planning are also not ensured in a paper-based process. Employees often verify order-related invoices manually, in spite of previously successful order requests and order processes, even when correct receiving transactions are present. Invoices which are in the processing workflow are often subject to long transport and wait times. Last but not least, verification and approval processes demand time and effort, especially for paper-based processes. This is a thing of the past with the incoming invoice in SAP®.

Profitability and shared service

The consequences are missed payment deadlines and the loss of discount options. Over and over again, invoices are lost and cannot be found due to inadequate process transparency and consequence. Also, no better: companies initiate the process for an invoice multiple times and may even pay twice. And if the financial accounting department works as a shared service center for several companies, an electronic solution such as incoming invoice in SAP® is almost indispensable.

Mobile invoice approvals accelerate approval processes

Protracted approval processes are a consistent problem. The integrated processor location in the incoming invoice processing in SAP® takes issued approvals into account, thus reducing the workload for the approvers. Mobile work is supported. Approvals can be made conveniently on the desktop, smartphone, or tablet – with user-friendly interfaces in SAP® Fiori®/HTML5. That's how user-friendly the incoming invoice processing in SAP® is.
Format variety

The incoming invoice process begins with the standard processing of incoming invoices from a variety of channels: analog paper invoices are scanned and digital incoming invoices are automatically transmitted to the next processing step: for example, PDF invoices which arrive by email or are already in the ZUGFeRD or EDI format. ZUGFeRD-2.0 and XRechnung are, of course, available.

Revision-proof archiving

All invoice documents are archived revision-proof across all processing steps and are always available with a click – legally secure but still easy for the user.

Escalation management

Of course, the incoming invoice process in SAP® handles automated reminders of discount periods, payments due, etc. That way, you will never miss another discount period and can avoid default costs.

Analysis & reporting

Extensive statistics provide relevant KPIs, such as cycle times, automatic processing rates, or discount potential. With that, the entire incoming invoice process is illuminated and offers the basis for long-term optimization – a functionality for reporting and controlling which is not to be underestimated.
Discover the potentials of the SAP® incoming invoice solution
EASY Accounts Payable for SAP Solutions is a coordinated total package for the processing of analog and digital incoming invoices in SAP® and can be quickly and easily implemented thanks to its high degree of standardization. Companies which already have a scan solution or an external service provider also benefit from the short introduction times, since EASY Accounts Payable for SAP Solutions can also be connected to other scan, extraction, and archive solutions – but see for yourself what other advantage the incoming invoice processing in SAP® has.
The 7 steps of the incoming invoice processing in SAP®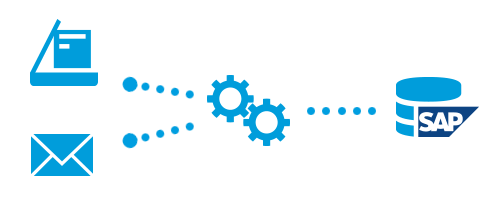 Invoice receipt – record
From paper-based incoming invoices to invoices attached to email as PDF up to electronic invoices in standardized formats: ZUGFeRD-1.0, ZUGFeRD-2.0, XRechnung and EDI, etc. EASY Invoice Management for SAP Solutions excels at processing incoming invoices.
Extract
EASY Accounts Payable for SAP Solutions automatically determines all the necessary invoice contents: invoice header with creditor, total amount, invoice date, and all individual invoice items – this occurs in compliance with the GoBD.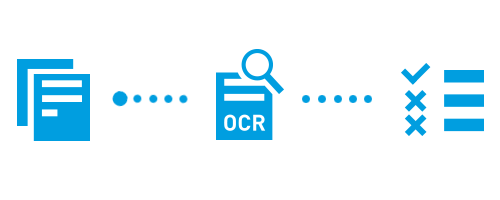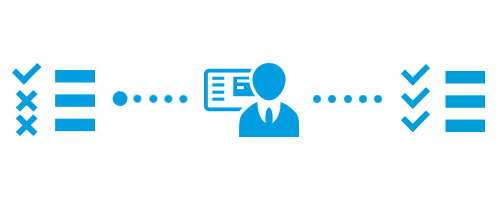 Validate in SAP® or in EASY
In the next step, the read data are checked for validity, for example verifying the validity of an order number. Alternatively, validation can be performed directly in the scan client – EASY delivers an appropriate component with EASY Capture Plus for this. This validation can also take place directly within the SAP® GUI.
Store & archive
The original documents – scanned paper documents or email attachments are then stored revision-proof in an archive connected via SAP® ArchiveLink. Both early archiving with workflow and late archiving are supported. All history data about the document, such as document changes, workflow approvals, etc. are also stored – incoming invoice processing in SAP® has it all.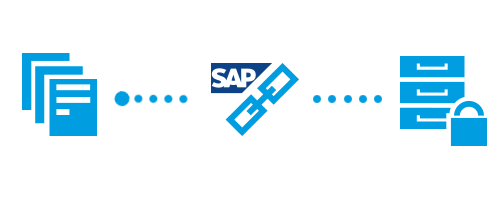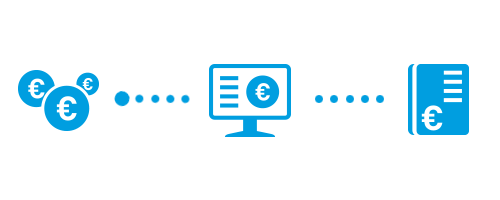 Prepost
The invoice data are then recorded in SAP® and are available in the invoice ledger.
Verify & approve
This is followed by the start of one SAP® workflow per invoice. Every SAP® incoming invoice goes through an extensive verification and rule set which has been tried and tested in many customer projects and, of course, can be adapted to individual customer needs. The rule set checks invoices, for example, for purchase order reference, amount and price deviations, booked or missing goods received, payments already made, or just the supplier name. After processing of all the rules and the exception handling, the system forwards the invoices to the relevant approver for approval by SAP® workflow according to the sign-off guidelines of your company. Approvals can be made conveniently on the desktop, smartphone, or tablet – with user-friendly interfaces in SAP® Fiori®/HTML5. The invoice documents are only a mouse-click away in every processing and approval step – the system even visualizes EDI invoices in a user-friendly way.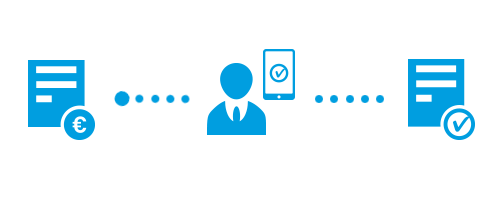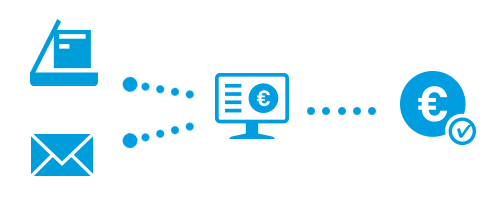 Post
Most invoices go through the above steps automatically, without further intervention being necessary. All others are posted following the conclusion of invoice verification and approval.
Questions about the incoming invoice process in SAP®? We have the answers.
Give us a call if you have any questions at +1 267 313 5780
or send your request via the contact form.