Digital contract management made easy
The whole process in one piece of software
EASY Contract is the modern web-based contract management software that allows you to create contracts, work on them in a team, sign contracts digitally and to ultimately archive them. The entire management and the processing of the contracts takes place centrally from a single source, without media disruptions. Whether it is on-premises or contract management to lease in the form of Software as a Service – you decide.
Digital contract management with EASY Contract means achieving a clear gain in efficiency and transparency in your company. Anytime and any place: Maintain an overview of all the concluded contracts.
The four key steps with contract management software
you will find all the documents associated with a contract, the documents that supplement the contract, emails, notes etc. shown together in the E-file. This way, contract management software can be fun. At the same time, you receive electronic support when creating new contracts using tried-and-tested contract templates and text blocks. The deadline management is also possible in no time with the contract management software: Not only do you receive automatic reminders before the expiry of deadlines – you also have an overview of everything thanks to the deadlines calendar.
The digital contract management keeps you up to date, also on your smartphone/tablet. Our digital contract management software automatically backs up changes. Incidentally: EASY Contract 4.2 also implements the new International Financial Report Standard 16 (IFRS 16) concerning the accounting and assessment of operational leasing contracts and contracts from rental agreements.
1. Create contracts: Uniform templates, simple to create new one
Modern contract management starts wherever the optimization potential is the greatest: for efficient collaborations between all those involved in the process and for avoiding inconsistencies in media format through intelligent digital solutions. This helps reduce processing times and make the entire workflow more predictable and reliable.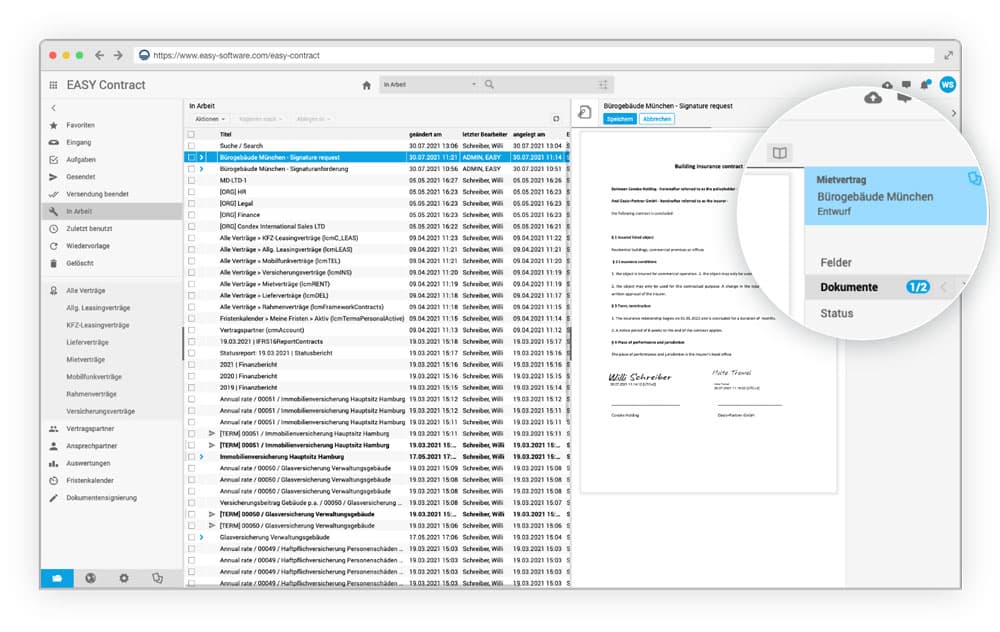 You can create new contracts in an instant by selecting from existing templates, passages of text and parameters, or by uploading new contract templates. This ensures consistency when creating contracts. Automated workflows enable efficient and error-free testing and releasing, and the contract period checks allow you to keep a constant eye on everything.
2. Collaboration: Work on contracts together
Whether it's via Google Drive, Microsoft OneDrive or Microsoft Office 365, the new feature in the contract management software makes it possible to work directly on a contract with the entire team on an equal footing, and everything is handled digitally. Do you want to negotiate contractual terms with a new partner? No problem! Simply assign them permissions, upload the contract to the cloud and you're off, regardless of where your contract partner is.
For collaboration as a team, you'll need access to collaboration tools in addition to the contract management software. You can find more information on the websites for Google Drive, Microsoft OneDrive and Microsoft 365.
By the way, the collaboration feature is now available for all our solutions for document-intensive processes. You can also find out more from our blog, "Collaborative Work & Document Management".
3. Sign contracts digitally: Conclusive thanks to digital signature
Everything is finished, the contract is complete, it just needs to be signed. Collective work on the contract has made the process more transparent and efficient for all involved. When it comes to the signature, though, many reach for a printer and a pen again, thus causing an unnecessary inconsistency in media format. But you can sign the contract in a legal and accountable way directly from the contract management system using an electronic signature.
EASY eSiganture makes it possible for you to create a conclusive digital signature. The signature request goes out by email. The digitally signed document is then uploaded separately and contains all the changes made in a change history. DocuSign is already integrated into the contract management system EASY Contract.
4. Archive contracts: Revision-proof and retrievable
A new feature in the contract management software is the connection to an archiving system. With a click, you can put your finished contracts in revision-proof, automated storage. Afterwards, you'll be able to retrieve them at any time using full-text search, including a detailed log of all the stages of work carried out on the contract.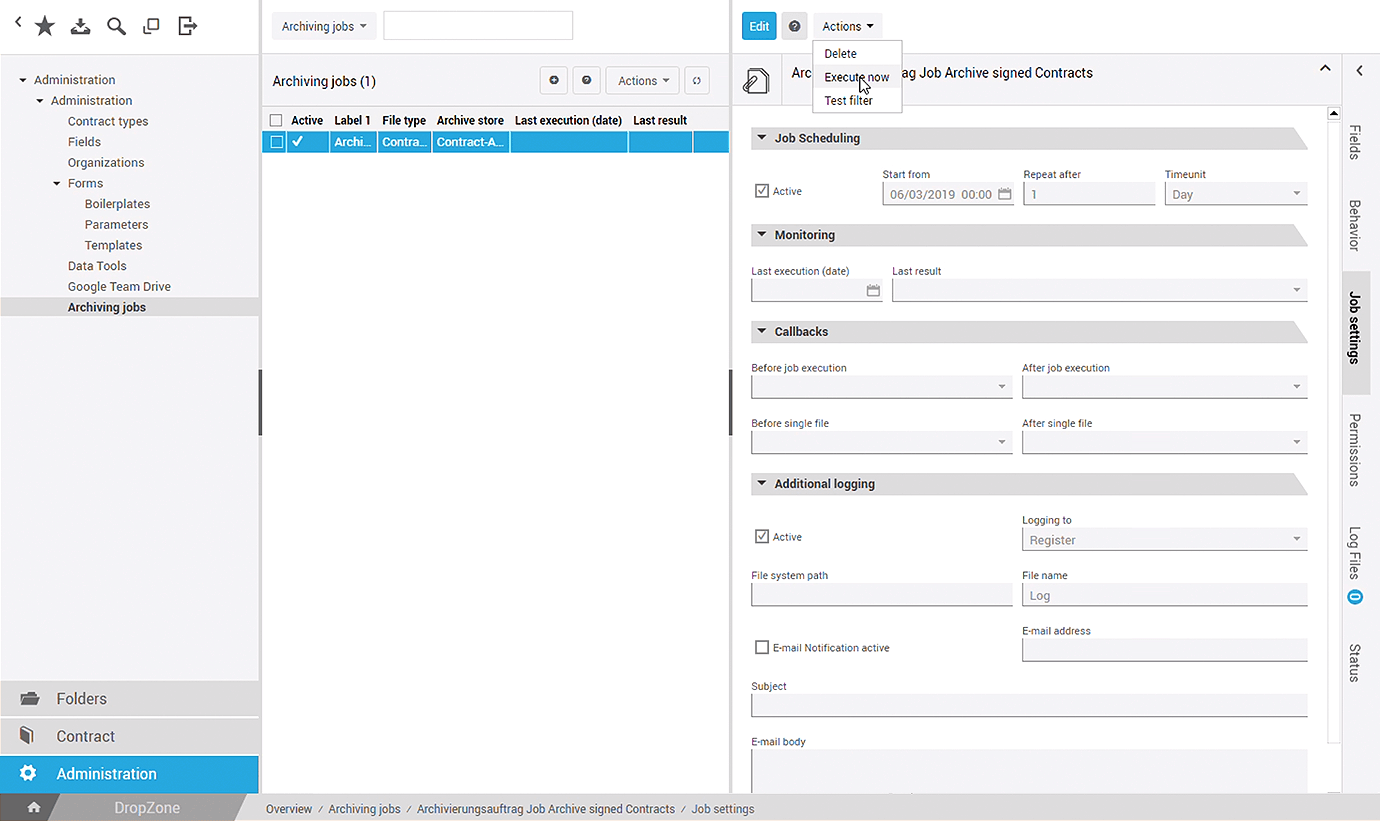 Legal certainty is the basis for contract management. Select a provider supporting legal standards such as the General Data Protection Regulation (GDPR), the generally accepted accounting principles (GAAP) and the GDPdU (principles of data access and auditability of digital documents).
Legally compliant digital contract signatures – also in EASY Contract
Do you still print out contracts to sign them? Avoid this media discontinuity. Signing contracts digitally in a legally compliant manner is now not only easier and simpler, but also faster. This takes you into the paper-free zone, and accelerates business processes many times over. Learn more about EASY eSignature.
The most important functions of EASY Contract Management
Transparency: Location-independent management of contracts of any kind; authorized representatives of the responsible departments always have access to contracts.
Revision security: Storage of the contract documents in the revision-proof EASY storage system; a detailed logging of the work steps facilitates revision security.
Integrated deadline management: Multi-level deadline calendar with escalation mechanisms ensures that missed deadlines are a thing of the past thanks to automatically sent reminders.
Fine-grained authorization concept: The authorization concept of EASY Contract stands out thanks to high adaptability while at the same time retaining clarity. This provides a clear regulation of responsibilities.
Collaboration and digital signature: You work together efficiently and transparently without media breaks and delays.
Full text search: The EASY contract management software offers high-powered search options and convenient search and filter functions: thanks for one thing to the simple keywording of contracts and also thanks to the full text search option.
Deadline management – keep an eye on deadlines
Of course, deadline management is a feature of EASY Contract. Thanks to multi-level deadline calendars with reminder function and escalation mechanisms, missed deadlines are a thing of the past. Get reminded directly in the contract management or by email. Never lose another advantage to a missed deadline. That pays off!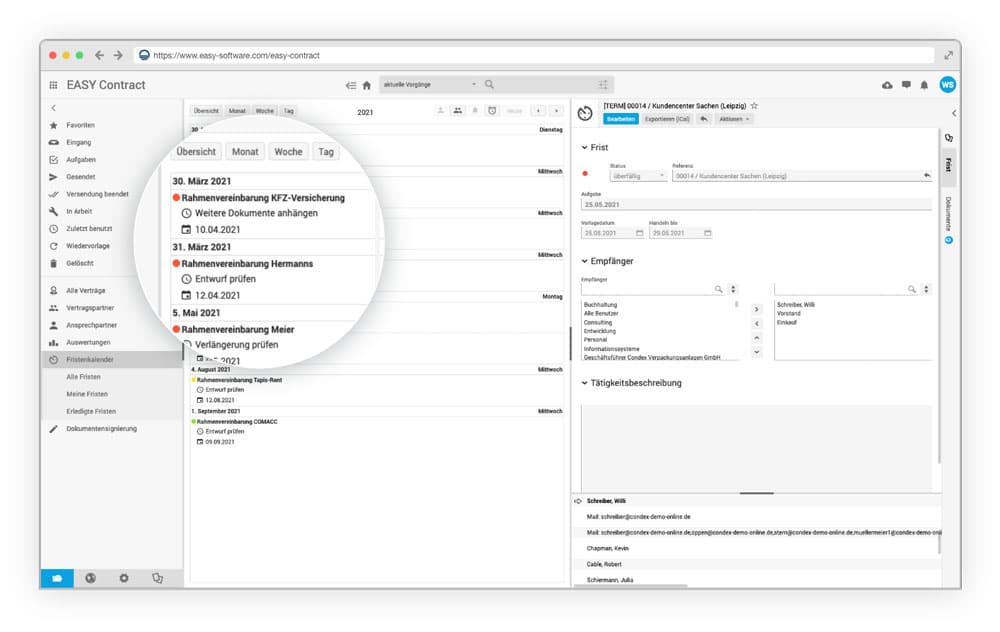 A good user experience is based on a good user interface. That also applies to our contract management software. To keep track of all the deadlines and dates, as a contemporary contract management solution, EASY Contract features a deadlines calendar. A simple click brings up the calendar, together with all the pending deadlines and dates – and you stay in the picture.
After clicking on a calendar entry, you will find further detailed information on the element on the right side, such as a contract, for example. This information can also be edited, exported etc. on the spot. It's a useful feature for a quick overview – after all, who wants to spend their whole time making checks? An integrated deadline management, which is an integral part of every modern contract management software package, also includes an automatic notifications function. Therefore, say goodbye to fixed-term contracts, for cellphones for example, extending automatically because you failed to remember them – you will be notified of the deadline automatically! EASY Contract offers all of this and much more.
The E-file – brings the things together that belong together
The E-file is one of the key elements in contract management. During the life cycle of a contract, many documents that supplement the contract are created: from the joint creation of the contract, to the conclusion of the contract with the digital signature, all the way through to subsequent changes to different versions of the contract. In this respect, emails are written, notes are taken, and perhaps even online chats may take place in that context. A colorful hotchpotch of important, contractually-relevant information is created.
At the same time, you also want to maintain an overview of the situation with the contract management software. This is where the E-file steps in: In a freely-configurable document tree, you can find all the information you need at a glance. Of course, that doesn't mean all content is accessible to any member of staff. A sophisticated authorizations concept assists with the allocation of the rights to access sensitive information.
Contract contents and history – cleanly structured
EASY Contract structures contracts hierarchically. Framework contracts can be defined. In that case, the contract management solution dynamically creates a new tab on which all of the contracts subordinate to the framework contract are listed. Dependencies can be spotted at a glance. Modern contract management is that easy; "traveling" into the past – of your contracts – is that easy.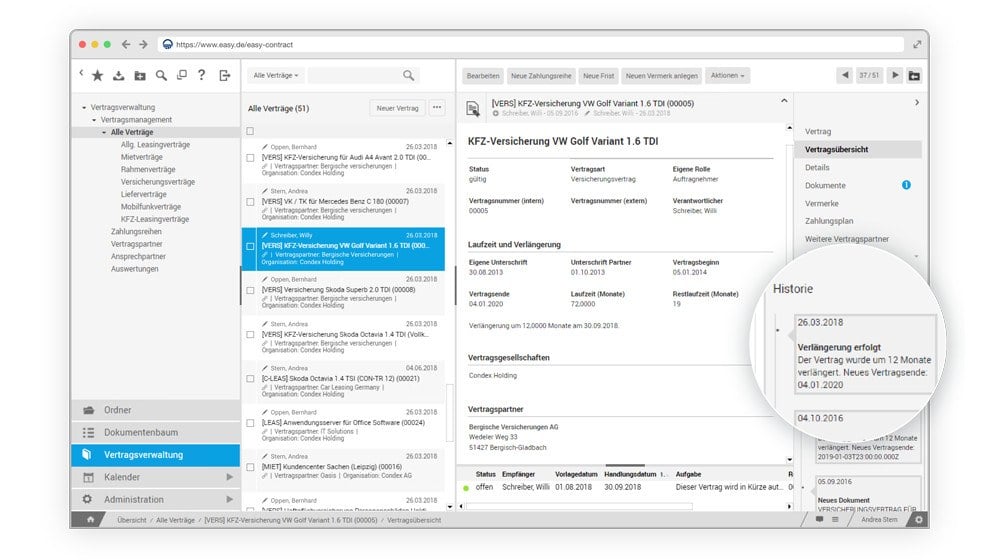 Simple management of payment series
It has never been so easy to manage a variety of payment types. No matter if there is a one-time payment for the contract or if it is a lease contract with a series of payments. You can set up several payment plans for each contract in no time – and comply with the budget planning using the contract management. Of course, you can also display this graphically through EASY Contract.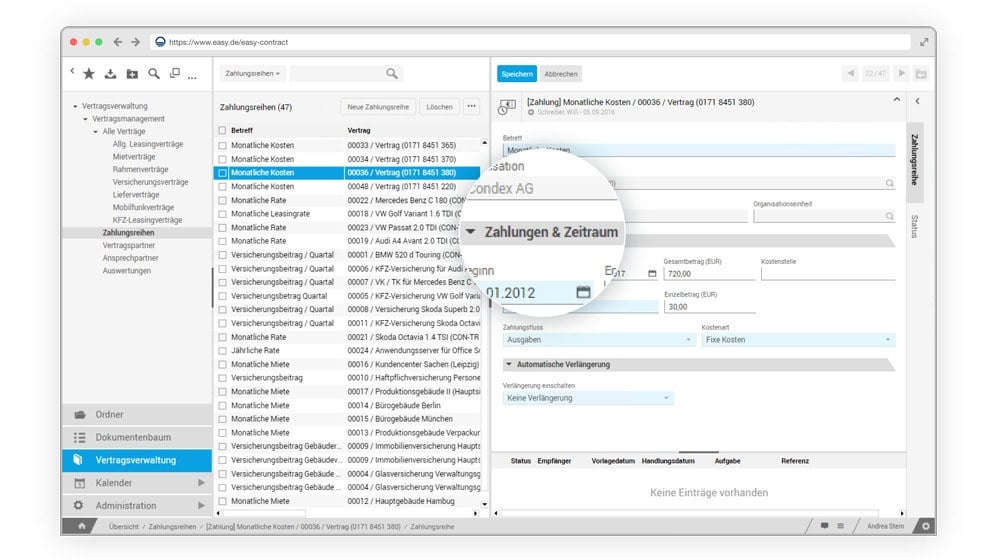 The dashboard for the overview of all contracts is customizable if desired. That way, you always have your overview of all contracts, all important figures, data and facts available. The best part is that with a simple click on the individual graphic elements, you can drill down into a more detailed view. Even on a smartphone or tablet. And so perfect for when you're on the way from here to there – or during contract negotiations when speed is called for.
Gone are the days of back and forth by email and telephone. EASY Contract offers a chat function for every contract. Do you have questions about a contract detail? If you're not in a hurry, just go ahead and start chatting with other colleagues who are authorized in the contract management. The best part is that the context is preserved – and that way there is no annoying and time-consuming communication about which contract the questions refer to and so on.
EASY Contract is ready for enterprise mobility. Use the contract management software as an app on an iOS/Android smartphone or tablet. Or as a responsive web application on any device. A real helper when it counts – even without a working mobile network, if you happen to be sitting in a plane. Every contract in one app. Modern contract management can be that easy.
Potentials in the process and process flow of the electronic contract management
Our contract management software supports the complete lifecycle of a contract: contract proposal, contract creation, contract monitoring, contract controlling. With Contract, you have a handle on even complex approval workflows with version and template management. No matter if it's service, maintenance, lease, cooperation, purchase, or support contracts. Regardless of the contract type – you always have secure control over your contracts and gain efficiency with EASY Contract. Contract management software that provides a wide variety of applications – such as electronic purchase requisition, invoice, and HR – with the relevant legal documents.
Reporting and Controlling
EASY Contract offers effective instruments for valid liquidity planning. Thus, for example, you can create several payment plans per contract. Our digital contract management distinguishes between budget and target figures and delivers aggregated evaluations of the payment plans across several contracts and contract types. EASY Contract – for secure planning and meaningful controlling.
Liquidity management
With our contract management software, you can conveniently manage a variety of payment types with the touch of a button. You keep an overview of incoming and outgoing payments and control them at the same time – no matter if it's a one-time payment or a series of payments.
Clarity provides quick reaction times
EASY Contract includes an integrated contract partner and contact management which can be coupled with external sources such as the supplier master data. The management of contacts in the context of contract management is handled in a flash with our EASY Contract software.
Changes always in view
Also gone are the days when contracts had to be tediously sought and an unclear contract history could lead to erroneous or outdated reporting. With the contract management software, you have a comprehensive overview of a contract's complete history any time.
Uniform contract templates
Companies often struggle in this context with inconsistent templates for the creation of a wide variety of contract types – from service contracts to maintenance contracts. Our digital contract management handles the provision of uniform templates for the creation of contracts. That saves time and money and ensures legal security.
Contract Management
Resources
Discover useful whitepapers, webinar recordings, guides and checklists on contract management.
This guide tells you everything you need to know about digital signatures in corporate use; key facts and legal aspects are summarized compactly.
New contracts appear every day.  For example in purchasing, sales or service departments.  It is difficult to keep an overview because most contracts include important deadlines and a variety of attachments.
Inefficient contract processes are real margin killers. Integrated contract management solutions focus on the user experience and the collaboration of all process participants – for smooth processes without media discontinuity.
Working with people, just without paper using digital solutions from EASY at Piening
Digital document workflows as a cure for slow and error-prone paper processes at WEPA.
With the document management system, the municipality of Eggerding can find everything with one click. Invoices, delivery bills, mail traffic – everything is available in one place. Never again do they have to search through several rooms or shelves for one transaction.