Accounts Payable Automation – EASY SOFTWARE
Out of the document jungle – jump into the digital invoice processing
We've been hearing about the "paperless office" for ages. With electronic invoice processing from EASY SOFTWARE, you are counting on the right solution at the right time. Gains in efficiency and transparency through Accounts Payable Automation are waiting for you – in the digital invoice receipt process. Get started now.
The advantages of our Accounts Payable Automation Software
Transparency:
Status of the digital invoice processing, change steps, and processing persons at a glance, any time through Accounts Payable Automation
Legally compliant:
EASY Invoice supports the complete process history management, thus reproducing the crucial legal requirements of the GoBD
Secure:
Proxy and substitute rules can be set for absences due to vacation or illness at accounts payable
Location independent:
The mobile invoice approval via smartphone or tablet allows maximum flexibility thanks to verification processes that are independent of time and location
Planning security:
Effective planning of the cash flow is provided by the digital incoming invoice processing – the resulting transparency allows an always current overview at any time for your staff at accounts payable
Environmentally friendly:
Accounts Payable Automation substitutes paper and file folders
Cost savings:
Digital invoice processing means lean processes; always have an eye on deadlines for prospective discounts and possible notice periods.
Accounts Payable Automation – Benefits and much more at a glimpse
Learn more about how automated invoice processing works, find out about advantages, legal requirements, future-proof invoice formats and how you can avoid stumbling blocks with digital invoice processing for Accounts Payable.
The 5 steps of Accounts Payable Automation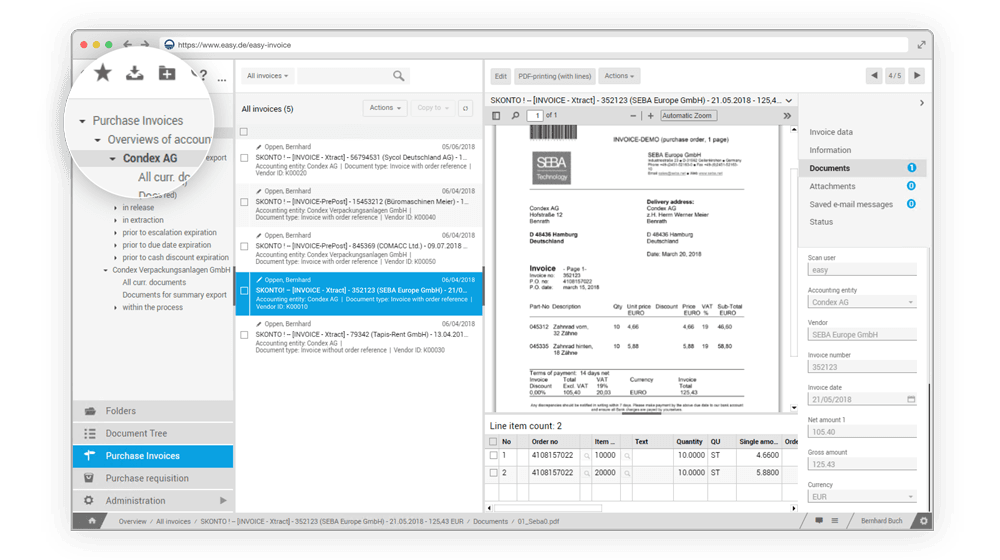 Record incoming invoices:
No matter if the incoming bill is paper-based or arrives by email as a PDF attachment: EASY Accounts Payable Automation independently checks the conformity of every invoice with the GDPR. All necessary invoice contents are determined automatically: invoice header with creditor, total amount, invoice date, and all individual invoice line items.
Workflow for verification and approval
The verification and approval of incoming bills during Accounts Payable Automation can be standardized and nevertheless highly flexible to the requirements of the companies Accounts Payable as well as the ERP/Fibu system being used. The incoming invoice processing software has a variety of options and function modules available for this. Automatic assignment, efficient verification, and fast approval is the goal. Specific functional roles in the departments with various authorizations are defined in the same way as proxy roles for absence due to vacation or illness – thanks to Accounts Payable Automation.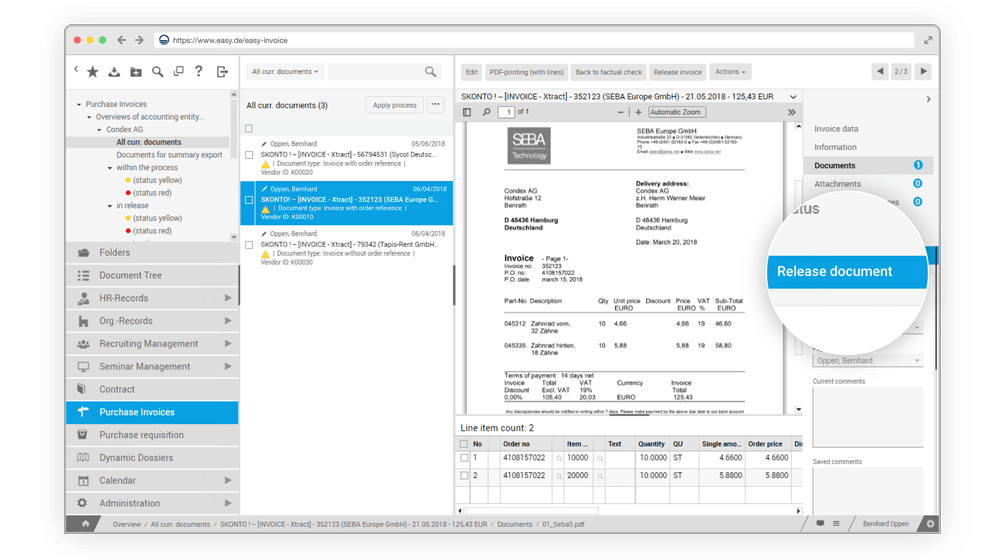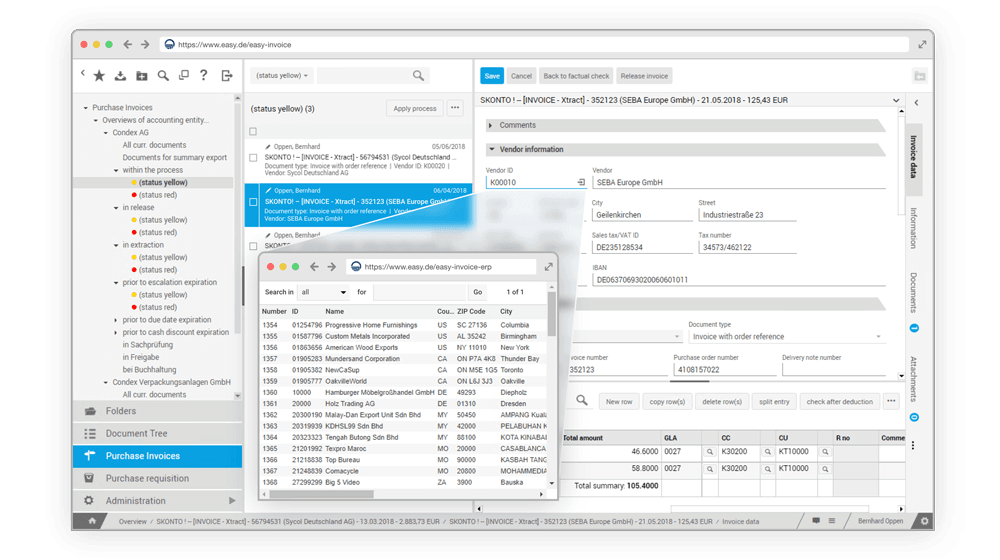 Posting and filing
The process for posting follows successful verification and approval in digital invoice processing. EASY automatically transmits the necessary data for this to the linked ERP system. Since the process has already positively gone through the defined verification process at this point, the posting and payment of the approved invoice in the ERP/Fibu system can typically take place without further user action.
Accounts Payable Automation & Process monitoring
Cross-department process monitoring creates transparence for the ongoing processes in the electronic incoming invoice processing and helps to spot potential disruptions or delays early. Escalation management ensures that occurring problems are solved automatically in accordance with defined parameters. The process monitoring of the Accounts Payable Automation supports not only the monitoring of ongoing processers, but also facilitates the retroactive retrieval and analysis of information on the course of closed processes.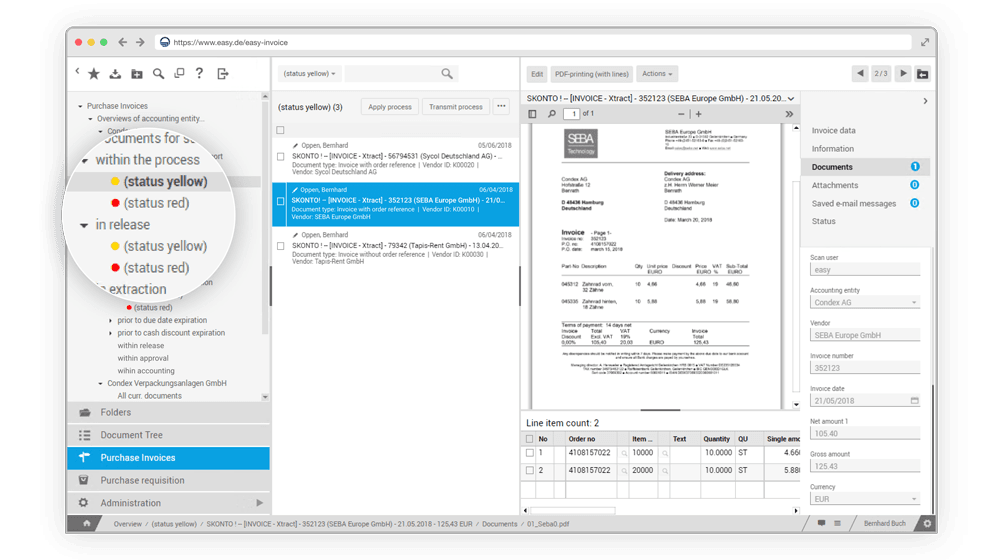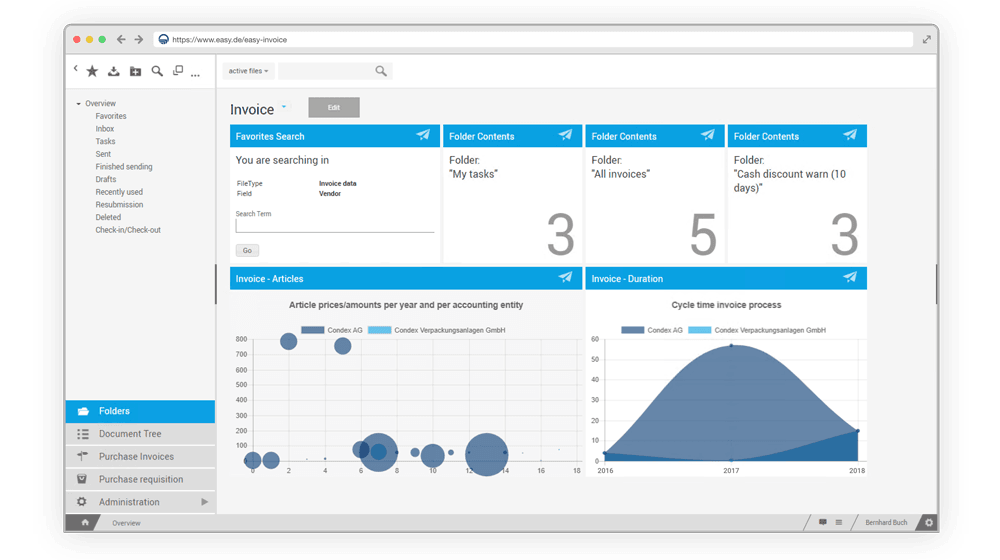 Perfect overview: the dashboard
EASY Invoice presents the user with the personal, role-dependent dashboard as a starting page. This provides a quick overview of all relevant content. Employees of Accounts Payable can freely configure the dashboard with a variety of predefined gadgets. That way, every user of the invoice processing sees exactly the information which is relevant to them in their daily work. Among other things, the information includes tasks, deadlines, new or last used objects, favorites, and also information on key figures for the department or the company. All of these key figures can be displayed in graphical analyses.
Discover potentials in the Accounts Payable Automation (AP Automation)
Compared to traditional, paper-based incoming invoices, electronic incoming invoice processing in business use offers only advantages. You will be surprised – once you have switched to Accounts Payable Automation you'll never miss the old method. Let's get digital.
The current state of Accounts Payable Automation and how to digitise.
This whitepaper presents recommendations for Finance, Accounts Payable and Procure-To-Pay practitioners to move forward, featuring research and insights from The Accounts Payable Association, AIIM and EASY SOFTWARE.
Statistics from The Accounts Payable Association (APA)
AIIM Report – the current state of Accounts Payable
Insight from Jamie Radford, Founder and CEO of The Accounts Payable Association
How to digitise the Accounts Payable process
Insights from three successful Accounts Payable Automation projects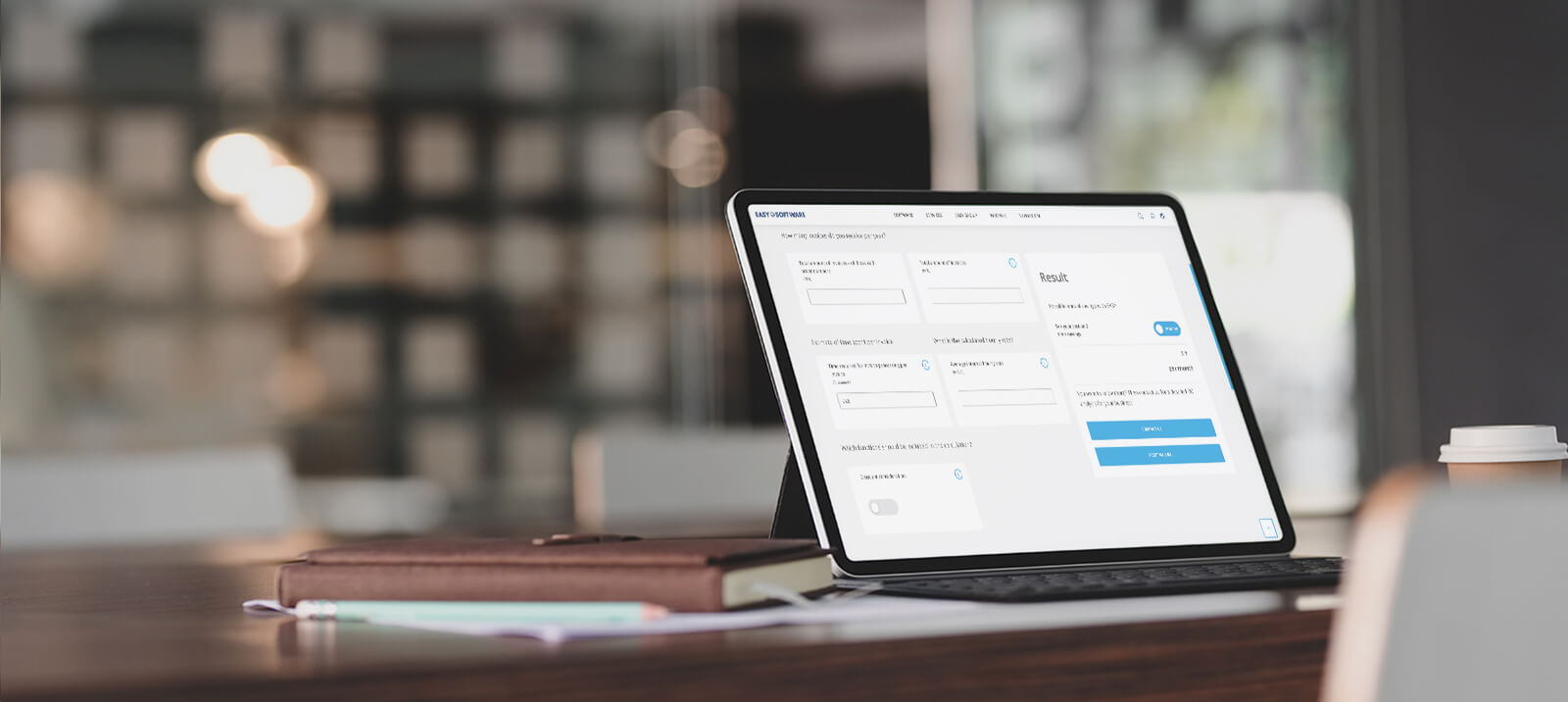 Financial benefits are waiting – check it for yourself
Use our savings calculator for an initial, quick estimate of the financial benefits of our incoming invoice solution. It is worth it!
Questions about automated invoice processing? We have the answers.
Give us a call if you have any questions at +1 267 313 5780
or send your request via the contact form.