When a 16-person team is responsible for maintenance service for home owner and condo associations with a total of over 3,800 residences, one thing is indispensable: efficiency. That is why Becker & Döring GmbH Hausverwaltungen from Wuppertal has worked with solutions from EASY SOFTWARE for electronic archiving for over 15 years. The highest transparency and fast processes are the result – but above all first-class service for demanding customers: the home owners. In addition, the system is flexible and offers the opportunity to implement independent workflows.
Also not to be underestimated is the external impact. With EASY's help, they created a portal for members of the associations they serve. Every owner can see, for example, if a problem has already been reported or fixed.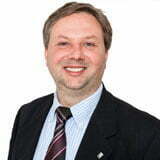 No one is able to offer better transparency. With our services, implemented in collaboration with EASY, we have no competition.
Home ownership in a European comparison
Hausgold/talocasa GmbH, 2014

Do you want to know more about our reference story
Becker & Döring?
These references might also interest you: