HR Software from EASY SOFTWARE
Maximum employee satisfaction, efficient HR processes
Only complete HR software provides you with optimum support for digitising your human resources. With EASY SOFTWARE, you can efficiently design your HR processes and optimally integrate them into a holistic HR management system.
Our mission is the end-to-end digitisation of your HR management. With HR software from EASY SOFTWARE, we support you in maximising the satisfaction of your most important asset – the satisfaction of your applicants and employees.
Overview of HR software from EASY SOFTWARE
From posting and applicant management to training and digital personnel files: The HR software from EASY SOFTWARE supports you in all HR tasks. As a result, you create the best prerequisites for end-to-end digitisation of your human resources. And above all, you create the freedom to fully concentrate on your company's core business and growth.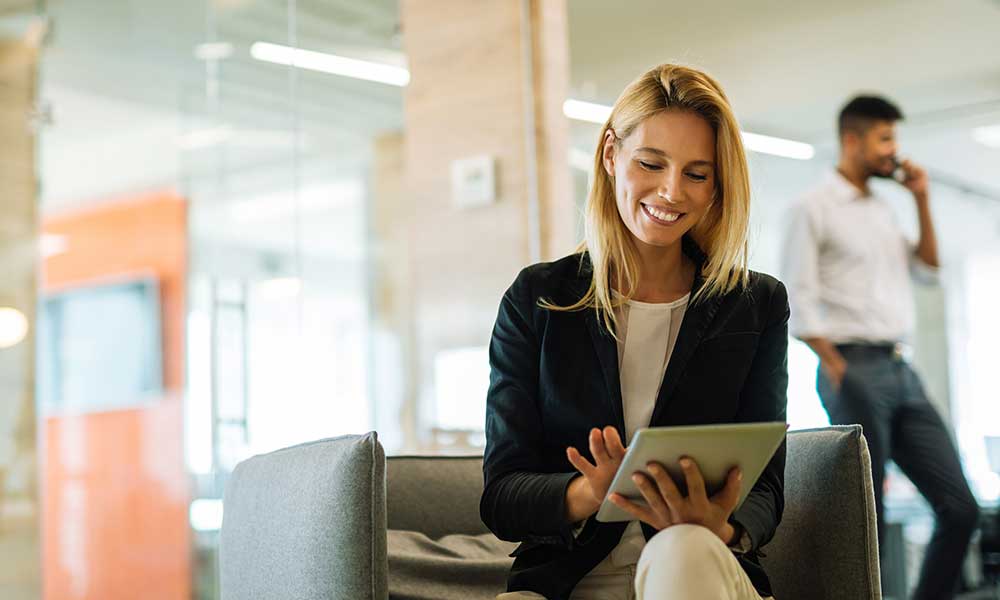 Regardless of the industry in which your company operates, and the transformation projects you are planning: HR software from EASY SOFTWARE supports you in finding suitable employees, providing them with further training, and optimally supporting them during their employment.
With our HR software, you get a solution that holistically covers all aspects of modern personnel management – largely automated and as efficiently as possible. This is what we mean by the end-to-end digitisation of HR.
Self Services for employees and managers
Self-responsibility instead of control: Delegate routine HR tasks to your employees and managers via Self Services. This ensures a good dose of flexibility and increases agility in your company.
Central digital personnel file
The end of mountains of files: With the digital personnel file, you store all important data of your employees in a central archive – of course, completely DSGVO-compliant and secure.
Applicant Management and Assessment Center
Attract the best professionals for your teams and your company – with the help of HR software from EASY SOFTWARE: more efficient recruiting processes, faster responsiveness, and improved results in personnel acquisition. This is how you master the Employer Experience!
Strategic personnel development
Your employees are your greatest asset. With further training measures, you increase this capital every day anew. Create development perspectives for your employees and build up a strategic personnel management that optimally supports your corporate goals.
Our experience, your benefits: EASY, your partner for the digitisation of your human resources management
With around two decades of experience in developing business software applications, EASY SOFTWARE is one of the most reliable providers in the global software market. Benefit from our experience from around 136,000 successful installations. We are experts in digitising business processes.
Modern software applications for HR management standardise recurring business processes. This is exactly what HR software from EASY SOFTWARE makes possible – creating the prerequisite for digitising your HR. Gain time for the really important tasks: recruiting new team members and making employees fit for the future.
If you are looking for the optimal combination of a modern, digital user experience and a resilient backend system, you have come to the right place. EASY SOFTWARE's HR software combines the solidity of an established software application with the flexibility of an agile IT architecture. EASY SOFTWARE convinces through intuitive handling and logged as well as location-independent access to your HR software.
At EASY SOFTWARE, we have been supporting the end-to-end digitisation of business processes since 1990. Our expertise, gathered over many years in numerous successful customer projects, enables us to precisely understand our customers' needs. You too can benefit from this and digitise your HR management with the help of an experienced provider like EASY SOFTWARE.
The digitisation of HR management: the future starts here
Competent employees promote corporate growth and increase productivity. What sounds like a truism fails to be put into practice in many companies. But awareness of the importance of strategic HR management is growing.
In an HR study, for example, the majority of executives surveyed said that their companies want to place a greater focus on talent than individuals in the future. People-centric is a clear trend that will accelerate in the coming years. So don't miss out on realising the full potential of your HR management, too.
Because the future of your company is not only your customers of today, but also your employees of tomorrow.
Modern software solutions for holistic personnel management create the prerequisites for successful recruiting strategies. They enable efficient onboarding of new employees and support the automated management of HR information. Sophisticated HR applications allow you to manage HR-related documents, administer HR data via self-service portals, and organise training and development programs for your employees and key talent.
This is what modern HR software must be capable of
More time for strategic tasks and fewer errors in the process
Successful recruiting thanks to state-of-the-art functionality
The best for your talents thanks to optimised employee development
Mobile and flexible thanks to location-independent access to your HR software and HR Self Services
Legal security at the touch of a button and audit-proof archiving
Holistic HR system that can be connected to all ERP systems
Centralised recruiting with integration to various cloud systems
Multiposting in recruiting with connection to online job exchanges
AI function in all cloud services
Recruiting
Recruiting today should work "end-to-end" – but what does that actually mean? In a nutshell: fast posting of job ads on the most important and relevant job boards such as Google Jobs, automated tracking of applications, and efficient mechanisms for screening candidates.
HR departments face the challenge of efficiently mastering the transformation from employer to employee market. Modern HR software can promote this development and act as an enabler to support HR management in its new tasks.
Onboarding
You have found a talent and convinced them to become part of a team in your company. That's a great first step. Now it's time to ensure that new employees can make their contribution to your company's success as quickly as possible. The keyword is fast onboarding of new employees without a lot of administrative work for your HR department and your new employees.
Digital tools help to digitise and automate repetitive processes. This saves the capacity of your HR department and offers your new employees a modern, digital onboarding experience that strengthens your image as an employer – keyword "employer branding".
Self-Services
Request leave, change master data, complete onboarding tasks: Give your employees the ability to complete HR processes on their own. A self-service portal is the best solution for increasing efficiency and automating HR tasks.
Modern HR software fulfills a need that drives younger generations of employees in particular: decentralised management instead of centralised administration. Promote transparency, independence and enable a modern, digital self-service experience for your employees. It relieves your HR department and strengthens the personal responsibility of your employees.
Education and training
Nothing is for eternity. Once you have your desired talent on board, your HR management task is not over. On the contrary: now comes the real challenge for you. What can you do to retain talent?
Innovative HR software offers you sophisticated functions to accompany and motivate employees at every stage of their career through flexible learning opportunities. Whether it's training and development opportunities or compliance training: Promote the motivation of your employees through individually tailored learning paths – this is exactly where modern HR software supports you.
Personnel Processes
Resources
Discover useful whitepapers, webinar recordings, guides and checklists on HR processes.
This guide tells you everything you need to know about digital signatures in corporate use; key facts and legal aspects are summarized compactly.
Protecting personal information and thus employee data in particular is an important and complex issue – specifically for HR departments. Against the background of EU GDPR standards, effective since May 2018, this white paper provides support and additional information on using our HR management system.
Working with people, just without paper using digital solutions from EASY at Piening
To make sure that paper-based files don't keep clogging up the turbocharger, Autohaus Haidacher has been using a digital document management system for invoices and personnel files.
With the document management system, the municipality of Eggerding can find everything with one click. Invoices, delivery bills, mail traffic – everything is available in one place. Never again do they have to search through several rooms or shelves for one transaction.