Audit-proof document archiving – digital and legally compliant
The number of documents in a company knows of no limits: Every day, new data is added that is created either by the company itself or arrives from outside the company – such as contracts, product lists, emails, invoices, delivery papers or documents. And the data is in both paper and digital form.
Definition: What is document archiving?
First and foremost, document archiving means the unlimited retention of documents. The goal is to back up the documents so that they can be accessed again later.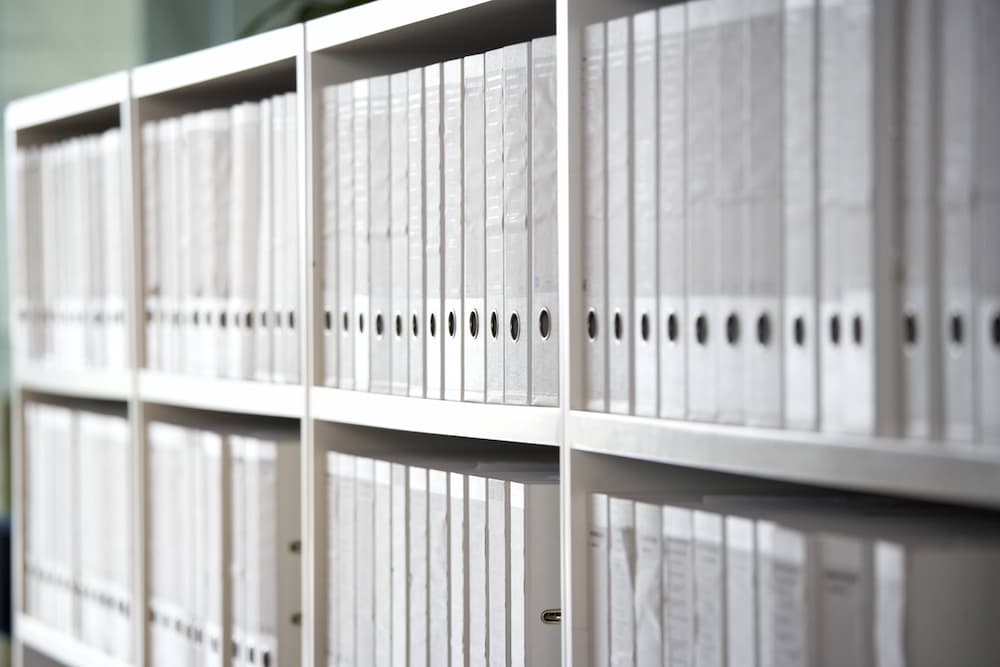 Many companies still have a physical archive, i.e. a space in which the business documents are stored in folders, for the purpose of archiving in paper form.
For electronic documents, this takes place in electronic form through digital archiving: The data are stored electronically with the use of a database. In this case, both original digital documents and subsequently digitalized documents can be archived. This frequently takes place with the help of archiving software.
Retention requirement: Why is archiving important?
There are both internal and external reasons for document archiving.
On the one hand, keeping important documents secure over the long-term is in the interests of the company, as the documents contain information that is crucial to the business. These can be contracts or agreements with customers or suppliers, for example, but also knowledge which is essential for the business, such as documentation on machines and plants.
In addition, companies which are required to keep accounting records are legally obliged to archive business-relevant documents such as invoices, receipts or quotations. In this respect, there are national and international legal requirements which must be observed. These stipulate the framework conditions for the retention requirement, often wrongly referred to as the archiving requirement, of documents.
Audit-proof archiving: What has to be considered when archiving documents?
Managing document archiving in compliance with the law is actually not difficult, because the legal requirements for archiving clearly specify what is necessary in this respect. The important keywords in this context are "audit-proof archiving". To avoid running the risk of infringing the requirements for audit-proof document archiving due to a lack of knowledge, it is worthwhile finding out about the requirements relating to the retention requirement.
What has to be archived?
According to the law, all documents that have been created or received in the company must be archived if they are relevant to the taxation. These include, for example:
Drivers' logbooks
Salary lists
Payroll slips
Hourly receipts
Commercial register extracts
Certificates of title
Annual financial statements
The retention requirements include both paper-based documents and digital data. It is important that the archiving takes place in the original format, while paper-based business documents may be digitalized.
As more and more business correspondence arises electronically via email, a large proportion of the emails in the company are also related to business matters. Therefore, emails must be managed in the same way as the aforementioned documents. To comply with the retention requirement, the archiving software should also have an option for email archiving.
The benefits of digital archiving
Cost and time saving
Due to the ever-increasing amount of documents in companies, storing them in paper form over several years is a real logistical challenge, as the amount of data also increases the requirement for space. Digital archiving eliminates this problem. The electronic storage capacity for document archiving can be adapted to the growing demand at any time, which not only leads to a lesser requirement for storage space, but above all else, to the elimination of the storage costs for the physical archive.
Digital processes
If your documents are in digital form, the next step towards automation isn't far away: Your work processes can be displayed digitally with ease and can simplify your everyday work.
Rapid data access
With the use of digital archiving, documents can be found in the shortest possible time, because instead of searching through folders in a dusty archive for hours on end, the document can be retrieved with a few clicks or found via a search function – from any location. This saves valuable working time that can be better used elsewhere.
Reliable auditing
With the help of digital archiving, the fulfillment statutory requirements, such as the requirement for audit proof archiving according to laws, poses no problem. We recommend that you use the support of an archiving software package.
Transparency
The digital archiving of documents means searching for the current version of the document is no longer a problem. The version history means it is clear to everyone when and how the document was last edited. This greatly simplifies the teamwork.
Data security
In particular, archiving in the cloud provides optimum protection for your documents against data loss, such as water damage or fire. And wear and tear of old documentation is no longer a relevant problem.
Collaborative work
When documents are digitally archived, it means that multiple people can access and work with the documents simultaneously – regardless of their location. This saves long transport distances and reduces the risk of paper-based documents getting lost.
Environmentally friendly
It is also the case that protecting the environment is a significant advantage of digital archiving. Eliminating the unnecessary printing of documents contributes to the reduction of CO2 emissions and protects the rain forests.
Archiving software: Archiving documents on a digital and audit-proof basis
There are therefore numerous reasons for digital document archiving. In this respect, the statutory requirements are not negligible. The use of archiving software is the safest way of fulfilling these requirements.
With archiving software, you needn't worry whether your documents are audit proof anymore. The intelligent solutions ensure that your documents are stored in a digital archive in a complete, traceable and orderly format, and are protected against unwanted erasure. The erasure deadlines specified by the GDPR can be complied with without any problem, as they can usually be shown automatically by the archiving software. This eliminates the need for time-consuming, manual erasure processes, and not only saves valuable time, but also reduces the risk of errors due to automation.
A search function allows you to find your archived documents very quickly. This eliminates the need for manual, time-consuming searches for the correct folder.
Regardless of which form or from which source the data arrives in your company: With the help of a digital document entry solution, digital documents can be generated easily. They are not only entered, but also tagged and classified automatically, and then transferred to the digital archive.
Once the documents are in the digital archive in electronic form, they can be integrated into work flows. In this way, business processes can be automated and therefore become significantly simpler and faster.
Archiving software – the right solution for every system
The archiving of business documents and data is one of the most important requirements of companies. With the solutions from EASY, it is possible to achieve legal compliance, efficiency and simplicity. Thanks to numerous standard interfaces, integration with numerous ERP systems is possible.
Exchange Email Archiving
EASY email archiving is based on many years of experience with Microsoft technologies and Microsoft Exchange. Back up your e-mails regularly and automatically with our Exchange online archive. Use it as a SaaS solution – at fixed prices, cancelable monthly.
Archiving in Microsoft Dynamics 365 BC
With EASY, archiving in Microsoft Dynamics 365 BC becomes process optimization. Not only can numerous processes be mapped, but all the incoming and outgoing documents that require retention are archived on an audit-proof basis without the need for an additional archiving client. Even the archiving software is fun. The EASY Factbox allows you to view each task in its entirety – at the same time, you get an overview without having to open the task.
Archiving in the cloud
A particularly flexible archiving solution is document archiving in the cloud. A cloud-based archive such as EASY Archive Cloud is usually ready to use, as it is pre-configured so the implementation workload is omitted. And it means that users don't have to maintain their own infrastructure or handle the administration. Your data is protected on the basis of intelligent security mechanisms and by encrypted transmission..
Archiving in SAP®
With archiving in SAP, organizations with a high volume of data are faced with a challenge: Expanding storage capacity is associated with considerable costs, and large volumes of data can impact the system performance. In addition, An external archive with a suitable interface, such as EASY Archive for SAP Solutions, can solve these problems and also simplify the work processes surrounding the SAP system..
Discover useful white papers, webinar recordings, guides and checklists on archiving.
This session will introduce a new full-service concept for data management for customers of both current versions of SAP and the latest S/4 HANA using the newly launched EASY Cloud platform.
What did we learn through lockdown? Document management systems bring desired order to the document jungle, ensure transparency, workflows and the necessary efficiency in companies. So far, so good. But what about cooperation beyond the boundaries of the DMS?
Since 2021, Babymarkt, Europe's largest online shop for baby and children's products, has been digitising and archiving its accounting with EASY SOFTWARE.
Digital document workflows as a cure for slow and error-prone paper processes at WEPA.
Every year, Mitteldeutscher Rundfunk stores more than 250,000 documents in EASY for SAP Archive in a legally compliant manner.