That is a brief sketch of the needs that are driving many companies to take a look at document archiving in the cloud. But what do you have to consider before introducing a cloud storage solution? And is there anything like this in data centers already?
Which archiving requirements apply to which types of business documents in the cloud?
There is no getting around it: Depending on the business processes and documents for which you use your cloud archive, the requirements also differ. Generally speaking, GDPR compliance* plays a central role in the HR field while compliance is important with respect to tax documents and their audit-proof archiving. When selecting a cloud archive, it is worth paying attention to which test certificates and certifications the archive solution provider can present: ISAE 3000 is a certification you should look for when selecting your future cloud document archive.
*General Data Protection Regulation
In addition, the solution for document archiving in the cloud must have the following functions:
Auditability: Cloud archiving must be accessible and readable by the financial auditor at all times
Identity management: Only defined and authorized employees and persons may have access to documents archived in the cloud
Enforced compliance: Cloud archiving must guarantee compliance with legal requirements as well as internal company policies
Complete and reliable archiving: No business documents may be lost in transit or go missing from the cloud archive
Traceability: All changes in the cloud archive must be logged and recorded
Forgery protection: The archived business documents must be stored in the original form and be unalterable
Loss prevention: Employees and third parties (e.g. financial auditors) must have read access to the business documents at all times
easy archive – audit-proof cloud archiving in under 24 hours
easy archive is a certified, powerful cloud solution for documents and records from document-intensive business processes. Naturally with full GDPR compliance. The cloud archive with its digital interface offers a rock-solid foundation for seamless integration into your business processes, such as incoming invoice management, HR processes, contract management, and more. Interested in learning more?
In addition to supporting compliance with legal requirements and internal policies, Cloud Archive is designed to give you a powerful document archiving solution in the cloud. It offers an easy away to store your documents digitally and securely in the cloud, making it ideal for tax documents and other information subject to retention requirements. When choosing a cloud archive provider, it is best to look for one with the longest possible business history. This will give you an idea of whether the provider will still be operating on the market tomorrow, the day after tomorrow, 10 years from now, or even longer. You should also be sure to go with a managed services provider. This reduces the workload for your IT department, and you also benefit from fixed contact persons.
Say goodbye to paper filing – rely on document archiving in the cloud
To bring electronic archiving a step closer, the cloud archive should create a digital archive for you immediately after the first activation. For all your invoices and receipts as well as your digital personnel file – with or without digital signature. A modern cloud archive like EASY Archive can process a good 500 different file formats right out of the box.
Once the cloud archiving system is up and running, the archive application starts transferring your digital documents automatically. This allows you to meet your documentation obligations more easily and in less time than ever before. You can access your archived documents and records at any time and from any location.
User-friendliness comes first, accessing the digital archive is no exception
When it comes to user-friendliness, user expectations have grown in recent years. Younger user groups in particular have little interest in working with complicated applications. After all, what matters is just getting things done! And what good is a simple data archiving application if it gets in the way? Exactly.
Ideally, the cloud archive should be supplied preconfigured so you can skip the technical hurdles. This is typical for SaaS/cloud offerings. As a rule, you will be guided from the very beginning, and an archiving wizard will take over the document filing for you. You simply define the data sources and folders on your systems from which the system will automatically upload files. Documents and files to be archived in electronic form, such as accounting-relevant files, are even automatically stored in the cloud by the wizard afterwards. This ensures that a regular data backup takes place automatically. You and all authorized persons then have secure access to the data archived in the cloud at any time via typical web browsers. Let's not forget that the whole setup has to work on smartphones/tablets and other mobile devices too. Check. What else do you need to consider?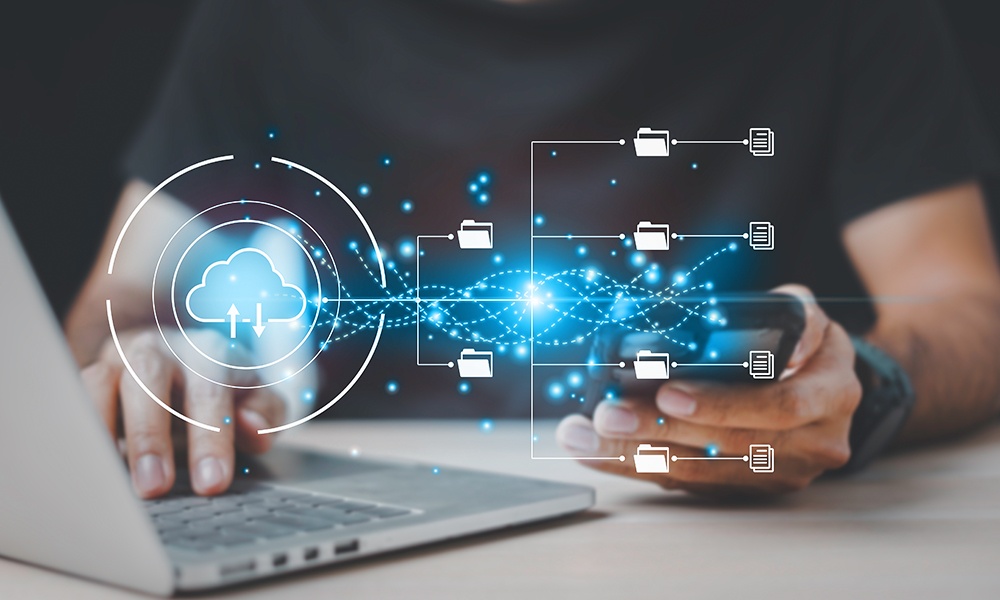 Audit-proof and easy to use
With a certified cloud archive, your archiving system will be in compliance with the law. The topics of audit-proof archiving and security are among the central aspects you must consider when selecting your archive storage solution. Then you will have nothing to worry about. This is because audit-proof archiving in the cloud guarantees the immutability of files once archived thanks to automatic versioning. Your digital archiving and secure storage requirements will be met in no time at all.
How does it work? The original file is always preserved in a tamper-proof manner. To prove audit-proof compliance, a protected activity log records all file transfers, changes, and deletions. Digital receipts, documents, and data should be protected from accidental deletion in the enterprise cloud archive. Ideally, this is ensured by a dual control principle, i.e. a defined second employee is automatically informed before the deletion is processed. The deletion is only permitted if this person approves it.
Collaboration comes first, boosted by an intuitive interface
The web client of a cloud archive should be intuitive to use. All permissions – from users to administrators – should also be configured quickly. User groups with different roles and rights must be available. With a typical managed service, these user groups will be provided from the start, and you only need to classify your employees accordingly. Collaboration tools must be available for documents and folders: Archived documents and data in the cloud can thus be contextually annotated with comments, notes for important tasks, etc. This simplifies working with the cloud storage solution immensely.
Search for and quickly find archived documents in the cloud
As soon as the documents are transferred to the document archive in the cloud, powerful OCR software reads the content. This is a prerequisite for the automatic keywording of the individual archived documents. The resulting keywords essentially add a meta-level to the document – and this is all stored in the digital archive. From the very first moment, you can search for all terms in the document using the full-text search. Any file can be found in no time.
Shortly after the initial setup, all authorized team members will be able to access the documents and records stored in the cloud archive, share documents, and edit them together. Even on mobile devices – because modern cloud archives run not only on the desktop but also on iOS and Android.
Digital archiving in a public cloud, private cloud or hybrid?
When answering this question, everything depends on your specific requirements. A public cloud is usually available to the general public. Anyone can register there. This is precisely why this cloud form is not suitable for electronic archiving. In contrast, a private cloud solution comes much closer to audit-proof archiving. Especially when you consider the options for a hybrid cloud.
So let's summarize the typical requirements of audit-proof archiving in the cloud.
Document archiving in the cloud: What you need to consider
Audit-proof archiving in accordance with all requirements of GoBD and the German Commercial Code (HGB) with regard to correctness, completeness, security, protection against loss, traceability, etc.
Automatic transfer and document archiving
Unchangeable activity log to make all changes transparent
Maximum data security thanks to storage in German high-security data centers and encrypted transmission
Integration into business processes, e.g. contract management, HR processes, etc.
Automatic text recognition of archived documents thanks to integrated OCR function
Full text search across folders
Mobile data access via tablet, smartphone (iOS/Android), or laptop/PC
Simultaneous access by multiple users
Digital interfaces for convenient data transmission, for example during tax audits
Option to export data from the cloud archive: avoids vendor lock-in and thus dependency on an archive provider