Contracts are part and parcel of daily business. Hardly any business relationship with customers, employees, suppliers or partners is established without a contractual agreement. It is therefore all the more astonishing that only a few companies have mastered contract management par excellence.
Harvard Business Review cites studies that show that companies lose between five to forty percent of value on a deal due to inefficient contract processes. According to HBR, however, the solution is Artificial Intelligence. But do companies have to go that far or are there more accessible ways to solve this problem?
In this blog post, we look at the typical challenges that companies face on a daily basis when creating, processing and archiving contracts. In addition, we want to provide solutions to the most common issues facing businesses of all sizes and in all industries.
Studies show that companies lose between five to forty percent of value on a deal due to inefficient contract processes.
Two pieces of good news for you:
Although contract management is a complex process, the challenges are similar for most companies. Since everyone is in the same boat, it's worth rowing in the same direction. In other words, learn from and implement best practices!
Artificial Intelligence is used as a wonder weapon to combat many business problems – and rightly so, in most cases. In contract management, however, it is often the smaller, more manageable digital solutions that already work miracles!
1. Individual Workflows Instead of Proven Standards
"All roads lead to Rome". Please forget this idiom when it comes to contract management. The beginning of every contract process is a draft, and the end is the signed final copy that ends up being archived. In contrast to the journey to Rome, however, the steps between the start and finish are clearly defined.
Avoid experiments and instead rely on a clearly defined procedure for your contract management. It could look something like this: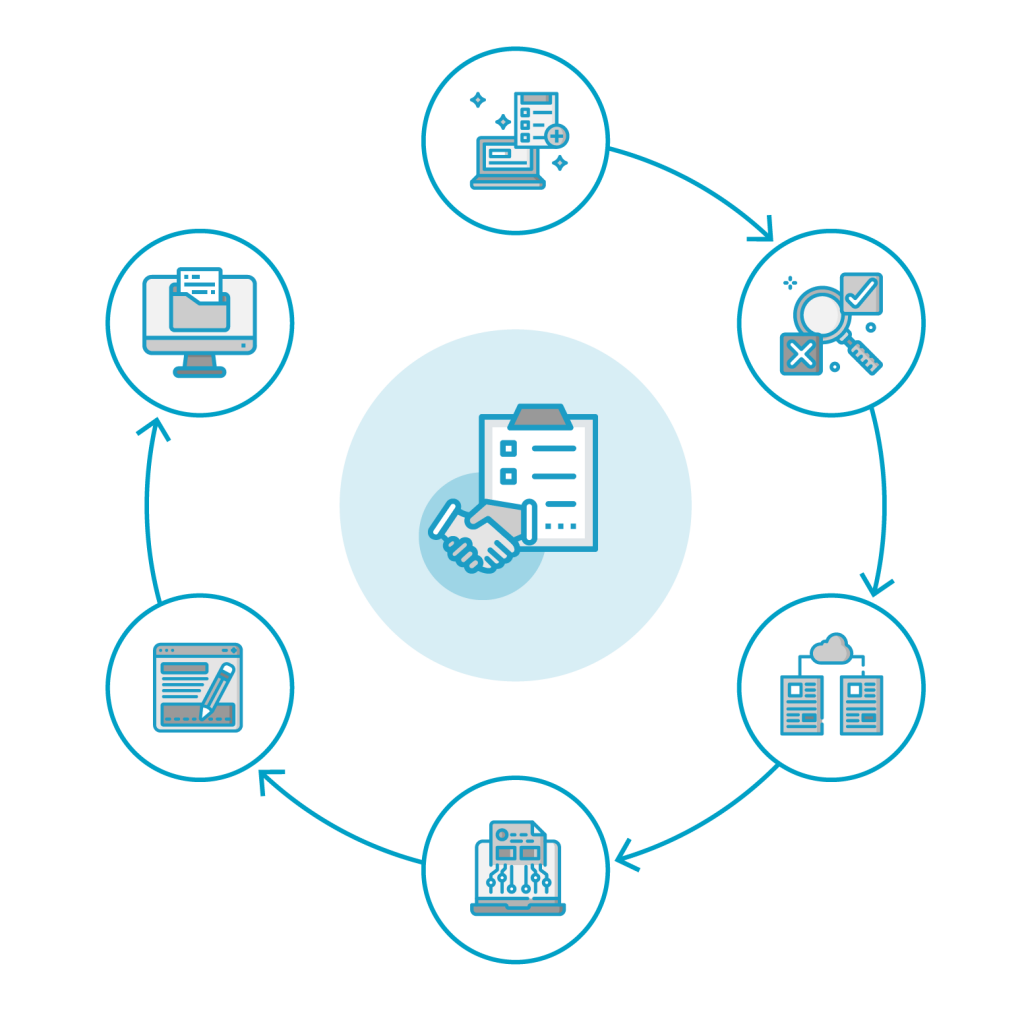 Draft: Preparation of a draft contract based on standard templates for different types of contract.
Review: Review of a draft contract using workflows with integrated deadline management
Approval: Approval of a draft contract that has been checked according to a pre-defined authorization concept
Coordination: Content coordination of the draft contract with the contractual partner with functions enabling shared processing
Signature: Legally secure conclusion of the contract through a digital signature solution
Archiving: Securely store and archive concluded contracts and adhere to compliance policies and permissions
2. Media Disruptions Instead of Digital Integration
The processing of contracts is often dismissed as administrative paperwork. In many cases, however, there is more truth behind this sloppy comparison than you might think – especially when you consider the word "paper". While the vast majority of companies (75 percent) now work with digital documents, a quarter have still not digitalized a single paper file. This statistic was taken from the Bitkom Digital Office Index.
Media disruptions are the order of the day for non-digitalized contracts, which actually end up causing problems along the entire contract process:
During the manual, paper-based creation of contracts, standard content is often forgotten or used incorrectly.
Communication by internal mail or email is both insecure and inefficient. In addition, contracts often fall through the cracks, meaning that important deadlines are not met.
Archiving paper documents makes finding and searching for contracts a time-consuming and cumbersome task.
In addition, paper-based processing of contracts is liable to errors that are difficult to trace or control.
Media disruptions and the associated risks can be easily avoided by completely digitalizing your contract management – which brings us to the next point.
Digital Collaboration in Contract Management
Inefficient contract processes are real margin killers. Integrated contract management solutions focus on the user experience and the collaboration of all process participants – for smooth processes without media discontinuity.
3. Isolated Solutions Instead of Completely Integrated Solutions
In principle, digital solutions for contract management are a good option. However, if employees build their own system landscapes due to a lack of an overall strategy, it is unlikely that the desired process improvements will ever become a reality.
At the same time, individual initiatives adopted by a department or one of your teams are a fairly reliable indicator of weaknesses in your IT concept. Use solutions that cover as many requirements as possible from a single source – and opt for standard solutions from market leaders. Contract management is not going to set you apart from your competitors, so avoid experiments and rely on proven solutions.
At easy, we listened very carefully to our customers and analyzed their needs. The result: easy contract – a complete solution for contract management, founded upon two decades of experience and development work. We haven't reached the end of the road yet, though. Since we can't cover all the requirements in-house, we integrate the most popular digital solutions on the market via an API.
This way, our customers can now share their contracts with a contractual partner and process them together using Google Drive and Microsoft OneDrive. easy contract users can control the signature process for the legally valid electronic signature directly in the application using FP Sign or DocuSign. 
Other third-party applications can be linked to easy contract via an API integration. This keeps users in their familiar environment without sacrificing the functionality of popular third-party applications.
4. False Security Instead of Legal Certainty
Perhaps one of the most interesting aspects of contract management is the issue of legal certainty. While critics of digital solutions like to question the legal certainty of the electronic signature, they completely miss how poorly conventional, paper-based contract processes meet modern compliance requirements.
Anyone who prints, scans, reprints and then scans paper contracts like in the good old days buries any claim to transparent legal certainty and compliance. Digital solutions, on the other hand, log every single step along the entire process and document the contract history in chronological order.
In addition, contract management solutions also meet the essential requirements of commercial and tax law:
Generally Accepted Accounting Principles (GAAP)
Principles of computerized account systems (GoBD)
Principles of data access
Controllability of digital documents (GDPdU)
Federal Data Protection Act
General Data Protection Regulation (GDPR)
This makes digital contract solutions a crucial component for audit-compliant archiving and transparent versioning of contract documents. They create legal certainty, meet the highest compliance requirements and thereby reduce business risks for companies of all industries and sizes.