How Germany's fifth largest car dealer manages their HR processes.
What do automobile engines and software have in common? We expect at a minimum constant, even better additional performance from both. Looking at it that way, things that belong together come together at Feser-Graf. The automobile dealer group based in Nuremberg, Germany successfully relies on the digital personnel file from EASY.
No growth without success. And of course, growth is reflected in the number of employees. It tripled at the Feser-Graf Group, from around 600 to around 1,800 employees – with a rising trend. There were also new locations. How could the work capacity be ensured? The only logical answer: with a digital solution for the personnel file.
Why EASY? "I wanted a specialist from the HR environment. Someone at my level, who knows what they're doing and understands and supports my HR processes. User-friendliness was one of the leading arguments for EASY," summarizes Christian Puckschaml, Personnel Manager of the Feser-Graf Group. "And the option of tailoring workflows simply and individually finally convinced us."
Easing the burden provides acceptance. Feser-Graf was able to significantly reduce initial concerns from the individual locations, because the branch managers were able to quickly determine that EASY HR made their jobs simpler. And the internal processes also clearly run faster. Ultimately, what counts is performance, speed, reliability, and security – just like with driving a car.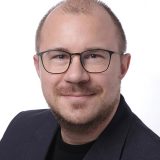 All of our employees got acquainted with the digital files in a very brief time. After just two weeks, people could hardly do without them.
New car registrations in Germany:
Rising trend
Source: Kraftfahrt-Bundesamt (KBA; Federal Office for Motor Vehicles)
0
.2 Mio.
new car registrations 2015
0
.35 Mio. / +4.5 %
new car registrations 2016
0
.44 Mio. / +2.7 %
new car registrations 2017
Do you want to know more about our reference story Feser-Graf-Group?
These references might also interest you: