The fact that this digital revolution is not an end in itself is clearly demonstrated by contract management. With the help of contract management software, you can quickly raise the contract lifecycle from all departments in your organization to a new level. In this blog post, we'll explain in concrete terms what this means for the handling of contracts in your company. This will all be based on the seven stages of the digital contract lifecycle management process, which is used to professionally manage contracts in companies.
1. Template Creation
In many companies where contract management isn't digitalized, new contracts are often generated as follows: after a department requests a new contract, an employee simply generates a digital copy of an existing contract and adapts the text file to the new contractual terms. Although this seems a simple enough process, it's extremely error-prone and therefore highly fiddly. Unintentional errors quickly creep into the contract structure if all relevant text passages aren't adapted accordingly. This is a typical shortcoming of any manually performed process.
With digital contract lifecycle management, however, employees access a template library, consisting of checked text blocks that were previously created by the legal department in coordination with the relevant teams. In addition, you can create templates for generating contracts that comply with your company's corporate identity and design guidelines.
2. Contract Creation
By relying on these templates, it's possible to generate contracts in a convenient and secure manner while simultaneously applying the same standards throughout the company when creating contracts. In an ideal case, the digital contract management system is connected to your company's ERP or CRM system, so that all essential information about the contractual partners can be correctly imported into the contracts.
This process step highlights yet another benefit of digital contract lifecycle management over the traditional copy-and-paste method. Whether you have your own legal department or work with an external law firm, the software relieves specialist lawyers of having to perform simple routine tasks. The result? Your company saves costs by minimizing the number of hours spent on employing lawyers with high hourly rates.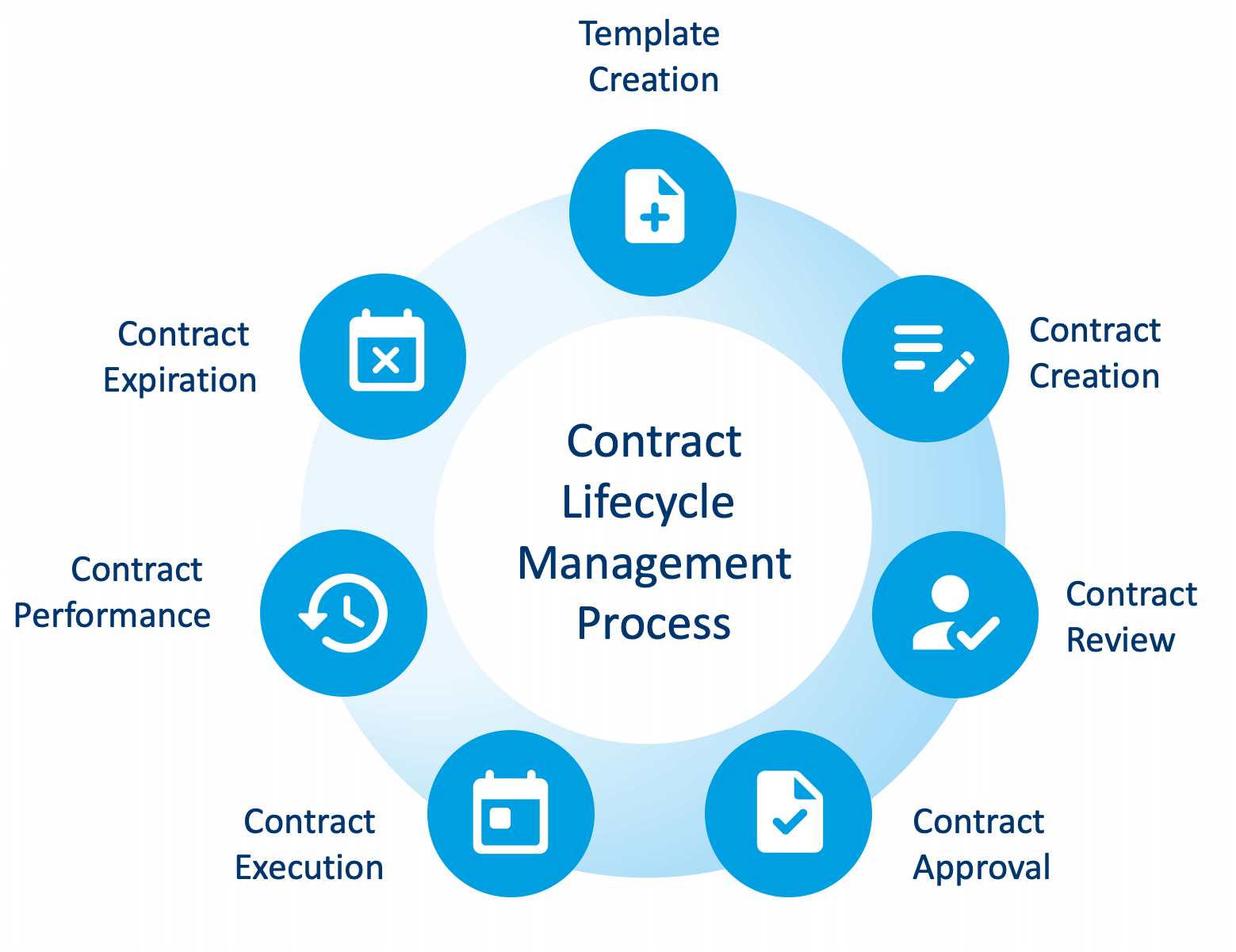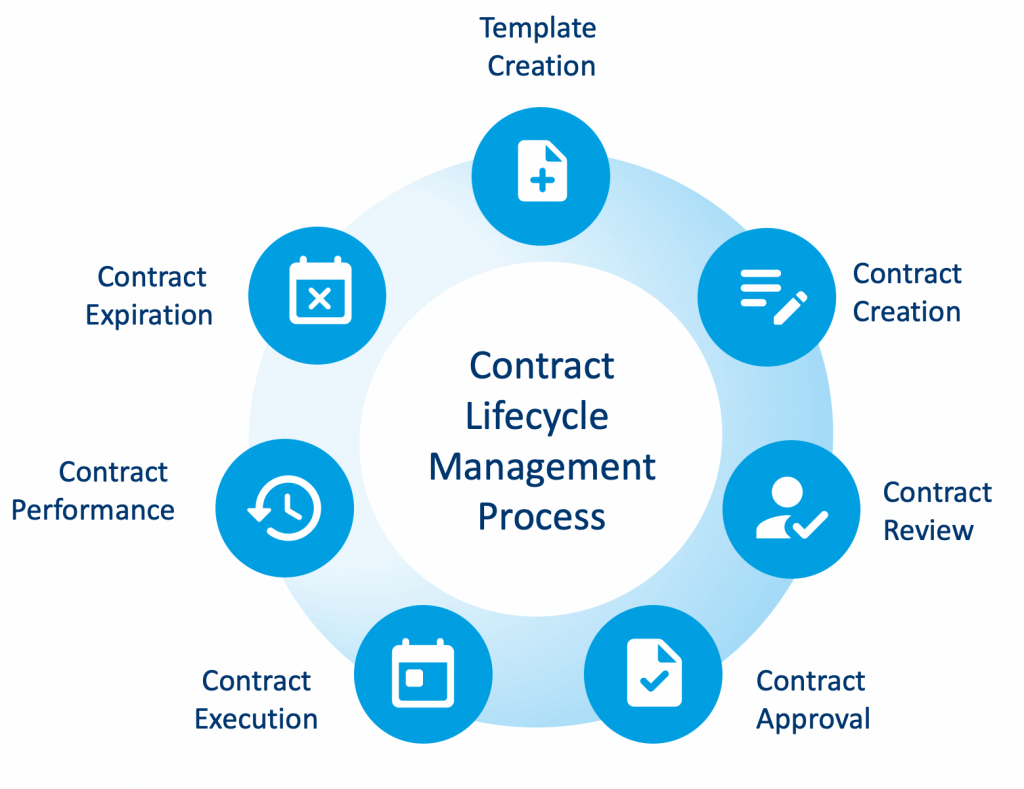 How to digitalize your contract lifecycle management
In our free guide, we show you how to digitalize your contract management in just a few steps, thereby helping you to create the optimal conditions for efficient collaboration. But that's not all: contract lifecycle management ensures compliance with all legal requirements and minimizes business risks.
3. Contract Review
In addition to legal jargon, contracts also consist of a number of facts and figures that are stipulated in the contract and may contain accompanying documents. This may involve fixing prices, defining product designations, specifying delivery quantities and deadlines, issuing termination and confidentiality clauses, explaining liability and service agreements, and much more.
The initial contract drafting process is therefore often followed by many further contract amendments to iron out these finer details. In corporate practice, various management personnel, even from outside the legal apparatus, may be responsible for this process. Digital contract lifecycle management ensures that all participants are involved in this process in a transparent manner and can make changes to the contract at any time and from any location – provided they have the appropriate access authorization.
4. Contract Approval
Not every contract process necessarily involves the people negotiating a contract also being responsible for approving it. For this reason, this step in the process often requires a seamless handover between different responsible parties. This phase is greatly simplified if all parties are able to work collaboratively on a contract document.
With digital contract lifecycle management, all the parties involved can flexibly access the entire contract and the contract creation process at any time, anywhere. All changes to the contract can be traced and assigned to individuals. At the end of the negotiation phase, it's easier to express agreement with the latest version of the contract using the software.
5. Contract Execution
From a legal perspective, this process step is the most important step in contract lifecycle management. That's because this phase is when the documents are signed. Most people in companies nowadays don't sign contracts by hand – digital signatures have long become the norm.
Those responsible for contract management should be aware that there are three types of electronic signature:
Legislators intentionally designed the simple electronic signature to be very open. With this signature, it's possible to insert a scanned signature into a digital text document. However, this makes this form of signature only suitable for contracts with a low liability risk, such as purchase orders.
An advanced electronic signature is uniquely linked to each signatory, enabling unique identification. This form of signature has a high legal validity that makes it suitable for complex contracts, e.g. a service contract.
A qualified electronic signature has the highest legal validity, as it complies with the most stringent legal requirements when verifying an identity. Among other things, this includes use of facial recognition tools or video calls as well as the presentation of personal information, signature cards or other cryptographic tools. In business processes, this form of signature is used, among other things, for the transfer of personnel.
A digital contract lifecycle management system supports these processes, offering maximum security for the institutions involved and utmost convenience for all other parties.
6. Contract Performance
Contractual performance is about actually complying with all the obligations stipulated in the contract, e.g. making payments, delivering and receiving goods or services. Software-based contract lifecycle management helps monitor contract compliance by being connected to the company's ERP or CRM system, enabling all relevant information to be found and accessed at any time.
Towards the end of the contract term, you'll make a decision as to whether the contract should be extended – with or without the contents of the contract being adjusted – terminated or should simply expire. In this regard, the digital contract management system reminds you of all the necessary key dates and deadlines in a clear calendar, and will simplify the initiation of a new process if necessary.
7. Contract Expiration
The contract lifecycle is by no means over once a contract expires or is terminated. After all, every company must have access to old contracts, while there are strict legal guidelines concerning the storage of such important documents. Digital contract lifecycle management saves you from archiving old contracts in file folders, which then have to be documented, stored and eventually destroyed at great expense.
When a contract expires, it's simply moved to the digital archive in the CLM system and stored there in accordance with all statutory retention and deletion periods. In addition to retention periods under tax law and audit-proof archiving that has been in force since 2018, this also includes strict data protection requirements pursuant to GDPR. This is where the intelligent digitalization of contract management proves to be another major leap forward. In the smart digital archive, authorized employees can access all old contracts in an extremely convenient manner via the search function.