Legally compliant electronic signing of all types of contracts is one of the central process accelerators in B2B business processes. If you want to sign contracts digitally, the EASY eSignature signing service makes it even easier. This way, you benefit from legally secure electronic signatures, and
not only eliminating the last media discontinuities,
but also eliminating the time-consuming postal route
or avoid the business trips often required for signatures.
In the following article, we illustrate two ways in which you can now also achieve complete freedom from paper in the context of electronic contract signatures. One is through the web-based, cross-solution signing service EASY eSignature, and the other is directly in EASY Contract. This shows in practice how to sign contracts digitally, i.e. how to sign them.
Is it allowed to sign digitally?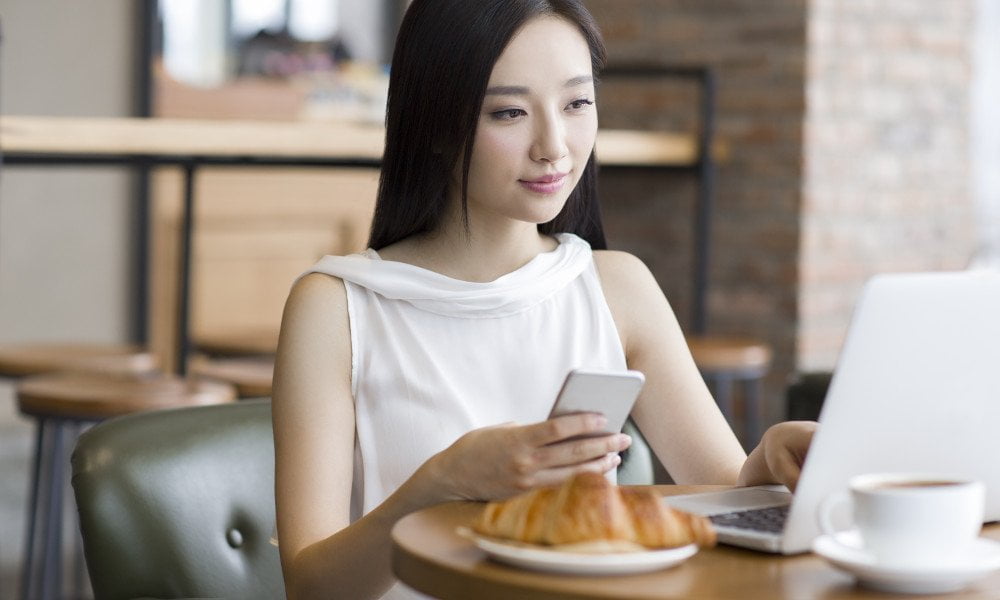 In principle, yes. In accordance with the eIDAS regulation from 2016, all forms of electronic signature have legal validity. However, only qualified digital signatures (QeS) have the same status as handwritten signatures.
In the brevity offered here: The eIDAS Regulation is an EU project. It introduces binding and Europe-wide regulations in the areas of "electronic identification" and "electronic trust services". Germany implemented these European requirements in 2017 with the eIDAS Implementation Act.
Germany implemented these European requirements in 2017 with the eIDAS Implementation Act. This means that the following signature types are available: the "simple electronic signature (EeS)", the advanced electronic signature (FeS) as well as the qualified electronic signature (QeS). You can find out more about the topic of "digital signatures" and their three forms here.
Which contracts to sign digitally?
Use cases for a digital signature on contracts exist in abundance across various business departments. Whether it's in HR, for example, if you want to digitally sign permanent employment contracts, e.g. before onboarding new employees – or whether it's in the context of contract management for the electronic signing of supplier master agreements or quite simply if you want to digitally sign rental agreements. These agreements and many more contract types are suitable for digital signatures. The legal framework has been set EU-wide with the eIDAS Regulation since 2017.
Sign a contract online?
You want to try out your digital signature immediately and sign your first contracts digitally right away? In the EASY eSignature web application, you can choose between the advanced signature and the qualified signature. How does it work? Simply load your contract document into the EASY eSignature application via your browser. Then select your signature via drag-and-drop – and you have digitally signed the contract. Then you select the counter-signer, who in turn will be informed by e-mail so that he or she can finally sign the contract digitally.
Free trial Version – without installation
Step into the process accelerator – with EASY eSignature
Do you still print out contracts to sign them today? Avoid this media disruption. Signing contracts digitally is easier, faster, and more secure. This is how you enter the paper-free zone, and accelerate business processes many times over.
Signing contracts electronically – with EASY eSignature in EASY Contract
Setting an electronic signature directly in the Web application is one thing. However, as soon as contracts are central to your business, and you already manage them – ideally – in EASY Contract, then it is also recommended to digitally sign your contract exactly there.
Let's take a detailed look at the digital signing process as it works with EASY Contract. EASY relies on certified trust service providers such as DocuSign and FP Sign for electronic signatures.
Step 1: Select the contract
To place a digital signature on any contract document, first select the PDF to be signed. Shown here using a fictitious supply contract in EASY Contract: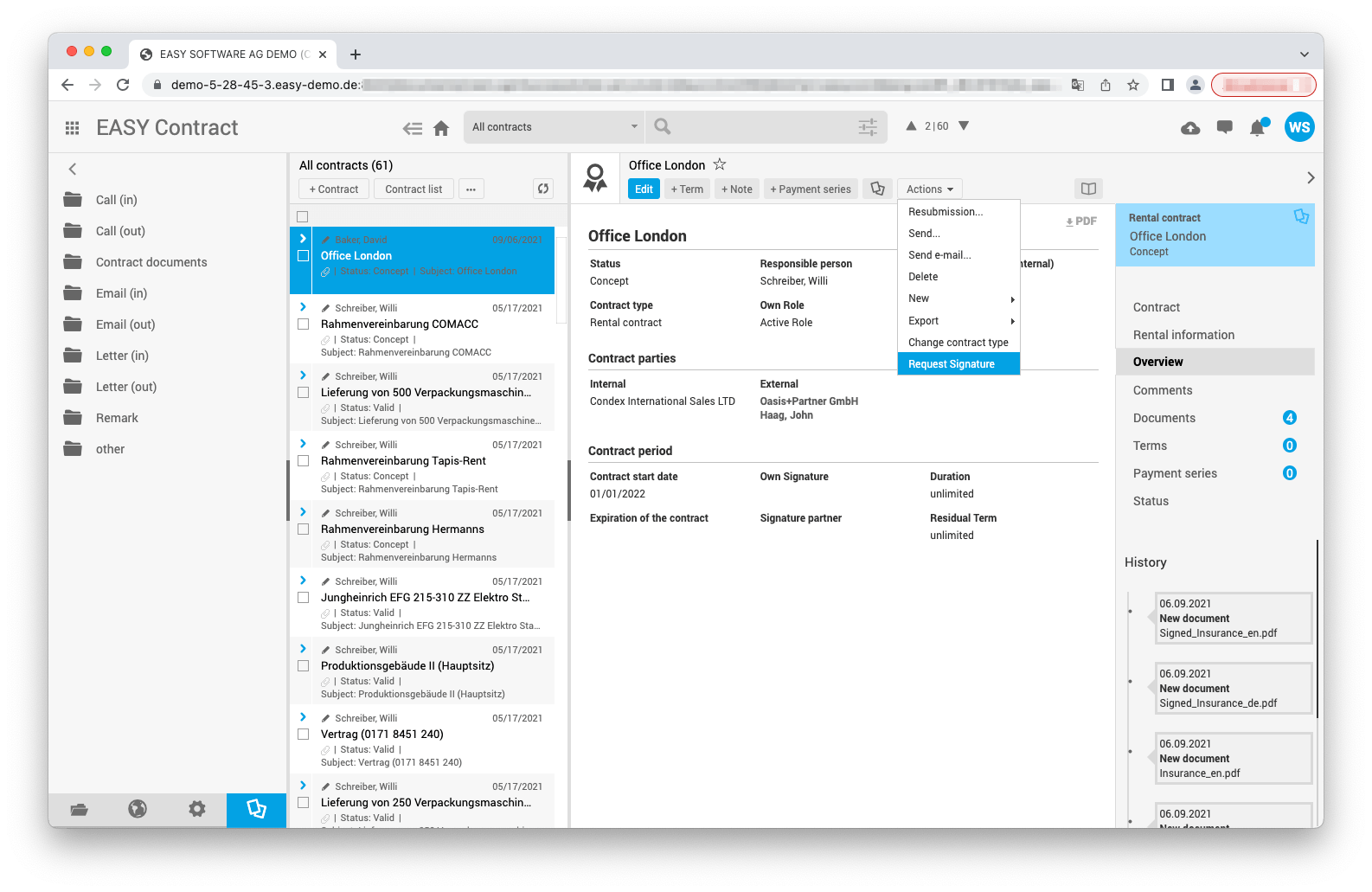 Then, in EASY Contract, select "Request signature" from the drop-down menu in the first step for electronic signature.
Step 2: Set the second contract signer and signature fields
In the next step for digital contract signing, you define the signature areas. You place them on the contract using drag-and-drop – for all the people who will later digitally sign or sign the PDF document.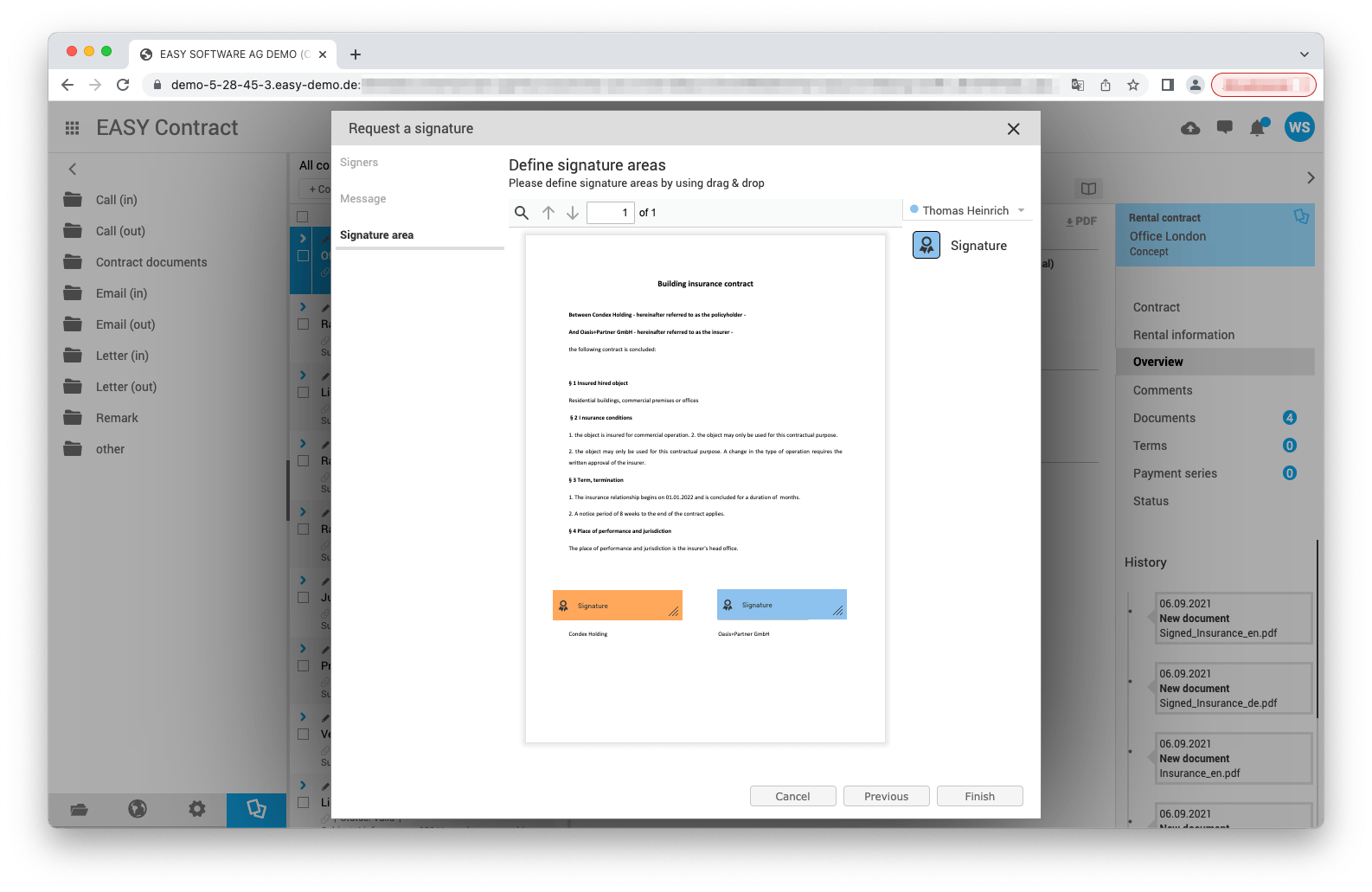 Step 3: Invite countersigning parties to digitally sign the contract.
In the next step, you select the appropriate persons to digitally sign the contract. This step is also completed effortlessly and in no time in EASY Contract.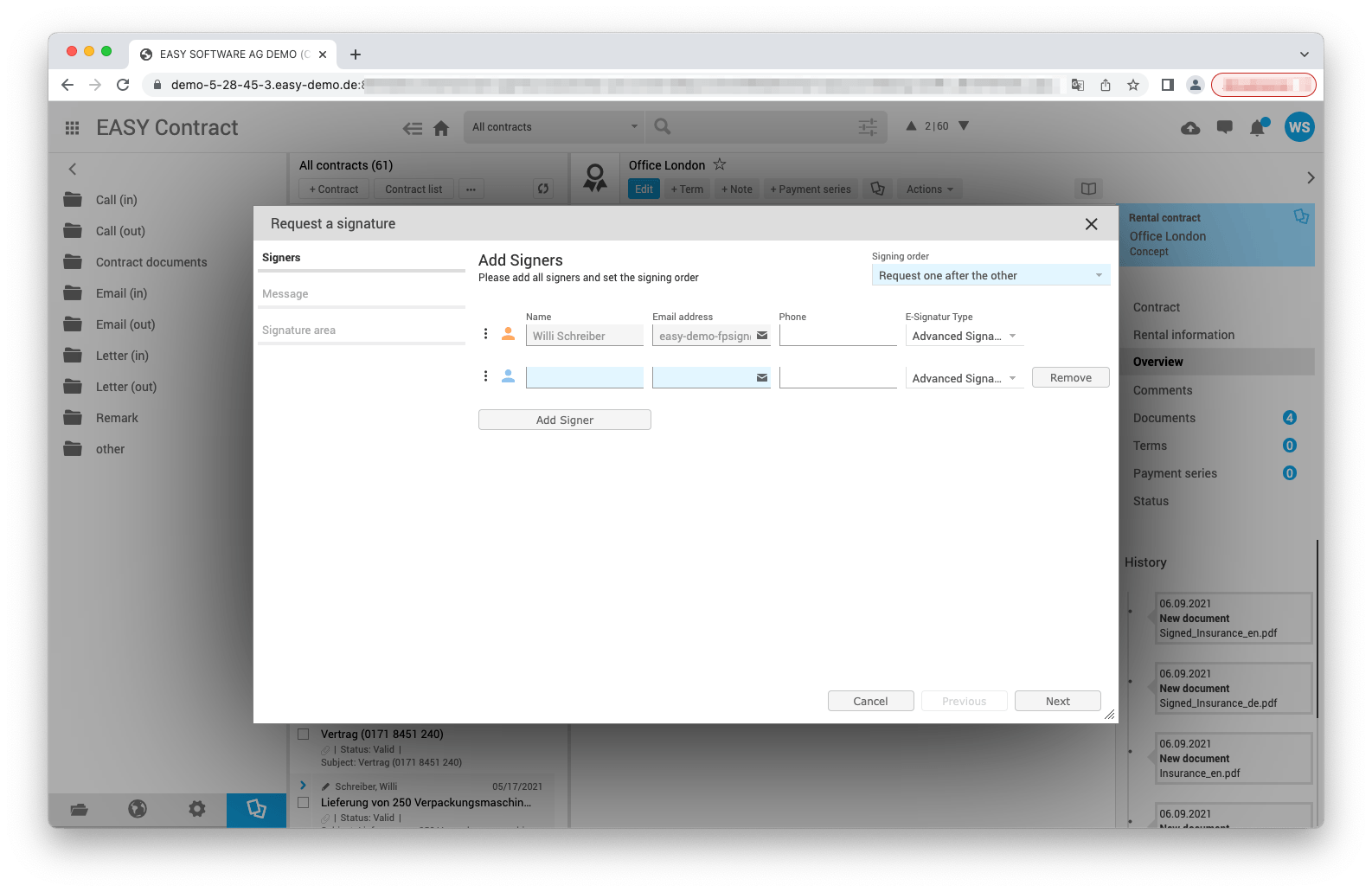 Subsequently, the selected persons are automatically invited via e-mail to digitally sign the contract. In EASY Contract, this is done via the signing service of the following trust service providers FP Sign or Docusign.
Of course, your countersigner does not need an account with the selected signature provider for this. Thus, the second signatory can digitally sign the contract PDF even without access. The countersigner is informed via e-mail about the upcoming task to digitally sign the contract. The counter-signatory then signs the contract in the web browser.
Step 4: Obtain digitally signed contracts via EASY Contract
A few moments after signing, EASY Contract obtains the digitally signed contract from the signature provider – and you can find it again in EASY Contract under "Document signing".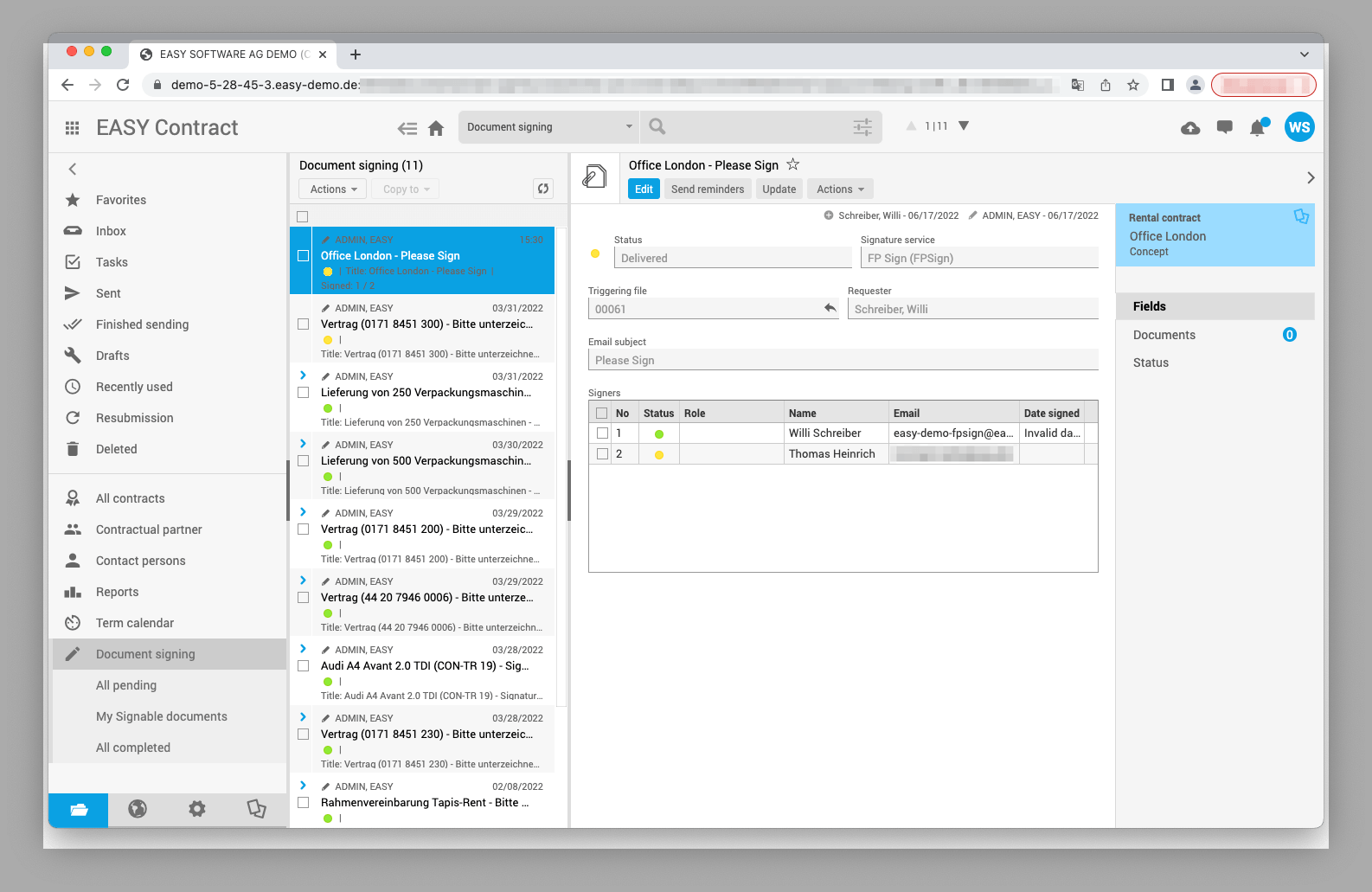 Sign contracts digitally – in minutes instead of working days
With digital signatures, you can minimize processing times – and even more: Especially when it comes to contracts, you can reduce the time it takes to close a deal tremendously. For example, a study conducted by Forrester Consulting reports that companies sign contracts twenty-one times faster with electronic signatures than with paper. Sounds tempting? It is. Especially if the entire signature process takes place digitally in EASY Contract.
Guide to the digital signature
Step into the process accelerator – with EASY eSignature
In this guide, you will learn everything you need to know about digital signatures in corporate use; key facts and legal aspects are summarized compactly.