EASY Archive Cloud Service Description
1. Overview
EASY Archive Cloud provides GoDB-compliant long-term archiving of your data in the cloud.
1.1 Functional overview of EASY Archive Cloud
EASY Archive Cloud provides revision-proof archiving of your data.
Feature / Module
Description
EASY Archive Cloud
Revision-proof archiving
Legally compliant storage of business-related documents, GoDB-compliant document storage
✔
Connection application
Encrypted connection via HTTPS and SFTP
✔
Full text search
Texts of all files are automatically stored in full text search
✔
Multiple data models
Adaptive – flexible creation of metadata
Schema – predefined metadata structure
✔
Spooler import
SFTP upload
✔
Content Web service
Web service for write and read access to all data in the archive
✔
Admin Web service
Web service for managing the archive, e.g. user creation
✔
CMIS interface
Manufacturer independent standard
✔
ArchiveLink
SAP Level 1 archiving
✔
EASY Archive Web client
Read access to the archive
✔
Deadline management
Automatic checking of retention periods, configurable
✔
Encrypted data storage
Data as well as full text search can be encrypted
Optionally configurable
DMS Web client
Write and read access to the archive
Optional
1.2 Technical solution
EASY Archive Cloud is based on proven EASY technologies; it is hosted by EASY in the data center specified in the order confirmation.
The connection of your business applications to the EASY Archive Cloud takes place via HTTPS. Search/retrieval also takes place via your business application. Optionally, access is possible via a Web client.
EASY Archive Cloud comes in two versions:
a) Public Cloud including a completely commonly used infrastructure (tenant capable)
b) Virtual Private Cloud – dedicated virtual Archive server
The graphic below shows the EASY Archive Cloud architecture.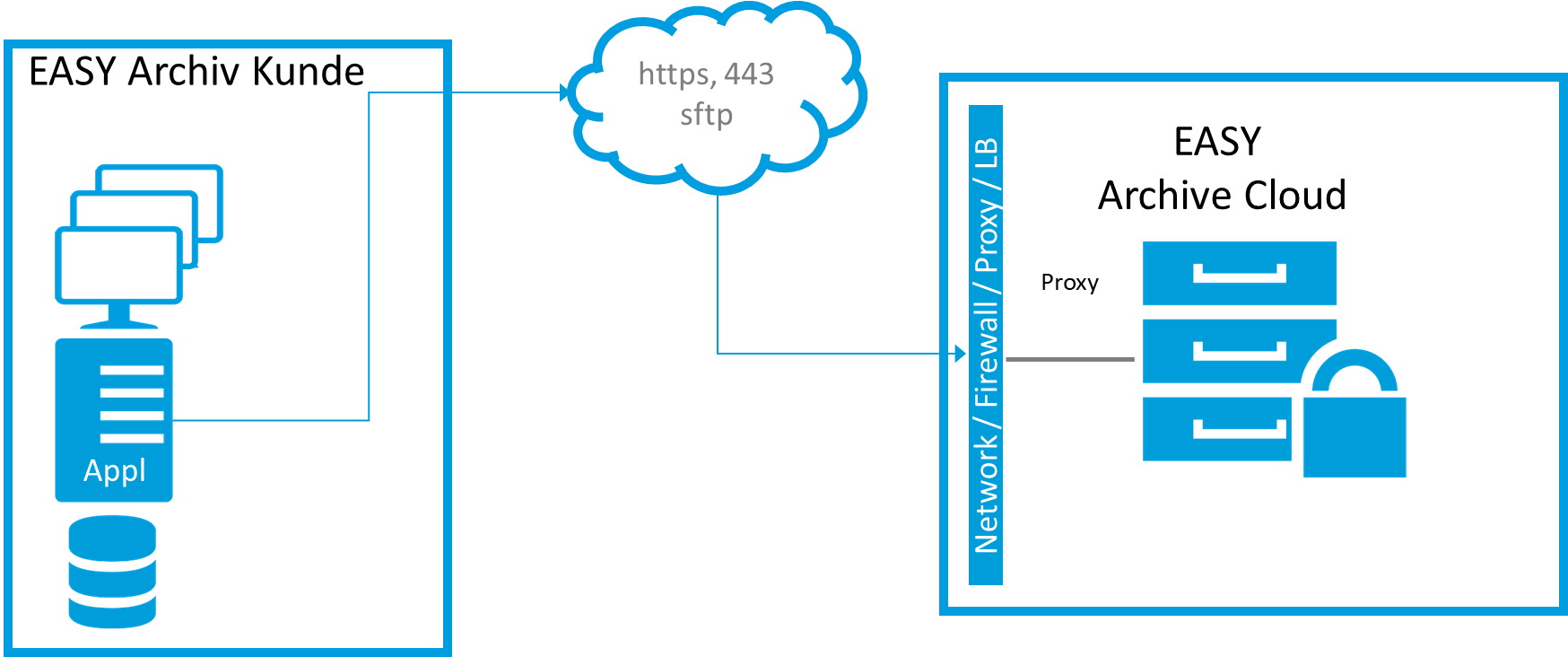 1.3 Usage requirements
To use EASY Archive Cloud functionalities, the following business and technical requirements must be met:
Valid contract on usage
Internet connection with sufficient bandwidth
PC workstations including browser and Internet access
1.4 Usage volume
You are entitled to fully use the service within the scope described in the online documentation and at the availabilities represented below.
It is limited as follows according to the selected package:
Number and type of your business applications
Storage space
Customizations of the above parameters are possible anytime.
1.5 Online documentation
EASY Archive Cloud online documentation is available under the following URL: https://docs.easy-cloud.de/
1.6 Administrative services
EASY renders the following administrative services
Order management
License management
Monthly usage data determination and invoicing
2. Data Security and Data Availability
The EASY Archive Cloud service is hosted at the data center specified in the order confirmation.
The data center is ISO 27001 certified.
EASY Archive Cloud corresponds to the GDPR.
3. Availability
EASY Archive Cloud is available 24 hours a day, every day (24X7).
EASY Archive Cloud has an average annual availability of 99%,
except for routine and planned, announced maintenance activities.
4. Service and Support
4.1 Customer's points of contact
As part of the on-boarding process, the customer names authorized people in his organization who will be entitled to order fee-based additional options from EASY, as well as to order fee-based and / or security related services. Such orders or commissions must be submitted as text, e.g. via letter, fax, or e-mail.
Errors or glitches can be reported by all key users (a maximum of five people) at the customer's site.
4.2 EASY Service Desk
The EASY Service Desk (aka EASY Customer Care Center) is the centralized facility for customers (Single Point of Contact). Access routes to the Service Desk are described here: https://easy-software.com/de/services/support/.
EASY Service Desk staff will accept service requests and incident reports (Incident Management). The service requests and incident reports will be documented, categorized and prioritized as tickets.
4.3 EASY Service Desk Service Hours
EASY Service Desk can be reached Mondays through Fridays from 8:00 a.m. to 6:00 p.m., except on (German public holidays and those specific to the German state of North-Rhine Westphalia), as well as Christmas Eve and New Year's Eve when Service Desk cannot be reached.
4.4 Priorities for troubleshooting
When an incident is reported, a so-called ticket will be created. Response times are dependent on the respective ticket priority. Priority assumes values between 1 (highest priority) and 4 (lowest priority). This value results from the two factors of impact and urgency.
Impact comes in these versions: "High", "Medium", and "Low". It describes how important EASY service is to the customer's business processes, and which impairments result from the existing incident.
Urgency is based on the degree to which the system is still usable:
Total outage of the entire system (total outage),
Work is still possible, but only with tremendous constraints (High)
Work is possible with some constraints (Medium)
Work is possible with barely noticeable constraints (Low)
The customer will query the values for urgency and impact when creating the ticket; they will be specified with the customer.
The priority of the incident ticket results from impact and urgency as follows:
| Impact | Total outage | High | Medium | Low |
| --- | --- | --- | --- | --- |
| High | Prio 1 | Prio 1 | Prio 2 | Prio 3 |
| Medium | Prio 1 | Prio 2 | Prio 3 | Prio 4 |
| Low | Prio 2 | Prio 3 | Prio 4 | Prio 4 |
4.5 Response times with incidents
The time that lapses between opening a ticket and commencement of qualifying processing is defined as the response time. Calculation of that time is performed only within the service hours of the Service Desk. If an incident report arrives outside of these service hours, the guaranteed response time will commence with the following working day.
The following maximum response times are guaranteed (WD = working days; hrs. = hours of work):
| Priority | Response time |
| --- | --- |
| Prio 1 | 2 hours |
| Prio 2 | 4 hours |
| Prio 3 | 1 working day |
| Prio 4 | 3 working days |
4.6 Maintenance window
The respective maintenance windows during which maintenance is carried out are: every day, from 04:00 – 06:00 a.m. (CET).
Maintenance will be displayed in a timely and appropriate manner.
5. Cooperation Obligations
To render an EASY Archive Cloud service, EASY depends on specific cooperation by the customer.
The customer (as the principal) must render the following assistance:
Naming a major contact person for all technical questions relating to the system
Naming up to 3 key users for communication with EASY Service Desk
6. On-Boarding
The on-boarding process for EASY Archive Cloud is easy. After you have submitted your order for the EASY Archive Cloud service you want, we will perform the following steps for you:
EASY will configure the ordered EASY Archive Cloud package
EASY will send you the following information via e-mail after configuration

URL / domain of your EASY Archive Cloud service
ADMIN user
Initial password
7. Off-Boarding at End of Contract
When a contract ends, EASY will provide the customer with all data using download links:
XML export (metadata and documents)
8. EASY Archi.ve Consulting
The Archive Consulting services that EASY provides offer you optional solutions that enable optimizing the use of our EASY Archive systems for you. Through our longtime experience in transformation projects, we are offering you both Best Practice and bespoke solutions to support increased requirements for revision-proof archiving as part of digital transformation. For more details, please contact us.