Service description
easy Employee File for SAP® Solutions
1. What does the product do? Benefit
easy Employee File for SAP Solutions is the efficient solution for the digital employee file as well as numerous HR processes in modern companies. Furthermore, the solution can be easily and flexibly expanded with additional functions and processes from HR management. It integrates harmoniously into an existing IT system, works together with SAP ERP and grows with the company.
Employment contracts, references, HR master data – the SAP®-based easy Employee File for SAP Solutions provides information on every employee. It bundles all relevant data and documents and is closely integrated with SAP® Human Capital Management® (HCM). A sophisticated security concept based on SAP® authorization management ensures that sensitive personnel data does not fall into the wrong hands. Processes and approval procedures can be started directly from the file – if required, also via smartphone, tablet or other mobile devices. The digital employee file from easy saves time, money and bundles resources – and is also the right choice when it comes to data protection. Without additional effort, it can be connected to file inspection or file lending with ESS/MSS scenarios. The intuitive SAP Fiori user interface in accordance with the latest SAP standards saves training efforts and thus further streamlines the implementation process.
Increase HR efficiency – Enrich SAP® ERP HCM or SAP® SuccessFactors® by bundling all HR-related documents and processes, relieving the organization of essential daily tasks. The capacities and resources freed up by the relief enable focused strategic work.
The advantages of an integrated solution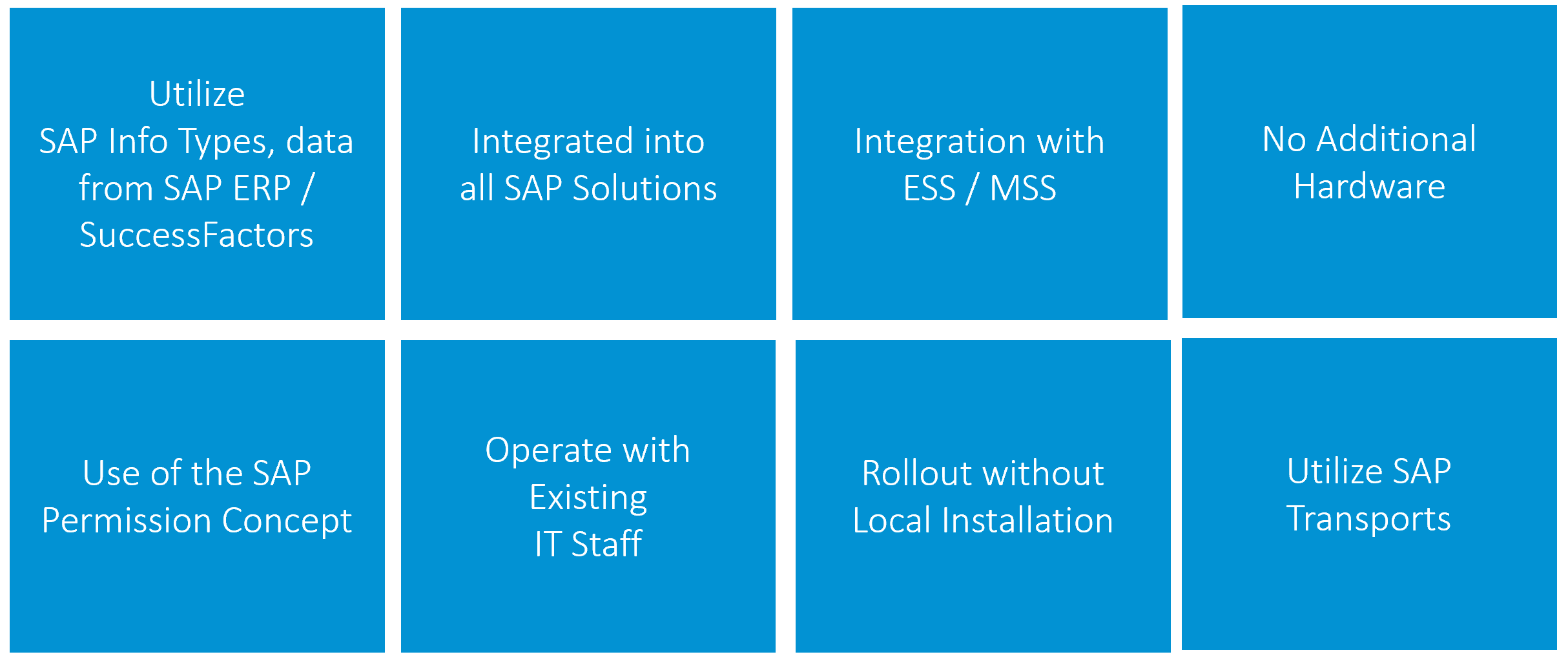 2. What modules/functions are there?
The most important functions
Access via SAP GUI, SuccessFactors, SAP Fiori Launchpad, Portal or ESS/MSS scenarios.
Based on the latest SAP Fiori technology
Flexible scenarios for bringing in paper-based documents (late scanning with barcode, early scanning with workflows)
Structured storage of emails and documents via drag & drop directly on the employee master record in SAP HCM.
Automatic transfer of electronic documents from SAP ERP HCM/SuccessFactors (PM20).
Dual control workflows for secure deletion and movement
Full text search
Validity dates of documents (period-related visibility of documents, deletion periods)
Extended, integrated authorization concept based on SAP authorization management
Long-term archiving in secure formats
Multi-language support (German and English, additional languages possible according to customer requirements)
easy Employee File is based 100% on SAP® technology and is SAP-certified.
easy Employee File for SAP Solutions is based on our product easy Process2Design for SAP Solutions, a technology platform from the area of Business Process Management and uses its generic SAPUI5 visualized file framework to represent the personnel file. Another advantage of the platform is the ability to use the Process Designer tool to design your HR processes simply, quickly, flexibly and integrate them into the personnel file.
Personnel file
Completeness check
Resubmissions
File log
File lock
Note function
File lending
Download option
Switch to personnel master data maintenance (PA30)
Documents
Download (KPro and ArchiveLink documents)
Place on resubmission (KPro and ArchiveLink documents)
Display/change attributes (KPro documents)
Versioning (KPro documents)
Barcode indexing (KPro documents)
Maintain notes (KPro documents)
Change tracking (KPro documents)
Move, also to another record, optionally also with support of a Process Designer workflow (KPro documents)
Delete within the record, optionally also with support of a Process Designer workflow (KPro documents)
Processes
Filterable overview of all processes
Process maintenance via SAP Fiori application
Evaluation and reporting
Various overviews via SAP Fiori applications

File Lending
Resubmissions
Process journal
Log entries
Security and authorizations
Access to a record and to the individual record contents is provided via a separate authorization object, which differentiates access via the following parameters:
Hierarchy ID (ID of the record structure)
Hierarchy version (version of the file structure)
Element ID (folder, document etc.)
Document type
Actions like versioning document or creating barcode
The architecture – an overview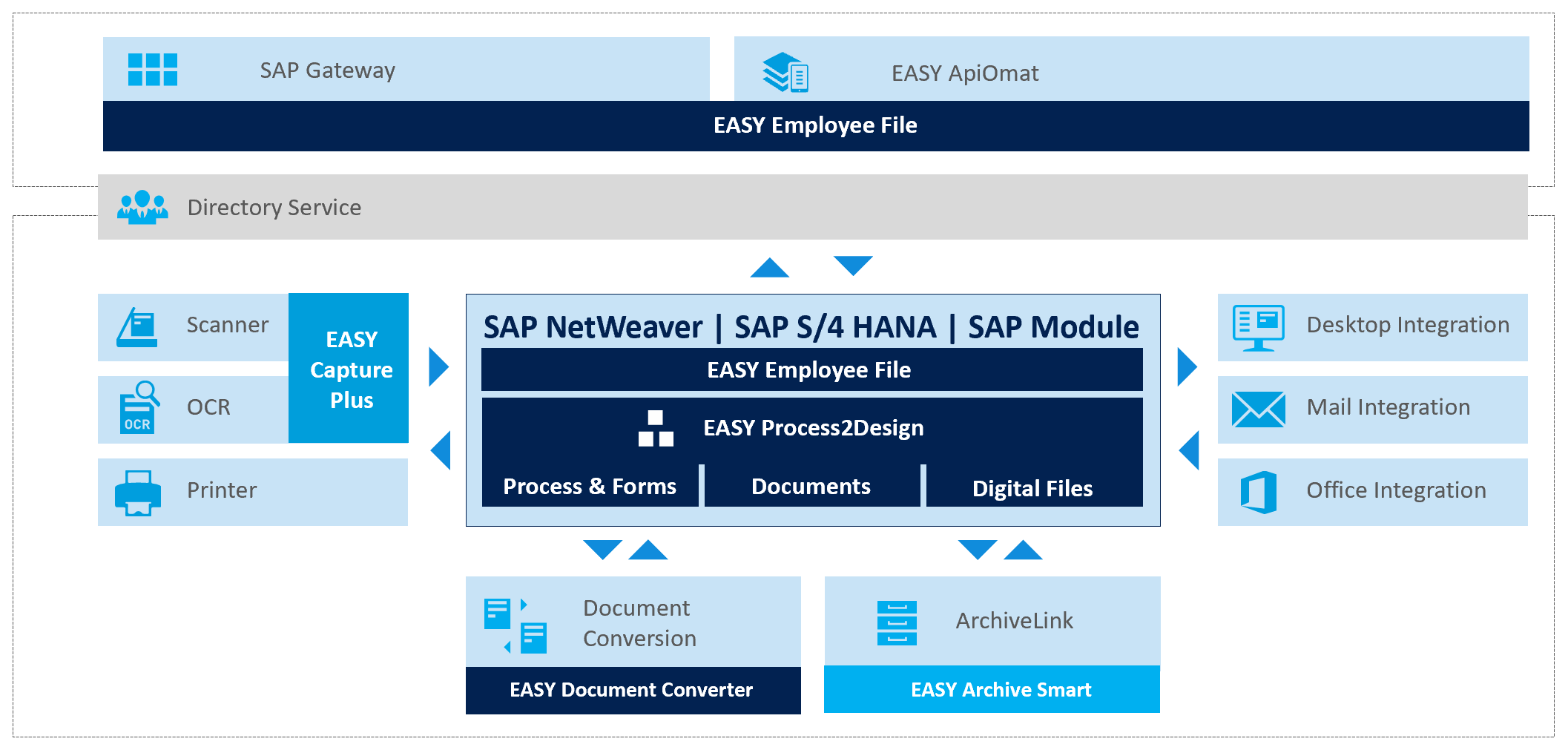 Summary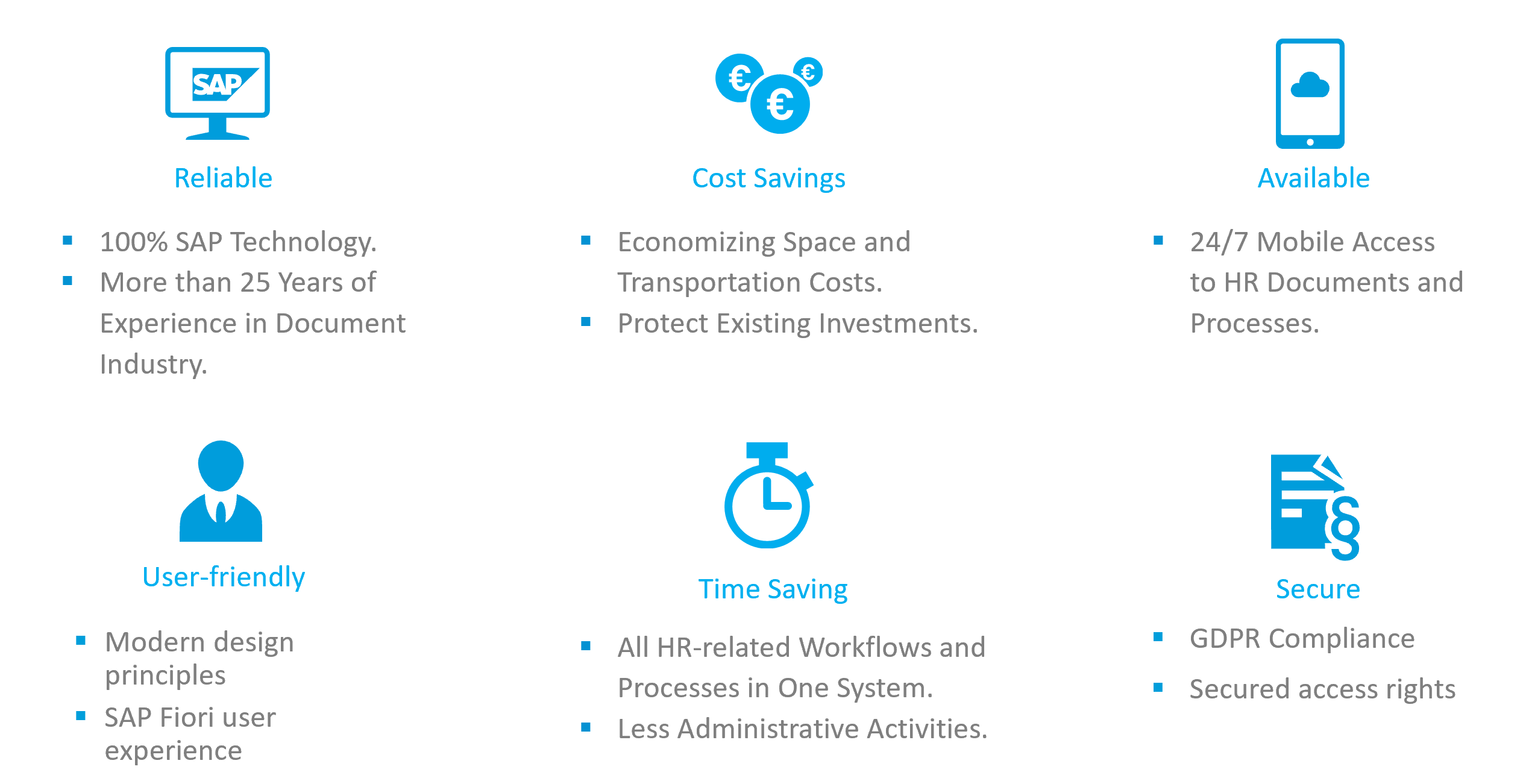 3. System requirement
SAP_BASIS 750-756
SAP NetWeaver 7.50-7.56
SAPUI5 1.71, 1.84, 1.96
easy SAP Add-On NXPCMP2D 330_750
easy SAP Add-On NXPCMPDF 330_750
SuccessFactors
Ergänzende Voraussetzungen des Installation Guides