Revision-proof archiving using EASY Cloud Archive
EASY Cloud Archive provides a powerful solution for document archiving in the cloud. It allows you to save tax-related data and documents subject to retention requirements simply, digitally, and securely in the cloud. The core of the application is the tried-and-tested and successful archive solution from EASY SOFTWARE.
You can say goodbye to paper storage: EASY Cloud Archive creates a digital archive for you – for all your invoices and documents. The cloud archiving system automatically transfers your digital documents – more than ever, you'll meet your documentation requirements in an easy and less time-consuming way. You can access your archived documents anytime, anywhere, with each document being found quickly: either using direct search in the intuitive Web client or in the Smartphone app, using the search for properties or full text search.
Simple storage thanks to archive wizard
EASY Cloud Archive is preconfigured and ready to use. What's particularly useful is that the EASY Archive wizard performs the storage for you. All you do is define the data sources and folders on your systems from which the wizard automatically uploads files. The wizard even automatically stores posting-related files in the EASY cloud. A Web client or the mobile app then allows you and all valid users to safely access the data archived in the cloud at any time.
Audit-proof and transparent
EASY Cloud Archive lets you archive in a compliant manner, properly maintaining, keeping and storing books, records and documents in electronic form and for data access. The solution is certified; it guarantees, thanks to auto-versioning, immutability of files that have once been archived. The original file is always preserved in a tamper-proof manner. To prove revision security, a protected activities log keeps all transmissions, changes, and deletions. Even accidental deletion of files is prevented: A four-eyes principle ensures that.
Data protection and data security
Data security and protection from data loss are a priority with EASY Cloud Archive. Cloud archiving itself, as well as all transmission paths are effectively protected against unauthorized access, because EASY Cloud Archive uses high-availability servers in high security data centres and an effective, AES 256-encrypted HTTPS connection. Documents are saved based on the Data Protection Act.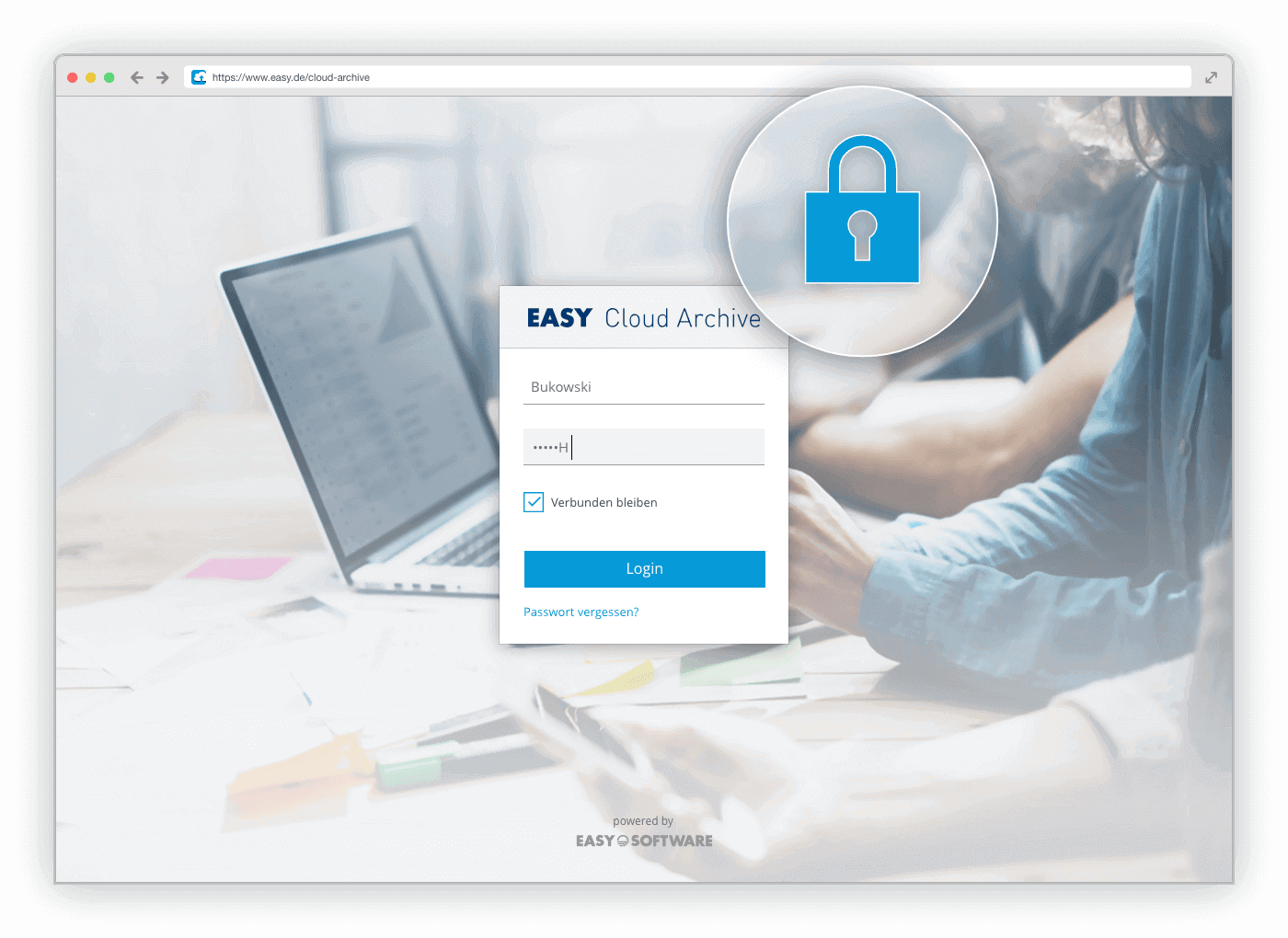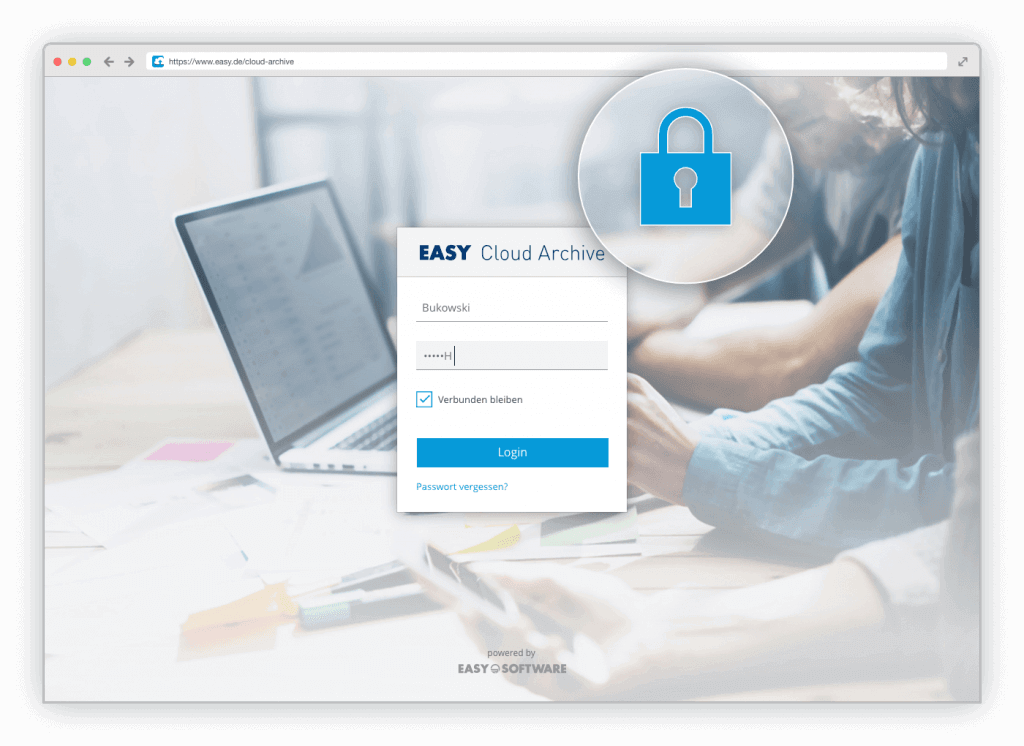 Intuitive usability
Find documents quickly
Already when transferring documents to the document archive in the cloud, powerful OCR software reads the content. Right from the start, you can search for all terms in a document using full text search. This ensures that each file can be instantly found.
Access archived documents from your mobile device
Shortly after initial setup, all authorized team members can already access the invoices and documents saved in EASY Cloud Archive, share documents, and edit them together. Even mobile – because EASY Cloud Archive not only works on desktops, but it also works as an app on iOS devices.
Document Archiving in the cloud: overview of features
Revision-proof archiving according to guidelines regarding correctness, integrity, security, protection from loss, traceability, etc.
Automatic transfer and document archiving
Unchangeable activities log makes all changes transparent
Maximum data security level thanks to saving in high-security data centers and encrypted transmission
Full text search across folders available
Automatic text recognition of archived documents thanks to integrated OCR function
Mobile data access via tablet, smartphone (app for iOS), or laptop / PC
Concurrent access by multiple user
Interfaces for convenient data transfer, for example as part of tax audits
Data export from EASY Cloud Archive