Cheers break out!
Ready for the big leagues: EASY for Exchange
Borussia Mönchengladbach is a Fan of EASY Solutions
When it comes to football, Borussia Mönchengladbach has a tradition of firstclass performance. Fans flock to see the fivetime German champions. They come to the Borussia Park stadium by the tens of thousands to watch the "Foal's Eleven", as they are nick-named, take the field for a home game.
The grand opening of the venue in 2004 represents an important milestone in the club's history: The current are-na offers space for 20,000 spectators; more space than the Bökelberg stadium where the team used to meet its opponents. And something has changed in the background as well: Borussia decided to handle its E-mail archiving with EASY for Exchange – now they're loyal fans of our solution. Construction work on the Borussia Park stadium took a full year and a half. On 30 July 2004, FC Bayern Munich and AS Monaco met up on the field for an inaugural tournament against the host team. This marked the start of sporting events – it was also a new era in another way: The entire administrative department for Borussia Mönchengladbach also moved with the team to the new stadium. While the athletes took to the new grass field, their colleagues in the background also got new work stations.
As you might expect for a major new construction project like this one, the team's entire technical infrastructure also had to be reinstalled from scratch – including the server and IT. That's why Borussia decided to test out their system early on. Ultimately, they decided that an E-mail archiving system was urgently needed.
"Before moving to the new stadium, we used the standard Outlook tools to archive our E-mails", IT Manager Frank Fleissgarten remembers. Everything generally worked well – but any time an entire IT architecture is revamped, the question of long-term future: performance is always on the table. "During discussions with the service provider who built our server architecture, it became clear that archiving in Outlook and PST archives from Outlook would lead to performance problems over time, due to increases in E-mail volumes and everlarger databases. It was clear to us that research would only get more difficult as time goes by. Last but not least, even in 2004 we anticipated that the issue of legally secure archiving was going to become more and more important", Fleissgarten says.
Interesting from the media library
Further project informations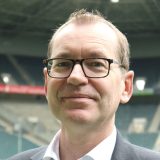 The solution simply works. It doesn't create any additional work, it's selfexplanatory, and we feel good knowing our E-mails are always archived in a legally secure way and easy to find".
Image source: Joachim Brysch
These references might also interest you:
We would love to hear from you