In soccer, Borussia Mönchengladbach is traditionally first class. The club also puts great value on reliable performance when it comes to IT and archiving. Borussia decided on EASY for Exchange for their email archiving – and became a loyal fan of the solution.
Until moving into the Borussia-Park stadium, the club IT used standard tools in Outlook to archive email. The decision for a powerful archive to master the growing flood of email was obvious. A short time later, the solution was rolled out and does its job in the background – the way an archive should work: practically unnoticed. That way, the soccer club can successfully master all their requirements.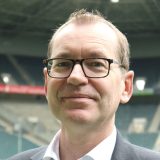 The solution simply works. It doesn't cause any additional effort, it's self-explanatory and we have the good feeling that our email is always archived in compliance with the law and can be found anytime.
Borussia in numbers
0
x
time winner of the German Cup
0
x
time winner of the UEFA CUP
0
Visitors fit in the Borussia-Park stadium
0
spectators for international games

Do you want to know more about our reference story
Borussia Mönchengladbach?
These references might also interest you: