Steve Jobs introduced the first iPhone just over a decade ago. Apple thus laid the foundation for the triumphant advance of the smartphone, which today is the prerequisite for numerous digital business processes. Professional apps for field service simplify logistics and communication as well as increase efficiency and flexibility.
Up until then it was anything but easy to establish an efficient field service organisation. Do you have many years of experience as a service technician or head of a field service organisation? If so, you can certainly tell us a thing or two about the complex and often sluggish processes that until now have been all too common.
Today, these challenges can be solved much more effectively with the help of a mobile field service app. B2B apps are enjoying increasing popularity, which is only to be expected given the spread of the smartphone. Next year, the number of smartphone users is expected to exceed the five billion mark.
The smartphone is already well established in the field service industry and, as a mobile all-rounder, supports service technicians in their daily work. We've done some research into the seven most important advantages of mobile field service apps. In this blog post, we will show you how your company can reap the benefits of such apps for field service employees.
1. Optimally Prepared for Every Assignment
The networking of machines via the Internet of Things (IoT) creates new data points through which the technical field service gains access to valuable information. In areas such as maintenance or building management, sensors send data directly to the ERP system via a cloud interface.
If measured values deviate from predefined standards, the system can automatically trigger an order for the field service. At the same time, relevant data such as fault messages, information on the machine and building status are directly transferred to the order and sent to the mobile service app.
This ensures that your field service staff are optimally prepared for every assignment and know what problem to solve before they arrive at the scene. The result: the right tools and spare parts in your kit, faster problem solving and no nasty surprises.
The networking of machines via the IoT creates new data points through which the technical field service gains access to valuable information.
2. Automation Increases Efficiency
Like any B2B app, a field service app should also improve efficiency by standardising and automating workflows. We'll come back to the topic of digitalisation later on – here we're particularly talking about intelligent order management.
From scheduling a service order and dispatching the technician to route planning and invoicing in the ERP system, all process steps can be linked seamlessly and in a largely automated manner. An important component of the technical solution is the mobile field service app, which makes important order data available to your service technicians.
On the other hand, your field service staff can use the mobile solution to transfer order-related information such as diagnostic data, working hours and spare parts directly to the central ERP system via a cloud interface. Every piece of information triggers the next step in the workflow. Nothing gets lost, no information is overlooked and you save on time-consuming coordination by telephone or email.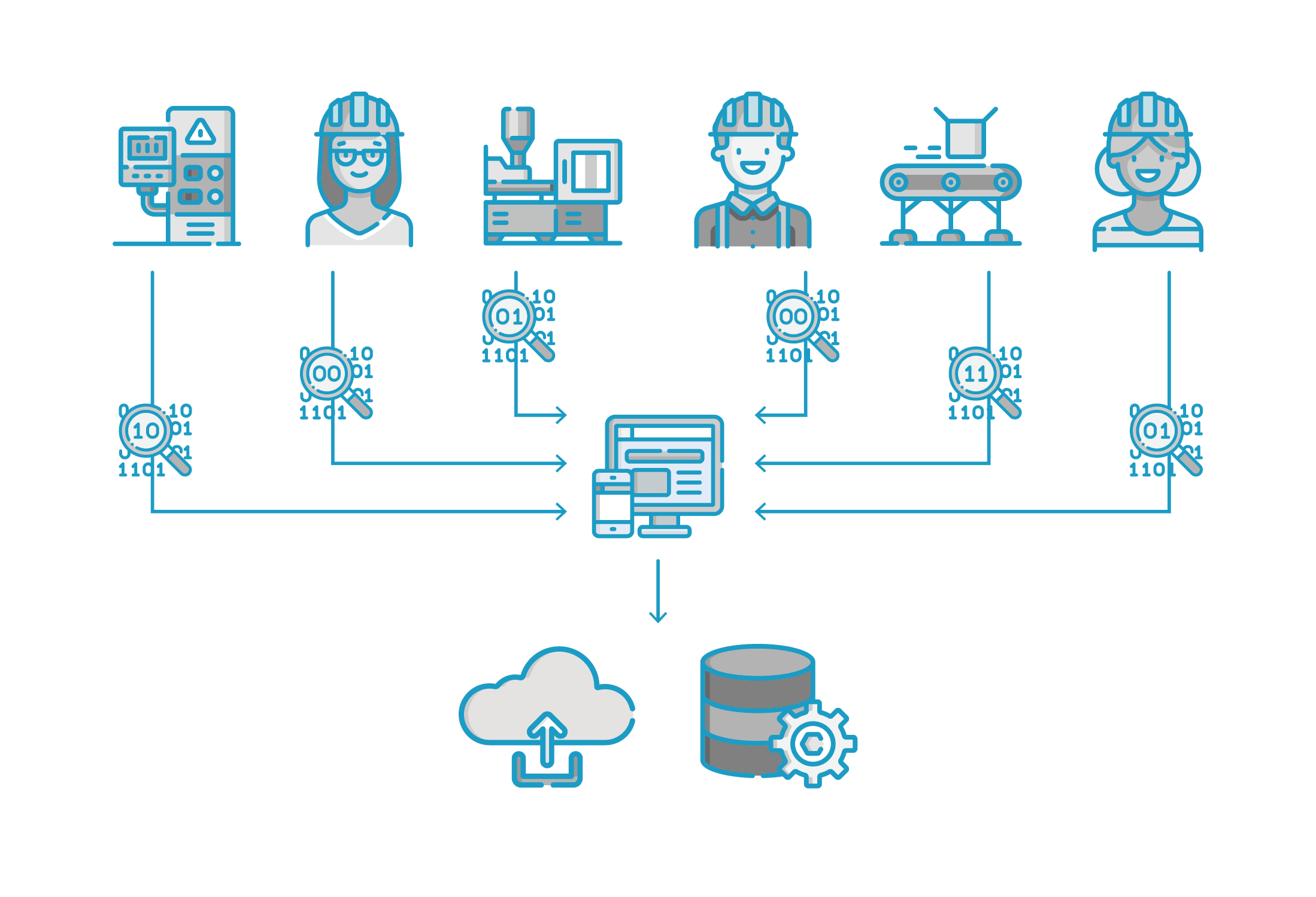 3. Clean Planning and Maximum Agility
Are your service capacities sufficient? Does your organisation have the necessary competencies? Do all processes and tools work? Use the information available to you to ensure reliable medium-term planning. A welcome side effect of standardised, integrated and automated workflows is that you are always able to maintain an overview.
The totality of data from the mobile service app, cloud platform and ERP system is a valuable source of information. Use it to your advantage and prepare yourself for the challenges in field service through clean planning.
At the same time, access to all information in real time enables you to react quickly, even to short-term changes. A service technician is absent due to illness? A scheduled service order is postponed due to a lack of spare parts? No problem! Using the app for field representatives, you can optimally control your service organisation even in such cases and remain agile at all times.
4. Avoid Media Disruptions Thanks to Digitalisation
You can finally say goodbye to paperwork! Mobile B2B apps are the central digital interface for your service technicians. They provide access to all the information your technical field service staff need to execute a service order – from the initial order preparation to the documentation of the order execution.
After the job has been successfully completed, your customers can even document an order confirmation using a digital signature via the mobile service app. This allows you to completely digitalise the majority of previously paper-based workflows. You can bid farewell to time-consuming and error-prone work reports.
5. Fast Order-To-Cash Process
A field service management app also creates measurable benefits from a financial perspective. The integrated and accelerated order processing through the interaction between the service app, cloud interface and ERP system helps you to shorten the order-to-cash process.

This in turn has a positive effect on your cash flow. The sooner you send an invoice to your customers for an order, the sooner you can expect to receive payment. The accelerated process is made possible by automated working time tracking in the app, real-time reporting of materials, spare parts as well as arrival and departure times.
The mobile field service app transfers all information directly back into the ERP system via cloud synchronisation and can then be used in the invoicing process.
6. All Customer and System Data at a Glance
Knowledge is power! Only well-informed field staff can complete their tasks efficiently and work competently on behalf of your customers. Service technicians have online access to the complete customer and system history via the field service app. This means you have all the information you need to carry out the order at your fingertips.
At the same time, the service app helps your organisation to gather important feedback from each deployment. During and after their deployment, service technicians use the app to indicate which tasks have been performed and whether any new information has arisen that may also be relevant to other service employees.
This enables you to gradually build a valuable knowledge base for all service technicians, enabling you to continuously identify and implement process improvements. The field service app is your direct line to what's happening on site!
7. Seamless Customer Experience
In the end, your customer benefits from an improved customer experience. The closed loop of the mobile service app, cloud platform and ERP system keep cumbersome coordination phases and queries to a minimum. With mobile access to information, your service technicians can answer your customers' questions directly on site.
Digital communication with your customers is also simplified. Through the transparent order management of your field service organisation, you can provide reliable information on planned deadlines. This ensures a smooth overall process and makes a significant contribution to ensuring a long-term customer relationship.