However, there is one exception: document management and archiving are not areas that Microsoft Dynamics NAV specializes in.
Yet, it is precisely in these areas that the demands placed on companies have recently increased. The German GoBD require prompt recording of business transactions and revision-proof document archiving. At the same time, GDPR now imposes numerous demands on data processing.
Do you use Microsoft Dynamics NAV? If so, you should think about expanding your ERP system with functions for document management and archiving as soon as possible. In this blog post, we will show you the strategic, functional and technical aspects to which you should pay special attention during this process.
For a seamless archiving process, you should opt for a single document management system and integrate it centrally into Microsoft Dynamics NAV.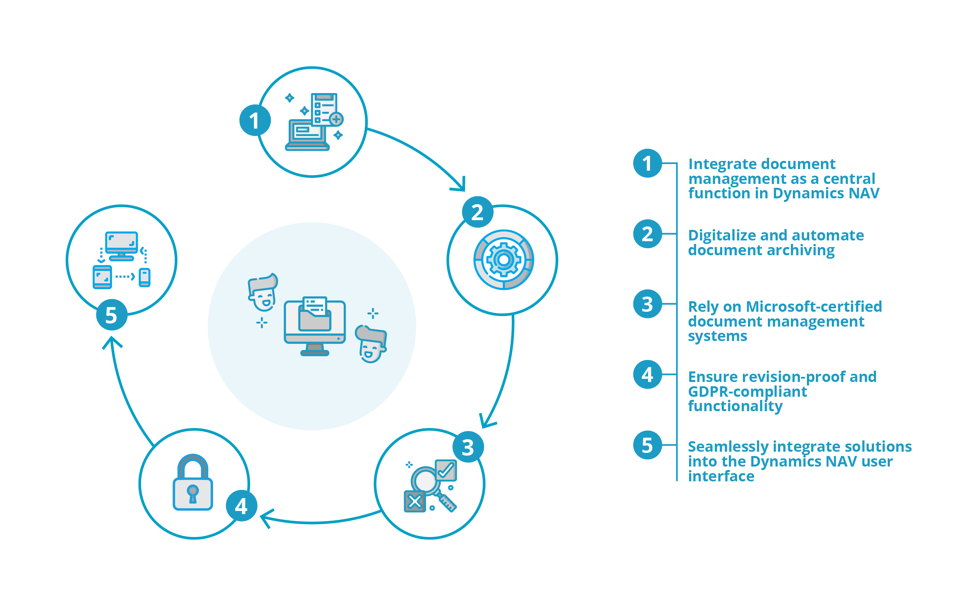 1. Integrate Document Management as a Central Function in Dynamics NAV
There are numerous standalone solutions for document management. In order to guarantee a seamless archiving process, however, you should opt for a single document management system and integrate it centrally into Microsoft Dynamics NAV. This way, all the important functions are available to all Dynamics NAV users in the company at any time – from procurement and logistics to the legal, sales and accounting departments.
The centralized functionality ensures standardized document management throughout the entire company. It also reduces the risk of isolated solutions initiated by individual departments when a company-wide solution is not in place. Smart solutions such as easy for Dynamics NAV supplement the existing ERP system with important functions for document management and, at the same time, protect existing investments in Microsoft Dynamics NAV.
2. Digitalize and Automate Document Archiving
As in many business areas, digitalization is one of the most discussed challenges in document management. According to the Bitkom Digital Office Index, 75 percent of companies now work with digital documents. However, 25 percent have not yet digitalized a single paper file.
In order to avoid cumbersome media disruptions, a document management solution for Microsoft Dynamics NAV should support the digital processing of documents in the easiest way possible. Digitalization is a prerequisite for the automation of processes – and sustainable efficiency gains can only be achieved if employees are motivated to digitalize documents using intuitive processes.
To stick with the example from our own company: easy for Dynamics NAV provides automated archiving for outgoing documents in Microsoft Dynamics NAV. Users can archive documents directly from the ERP application using drag & drop – regardless of whether they are scanned documents, emails or other digital information carriers.
With modules such as easy invoice and easy eBANF, additional sub-processes can be linked to the overall process. This enables you to achieve complete digitalization of document management across the entire organization.
3. Rely on Microsoft-Certified Document Management Systems
Seamless integration of document management into the ERP system ensures that all business processes are optimally supported at all times. That's why document management systems certified by Microsoft should always be at the top of your list. With certified applications, you can rightly assume that both the manufacturer of the ERP system and the provider of the additional solution have extensively tested the interoperability of both applications.
A high level of integration reduces the risk of additional development and customization costs and ensures a frictionless user experience. easy for Dynamics NAV is regarded as one of the most integrated solutions out there and supports the following versions of Microsoft Dynamics NAV: Dynamics NAV 2018/2017/2016/2015 and Dynamics NAV 2013 / 2013 R2. With version 10.0.3 comes the integration for the latest version: Microsoft Dynamics 365 Business Central (on premise). In addition, an interface for the Cloud version of Dynamics 365 Business Central is currently under development. Dynamics 365 Business Central is Microsoft's latest ERP application, which was officially launched at the beginning of last year.
Commenting on the benefits of the new interface, Sven Kalinowski, Product Owner and Software Developer at easy, says: "Since the main application remains unaffected, upgrades can be managed much more easily and efficiently than before by using so-called extensions. Users can carry out the installation themselves by launching the app from Dynamics 365 Business Central. This both reduces the costs for upgrades and saves a lot of time.
The Cloud world thus offers an incredible number of possibilities for using and combining new technologies. In the meantime, many companies using Microsoft Dynamics NAV regularly migrate to the latest versions of the application. At the same time, however, on-premise solutions are still very popular. That's why easy will of course continue to support both versions."
4. Ensure Revision-Proof and GDPR-Compliant Functionality
With growing compliance requirements, companies are faced with the task of organizing document management within their ERP systems in a revision-proof manner. To overcome this challenge, choose a document management solution that helps you comply with legal regulations for Microsoft Dynamics NAV from the very outset.
This includes the process-related and GoBD-compliant processing and filing of documents. The solution you choose should guarantee that all incoming and outgoing documents requiring storage are archived in Microsoft Dynamics NAV in a revision-proof manner. In addition, make sure that your additional solution enables the processing of documents in accordance with GDPR.
5. Seamlessly Integrate Solutions into the Dynamics NAV User Interface
The seamless integration of a supplementary document management solution not only ensures a smooth flow of documents; it also provides an intuitive user experience. Therefore, choose an additional solution for Microsoft Dynamics NAV that can be easily integrated into the user interface of the ERP system.
This allows users to conduct their workflows in the familiar environment of Microsoft Dynamics NAV without having to leave the ERP client. What's more, this minimizes training effort and increases the user acceptance of the solution. The short learning curve ensures that employees can use the new archiving and document management functions in a productive manner right from the start.