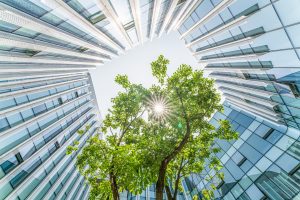 Software production devours no resources except ones and zeros? Too short-sighted! Just because EASY SOFTWARE does not have a smokestack rising into the sky does not mean that EASY does not have a responsibility towards the environment. Green IT is the keyword. This means giving valuable raw materials – such as chips, batteries, and hard disks in our hardware – another life cycle.
For this reason, EASY does not dispose of discarded devices as electronic waste, but instead sends them to the non-profit organization AfB Social and Green IT. There, people with and without disabilities together either refurbish the old hardware or prepare it for recycling. In this way, AfB gGmbH not only creates a healthier planet, but also valuable jobs for people with disabilities.
87 kilograms or 191 pounds of discarded hardware from EASY is given a new life after AfB's work – the weight of a full-grown man. 36 of the 37 notebooks submitted can soon be sold by AfB to new users. 34 of the 42 submitted cell phones were dismantled for recycling. A long tail of reduced greenhouse gas emissions, energy use, water consumption and raw materials is attached to the rescued hardware.
"AfB Social and Green IT's work relieves some of the pressure on our world, where nowadays, even recent hardware is constantly being overtaken by new innovations. It is important to us that our employees can always work with up-to-date equipment. That's why we are proud to be able to contribute to a sustainable cycle of resources with AfB," says Rainer Berndt from EASY SOFTWARE who has been responsible for this project since 2017. "The year 2020 and also the beginning of this year were very difficult for all of us. Right now, AfB needs strong partners like EASY. By their hardware donation, we succeeded last year in sustainably securing a job for people with disabilities and in relieving the burden on the planet," says Monika Braun, project manager at AfB Green IT.