Software production – a business with ones and zeros that produces no waste? As a matter of fact, the hardware that digital businesses work with every day contains some of the most valuable limited resources on earth. And because notebooks are not indestructible and digital growth is exponential, hardware inevitably needs to be replaced on a regular basis.
Green IT means using these resources sustainably and responsibly. The heart of the philosophy is to give components such as chips, batteries and hard drives, which are created from rare raw materials, another life cycle. Such a sustainable business cycle protects the environment – not only at home, but also in developing countries.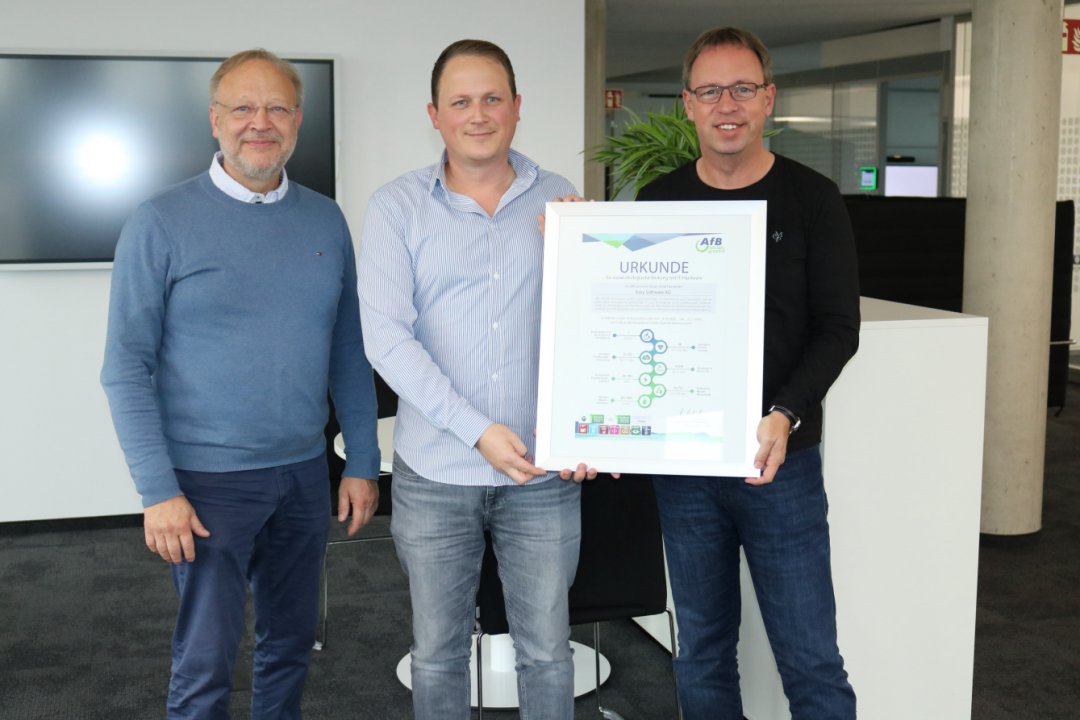 As the largest non-profit IT company in Europe, AfB social and green IT gGmbH is taking on this challenge. AfB specializes in taking over IT and mobile devices from companies that are no longer needed in order to upgrade and remarket them after certified data erasure – or, if remarketing is no longer possible, to recycle them in certified refineries.
Discarded EASY SOFTWARE devices have been sent directly to AfB for years. At the recognized inclusion company, people with and without disabilities work together to recycle the old hardware accordingly. In this way, AfB, together with partners like EASY, makes a valuable ecological and social contribution.
117 kilograms of discarded hardware from EASY were given a new life the past year. That's 38 notebooks, 2 PCs, 2 tablets, 4 monitors – or also: more than the weight of a newborn elephant. AfB turned a remaining 31 kilograms of hardware into new raw materials through recycling. Linked to the salvaged hardware are reduced greenhouse gas emissions, lower energy use, water consumption and more.
"If you want to be among the top in our industry, you always need to have the best current hardware. Even new equipment is constantly being overtaken by even newer innovations. We are all the more pleased to contribute in a responsible way to a sustainable cycle of these valuable resources with AfB social and green IT," says Rainer Berndt from EASY, who has been managing the project since 2017.
"Strong partners like EASY help AfB to expand our ecological and social commitment year after year. Thanks to the donation of hardware from EASY, we have once again succeeded in securing a job for people with disabilities and reducing the burden on our environment this year," says Nicolai Gräff Project Manager at AfB social and green IT.