Despite increasing connectivity and enormous technical advancements in monitoring buildings and controlling plants, field service has by no means diminished in importance. On the contrary, the demands placed on the availability of machines and the functionality of devices are increasing due to mounting competitive pressure. Rapid service is required if a mobile phone has a technical issue or even stops working altogether – and it is highly qualified service technicians that provide such support.
Modern field service organizations benefit from numerous technical innovations to enable service technicians to do their jobs faster and better. Professional field service apps, which are deeply integrated into a company's ERP system via a cloud interface, improve logistical processes and facilitate communication.
After the mobility trend of the last decade, the Internet of Things (IoT) marks the start of the next innovation phase in field service. IoT sensors create an almost infinitely large number of new data points that supply valuable information for field service organizations and bridge gaps in the digitalization of plant monitoring and building management.
Analysts expect more than 75 billion IoT devices to be in use by 2025. The new 5G telecommunication standard creates the technical infrastructure on the basis of which people and machines can communicate with each other at high speeds. The first 5G networks will go live in 2020 and will be regarded by industry standards as a quantum leap in comparison with the current 4G and LTE standards.
The Perfect Storm: IoT, Big Data and Artificial Intelligence Work Together
There will ultimately be an exponential increase in the global data volume as a result of IoT connectivity based on the rapid 5G standard. The volume of data generated worldwide is expected to double within a mere ten years. Those that grasp that the processing and analysis of data with the help of artificial intelligence is becoming increasingly efficient will get a good feeling for the potential that this development has in store for field service management.
One of the most obvious improvements resulting from IoT connectivity is the ability to seamlessly monitor plants, machinery and buildings in real time.
1. New IoT Sensors Enable Accurate Diagnosis
One of the most obvious improvements resulting from IoT connectivity is the ability to seamlessly monitor plants, machinery and buildings in real time. A lack of transparency has been and continues to be one of the greatest challenges facing field service organizations. In fact, practically all modern facilities are now connected online and equipped with alarm systems. However, the information content of an error message is often not sufficiently detailed to derive a precise diagnosis.
In response to rapidly falling prices for connected IoT sensors, it makes sense to equip plants and buildings with additional data points that transmit real-time information to the central ERP and field service management system via a cloud interface. In the event of an error message, the large amounts of data enable a much more precise diagnosis to be made and the decisive steps to be taken to solve the problem.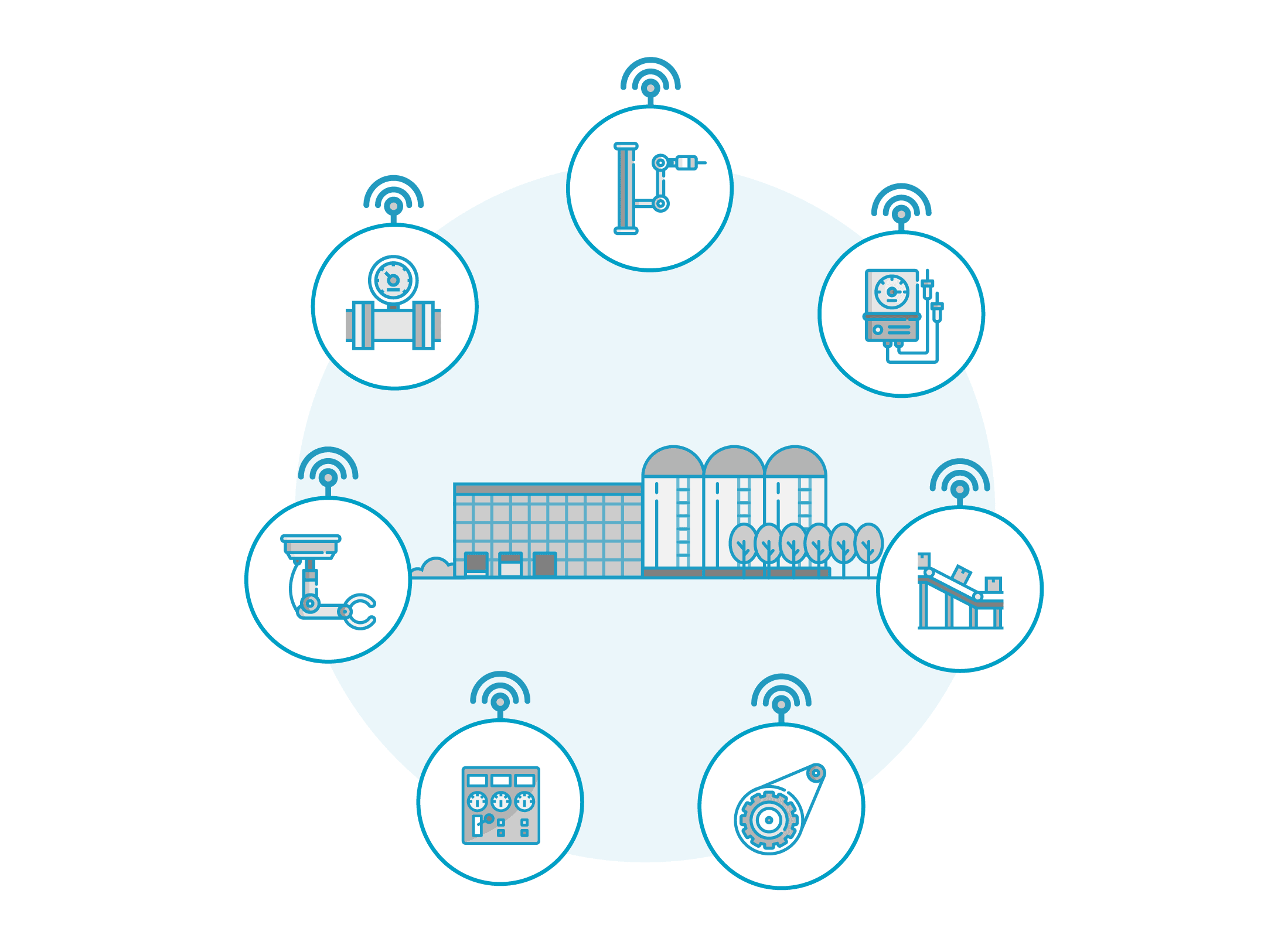 2. Transformation from Reactive to Proactive Field Service
While conventional sensors usually only send a message if there is a technical fault, the combination of multiple IoT-connected sensors makes it easier to anticipate the behavior of a plant or machine. A reactive field service approach, which solves problems as and when they occur, should be replaced by a proactive approach where anticipated problems are identified before the fault ever emerges.
It is the vast number of sensors that provides an accurate picture of the behavior of a plant, machine or building. Intelligence can be drawn from data, which enables behavior patterns to be established over a longer period of time. If certain indicators appear, it signals an imminent malfunction before a system or device stops working. With the help of machine learning, even large amounts of data can be processed automatically – reactive data can be transformed into a proactive field service thanks to IoT.
3. Better Customer and Employee Experience
This not only results in a better customer experience, but also makes service technicians feel more comfortable: We can bid farewell to the classic situation where an employee in the technical field service arrives at a job without preliminary information. Thanks to the improved information situation, service technicians can gain an overview of their order even before they are deployed. This way, they can respond appropriately to their customers and foster trust.
At its core, connectivity with the help of the IoT is about creating new data points that can be used to predict possible faults and failure risks more accurately – better planning, increased reliability and a complete overall experience.