Master data management is a complex issue. Many companies that have continuously invested in their SAP systems over the years are now discovering that not all processes run seamlessly. Problems arise because supposedly automated workflows grind to a halt. One of the underlying reasons for this is bad master data, which makes it impossible to have smooth processes due to incorrect entries or duplicates.
Master data is an essential component of all SAP-based processes in companies. Without clean master data, there is no digitalisation of business processes – and without digitalisation, there is no automation! If you want to make optimal use of your SAP investments, you should urgently redirect your focus to master data management (MDM). In operational practice, however, maintaining SAP master data is anything but simple.
Without clean master data, there is no digitalisation of business processes – and without digitalisation, there is no automation!
For example, a material master data record in SAP MM contains up to 600 individual fields. In fact, up to a dozen departments of a company could be involved in maintaining these fields. In global companies, geographically dispersed production sites and confusing organisational structures are added to the equation – perfect recipe for chaos! How do companies bring this complexity under control?
The good news: There are a number of tried and tested digital solutions for master data management. However, we will not be dealing with that topic in this blog post. Instead, we will look at why everything will become even more complex in the future!
Webinar: EASY Material Management – Change and create master data
You have recognized that clean material master data leads to success in your company? Now it' s time to move on to the next steps: The selection of a suitable service provider for the digitalization of your material master creation process.
Universal Connectivity Leads to Exponential Data Growth
Increasing connectivity is the main contributing factor to rising levels of complexity in SAP master data management. It's a fact: The Internet of Things (IoT) is moving into all areas of our lives. With the help of connected sensors, the physical and digital worlds merge and weave into a digitally integrated ecosystem.
On the one hand, this is made possible by rapidly falling sensor prices, which have halved in a very short time. On the other hand, with 5G we have a new mobile radio standard just around the corner that was developed to ensure universal connectivity and to enable "always on" at high speed. McKinsey puts the macroeconomic value of the Internet of Things at up to 11 trillion dollars per year. With more than 75 billion connected devices by 2025, the IoT will touch every facet of our lives.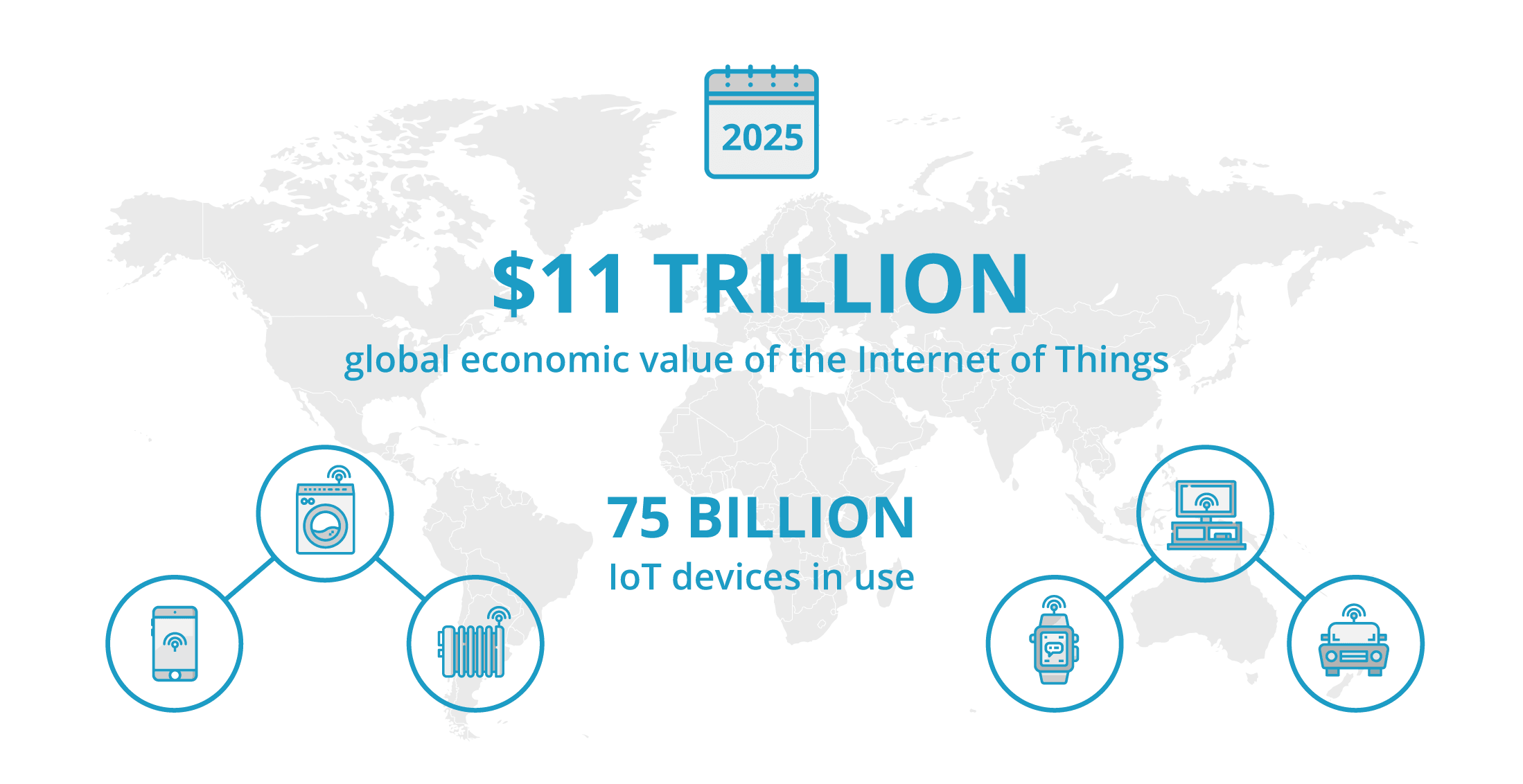 It goes without saying that the Internet of Things is also making its way into companies. Connected production processes (keyword: Industry 4.0) have long since become a reality, even if many organisations are only at a tentative first stage of expansion. The new technical possibilities afforded by IoT enable companies to rethink business processes. "We'll do truly different things, instead of just doing things differently," says Daniel Wellers of SAP, in a very readable article for the World Economic Forum.
The Internet of Things holds many new challenges in store for master data management. We get a rough idea of the issues facing data management when we consider that as IoT connectivity grows, the amount of data generated worldwide will double over the next decade.
We looked at three scenarios that give us a decent idea of how the Internet of Things will challenge master data management with SAP.
1. Data Explosion Overloads Manual MDM
One of the greatest challenges in master data management today lies in the company-wide amalgamation of different data sources. Companies using SAP manage their material master data in SAP MM. To add to this, there is a CRM system for customer data and potentially two to three other systems. Business processes can only seamlessly use master data if it is cleanly maintained.
Master data management meets this need by identifying gaps and triggering a workflow to correct the problem. These corrections are usually carried out manually by a dedicated team. With growing IoT connectivity along the entire value chain, the volume of data is growing exponentially. Manual processes to improve data quality are likely to quickly reach their limits because the flood of data will exceed the processing capacity.
2. Semantic Challenges in the Flood of Data
The Internet of Things only provides added value for a company if it can establish the connection between the data generated from the network and the material master data. For example, a production machine could share utilisation data with another machine. In the event of peaks in production, both machines could send the production manager a request to improve capacity utilisation.

Such an application example requires that the semantic context for the master data and the sensory IoT data is defined. For example, if a sensor with the tag "ABCDE12345" supplies the information "123.456.789", valuable information will only emerge from the reference to the master data. Given the enormous number of sensors and event types to be expected, companies are faced with an exciting semantic challenge.
3. Can MDM Also Handle Master Big Data Management?
Until now, master data management solutions have not been designed for Big Data. Individual data records are complex in themselves. With regard to the number of data records, most companies operate in dimensions of several tens of thousands, as is the case in materials management.
The Internet of Things is triggering the exponential growth of the volume of data. Complex analyses only create real added value if they relate existing master data to newly created IoT data points. It seems that many of the current database concepts may not be designed for this. Statistical evaluations can be created, particularly when based on relational database technologies. However, reliable forecasts such as the expected demand behaviour of customers or the predicted downtime of production machines cannot yet be generated.
There is still plenty to be getting on with! With the deeper integration of the Internet of Things into business processes, data will become an even more decisive competitive factor than it was previously. Now is the ideal time to get rid of your master data management before IoT connectivity makes matters even more complicated. So what are you waiting for? Get the ball rolling now!