Correct SAP master data is a prerequisite for digital and automated business processes. Companies that display their business processes on the basis of ERP systems such as SAP should therefore not underestimate the effort that is needed to maintain their master data. Incorrect or outdated data causes problems when it comes to processing SAP applications – and in the worst case, can bring your business processes to a complete standstill.
Every company that displays its business processes in SAP should address the following questions:
SAP master data workflow: Have you established a process whereby you regularly and ideally automatically check your master data for errors and duplicates?
SAP master data governance: Are the responsibilities for master data maintenance clearly defined in your organization and do all the employees involved know what to do and when?
SAP master data management best practices: Do you rely on established standards for your company-wide SAP master data management and thereby lay the foundation for the successful digitalization of your business processes?
In this blog post you'll learn why you should think about your company-wide master data management (MDM) processes and how to optimize, streamline and accelerate your SAP MDM.
As the volume of data explodes, MDM has developed into one of the most exciting areas in the global IT market. We expect MDM solutions to generate annual growth rates of more than 15 percent and an annual sales volume of around 15 billion euros by 2026. This all confirms that master data management has reached the top of the IT agenda in many companies.
This is only to be expected, because data-driven business models in times of digitalization rely primarily on functioning master data management. The structured maintenance of master data relating to objects such as customers, products, financial transactions, suppliers and business partners is becoming the core task of companies. On the one hand, this is a logical consequence of the digital transformation that has occurred in almost every industry. On the other hand, optimizing SAP master data is a prerequisite for the digitalization of business processes.
How to optimize your material master data – Step by step to a successful project
In this white paper you will learn how to start a project to optimize your material master data in SAP and thus create a solid basis for your future business success.
Avoid High Costs Due to Incorrect Master Data
Effective master data management in companies has the task of providing business processes and SAP transactions with consistent and correct master data. The follow-up costs of having incorrect master data are enormous. This is because a great deal of effort is required to repair the SAP system once outdated or redundant data has flowed into it. This extra labor can be completely avoided with an MDM process that has been optimized from the outset.
Master data management in SAP is anything but a trivial matter. A material master data record in SAP MM alone contains up to 1,000 individual fields.
Incorrect master data has catastrophic consequences, particularly in logistics and production processes. Duplicates and unmaintained master data in SAP can lead to incorrect deliveries and material bottlenecks, which in turn can cause considerable disruptions to your business processes in materials management. Your employees must ultimately use manual workarounds to minimize the repercussions so that customer satisfaction is not threatened and follow-up costs are kept to a minimum.
Master data management in SAP is anything but a trivial matter. A material master data record in SAP MM alone contains up to 1,000 individual fields. Maintaining and continuously optimizing SAP master data thus requires the establishment of comprehensive SAP master data governance and the implementation of a predominantly automatic workflow.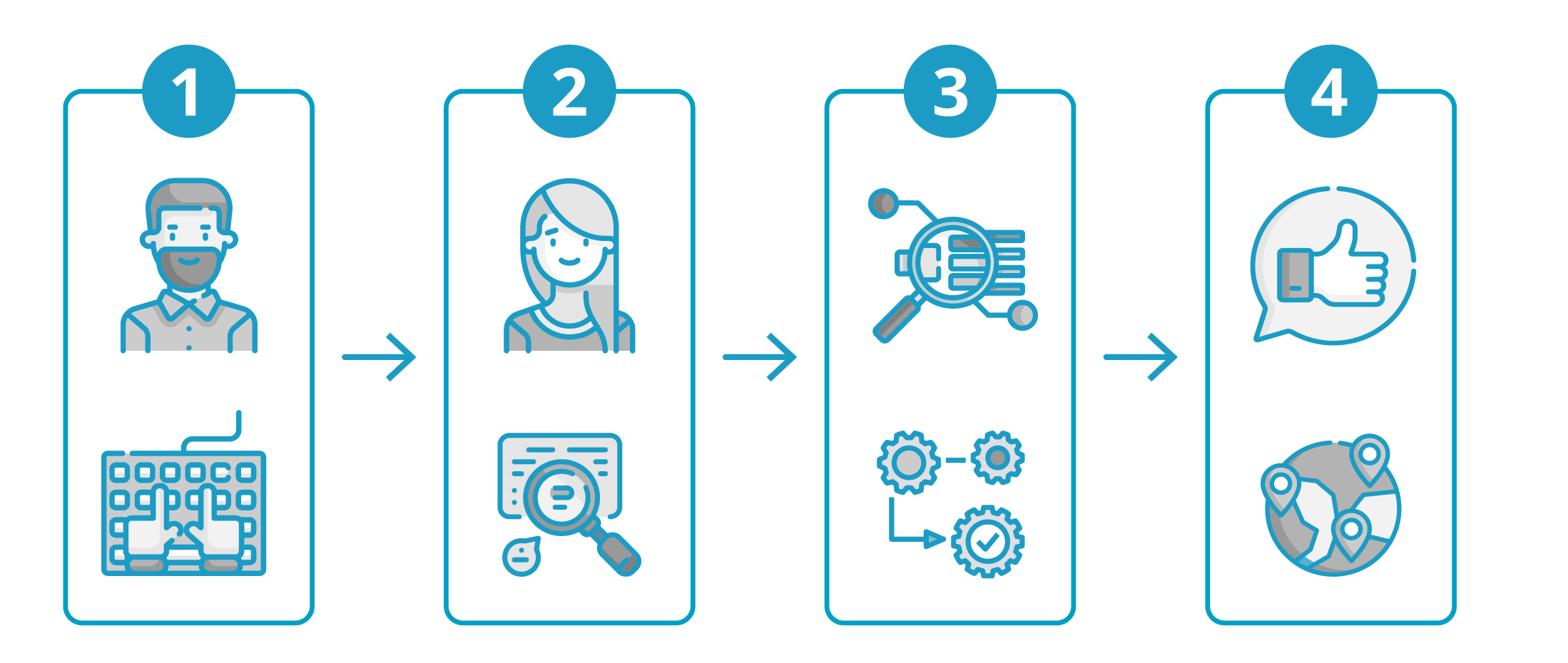 From applying for new materials to optimizing SAP master data across plants, companies can reap the benefits of a structured four-step process. This process has proven its worth, especially for MDM tasks in logistics and production:
Step 1 – Master data creation when requesting new materials: If an engineer needs a new material, they enter the basic master data directly into an SAP input screen tailored to their role. With the help of the SAP material master views, non-relevant fields are not even displayed, which helps to avoid errors when the material is being created. If required, additional documents and specifications can be attached to the request.
Step 2 – Release into the master data center: A central department in your organization is responsible for checking and releasing newly created master data records in SAP. This SAP master data center receives new requests via an automated workflow – it checks this and, if necessary, returns it back to the applicant if the initial data record contains errors.
Step 3 – Check for master data redundancies: SAP applications can be checked for duplicates with the help of digital add-on solutions. If there is suspected redundant master data, the solution will notify your SAP master data center of this. Your employees can then complete the check and update the incorrect master data record.
Step 4 – Global SAP master data governance: One of the biggest challenges in master data maintenance is the cross-site MDM in distributed organizations. While some data fields are globally valid, others differ from plant to plant. Thanks to special solutions, different plant views can be defined and the solution will automatically create the relevant views for the defined plants.
By linking such a four-level MDM workflow with your SAP system, you can ensure that the risks and follow-up costs resulting from incorrect master data are kept to a minimum. Particularly in times of digitalization, master data management is becoming the supreme discipline for companies that rely on the automation of logistics and production processes.