Every office worker is different: some need a creative chaos of notepads, post-its, writing utensils and mugs on their desks to be productive. Others like it spick and span, with a sharpened pencil aligned paralel to the edge of the desk. As positive as this freedom is for us as humans, it doesn't apply to computer systems, especially database applications. They need to be consistently arranged, well maintained and cleanly structured in order to optimally support our workflows.
This truism applies in particular to master data management in SAP. After all, functioning master data is one of the most decisive factors influencing the success of digitalization initiatives in an organization. In this context, companies cannot avoid dealing with another transformation: the introduction of SAP S/4HANA. Although it's true that SAP has extended maintenance of the old SAP Suite until 2027, the migration will finally come and, in our experience, will also generate great added value for companies – provided it is approached correctly.
In this blog post, you'll discover what companies need to pay attention to when dealing with master data in light of the upcoming migration to S/4HANA, what changes SAP S/4HANA will bring for master data and what options are available when migrating to S/4HANA.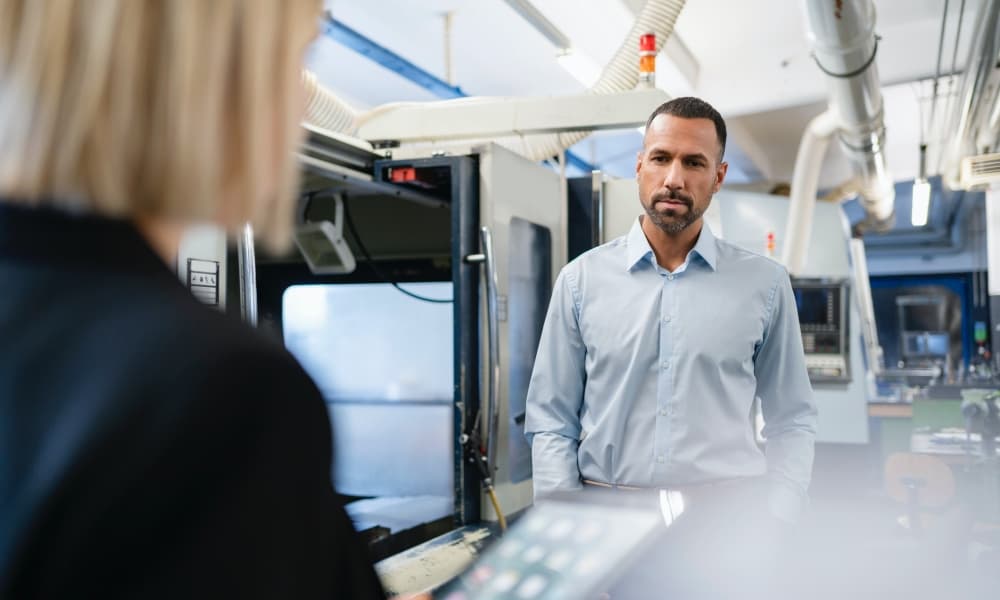 Master Data Management Poses a Permanent Challenge
Although data quality and master data management are at the top of the priority list for decision-makers in many companies, master data management is often neglected. On the one hand, this is because master data isn't handled in day-to-day operations. On the other hand, the topic appears so complex at first glance that problems are suppressed for as long as possible.
However, the consequences of inadequate master data management are sometimes rather severe. Incorrect material master data can quickly lead to incorrect planning in a company, resulting in delivery bottlenecks or other financial consequences. The sticking point in master data management is relatively easy to identify: the creation of material master data in SAP. There are several reasons for this:
Entering data into the SAP system is incredibly error-prone. The problem often lies in the cooperation between people and technology. For example, it's easy to overlook errors when entering data, materials could be created twice or employees are simply not aware of the complexity of the data records because they rarely use the system.
If errors are discovered, it requires significantly more coordination involving conversations, emails and calls to fix the incorrectly created material data.
Even correctly created material master data can delay downstream processes due to complex approval procedures.
If a process comes to a standstill because a process step has stalled somewhere in the system, it's often difficult for those involved to see exactly where the problem lies and how to solve it.
What Requirements Master Data Management in SAP Must Fulfil
Organizations have to meet the challenges of master data management with a clean process for creating the material master in SAP. It often makes more sense to completely restructure the entire material master creation process rather than trying to patch up a bad process in various places. Businesses don't have to reinvent the wheel for this, as they can fall back on tried and tested practices that reliably lead to success.
In essence, this is about setting up a process with which you can create the material master in SAP and change it if necessary. In addition, you should set goals on how to optimize master data management as a whole. The following considerations may play a role in this. The creation of master data should:
Be flexible enough to accommodate material types and other specific requirements,
Run as automated as possible in order to save resources and minimize errors,
Increase lead times to accelerate downstream processes,
Be so transparent that it's immediately obvious when and at what point a process has stalled and who's responsible for it.
What the Introduction of S/4HANA Means for Master Data Management
Migrating to S/4HANA offers users a number of advantages in terms of master data management. Overall, the new database software is more efficient and cost-effective to operate and opens up new use cases for companies. The biggest benefit that is immediately noticeable for users is that S/4HANA performs much better in the background than its predecessor, SAP Business Suite 7. The biggest tangible change of S/4HANA is that SAP delivers the software with the newly designed user interface SAP Fiori, for which there's also an application on mobile devices.
Furthermore, there's an important development that has a direct influence on master data management, namely the basic distinction between "debtor" and "creditor" is no longer made when creating customer or supplier data. Instead, customers and suppliers are always created and maintained in S/4HANA as "business partners". This has the advantage that the same master data record can be used for a business partner who is both a customer and a supplier. Different roles can be assigned to a business partner, for example as "debtor" and "creditor".
In addition, there are other minor changes in S/4HANA that also affect master data management. For example, several currencies can now finally be stored and the material number field can be expanded to up to 40 characters. It's also important to note that individually developed solutions from the old SAP Suite, known as Z programs, may no longer function properly after migration to S/4HANA.
How Companies Can Shape Their Migration to S/4HANA
When migrating to S/4HANA, companies can choose between three paths. The reason for these choices is that SAP offers its customers different operating models for S/4HANA. These are:
The cloud solutions SAP S/4HANA Cloud Essential Edition (ES) and SAP S/4HANA Cloud Extended Edition (EX)
The server-based versions SAP S/4HANA On-Premise managed by SAP (HEC) and SAP S/4HANA On-Premise.
Besides the cost aspect and update management, these four S/4HANA solutions differ mainly in terms of flexibility: while the Essential Edition is the most standardized, the On-Premise version offers companies the greatest flexibility in terms of set-up.
What does this mean for migration to S/4HANA? While the SAP S/4HANA Cloud Essential Edition (ES) can only be migrated with a greenfield project approach, companies can choose between a greenfield, brownfield and bluefield approach for the other versions. In practice, this means the following for master data management:
When migrating the SAP system according to the greenfield approach, you lose your old data and have to recreate it all. In this regard, businesses must assess whether this opportunity to restart with the option of completely rebuilding many processes outweighs the cost of losing the old data when migrating to the new system.
The brownfield approach is the opposite of the greenfield approach, since all historical data is kept and migrated completely into the new system. To do this, you have to ensure in advance whether the existing master data is really suitable for this step or must be cleaned up beforehand if necessary. The benefit of this approach is that it gives companies the opportunity to migrate the ERP system to SAP S/4HANA very quickly with all historical data and still be able to make the most of the new system.
The bluefield approach is a mix of greenfield and brownfield: the historical data is transferred selectively and the new system is rolled out in the company in several go-live phases, which helps to reduce project runtimes under certain conditions.
Your migration to SAP® S/4HANA
Webinar-Recording
Have you already decided to migrate to the new version S/4HANA? Then it's time to plan your project approach. In our webinar recording, you can discover which project strategy will ensure your migration is a success – request the recording free of charge now.