Vetter Pharma
Pharmaceutical production "just in time" - SAP-integrated workflow instead of paper
The formalities and documentation requirements are more pronounced in the pharmaceuticals industry than in almost any other. At Vetter Pharma-Fertigung GmbH & Co. KG, it is necessary to meet dedicated requirements and to carry out procedures for a relatively simple process such as entering a material master data number in SAP, for example. Only then can the processing of a new customer order begin.
The company based in Baden-Württemberg introduced EASY PCM Process2Design for the automatic, paper-less control of these procedures. The software holds the production preparation process together in SAP like a paperclip, accelerates the process significantly and provides a transparent view of the process status to everyone involved. Instead of a complicated form system and constant queries by email and telephone, employees work with a central workflow application directly in SAP.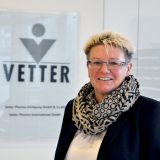 "It was important to us that even people who didn't come from the SAP world could work with the digital workflows. The EASY interface is very user-friendly, which means less training and lower entry barriers for users."

Do you want to know more about our reference story Vetter Pharma?
These references might also interest you: