For creative HR managers – EASY HR Software
The digital transformation demands a rethinking of the working world toward more flexibility and speed. In short, digital work is the goal. Human resources departments are asked more than ever to reduce manual routine tasks and instead to develop personnel work strategically in order to contribute an important part of the company's success.
Whether start-up, mid-sized company, or big corporation: with the complete EASY HR Software, you always have a handle on every personnel process, from recruiting to self-services.
An overview of our solutions
Beyond the advantages of digital personnel files, our solution supports all of your HR processes, from recruiting to personnel management to self-service applications. The individual processes can be flexibly adapted to meet all of your needs.
Good reasons for introducing the integrated EASY HR solution to your human resources department.
On the secure side for the EU-GDPR
Growing requirements both on the part of the company itself and on the part of legislators make classic processes in human resources management increasingly complex. A variety of laws likewise affect the handling of personnel data. In addition, manual processes do not have secure control of access rights.
Our HR software supports you in observing legal requirements and internal company guidelines. With EASY, you are able to archive sensitive employee data in compliance with data protection laws and revision-proof.
"I wanted a specialist from the HR environment. Someone at my level, who knows what they're doing and understands and supports my HR processes. User-friendliness was one of the leading arguments for EASY.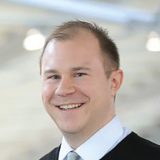 Digital HR department with EASY HR software
Managed Services
As a service provider, EASY also offers their solutions as managed services.
Cloud as a Service
Are you looking for a Cloud-based solution? Learn more about EASY's offers from the Cloud.
We would love to hear from you