Good customer relations with digital customer master data creation in SAP®
Clean customer master data are essential in order to be able to process customer orders quickly and efficiently. Only then can customer orders be handled smoothly across all markets and channels. Satisfied customers are the "cherry on top". With our EASY Customer Creation Process solution, you can digitize your customer master data creation process in SAP® and control it intelligently.
Benefit from correct customer master data
When you handle customer orders, you rely on customer master data in a variety of process steps – from the customer query to the availability check and delivery and on to payment.
The challenges in the manual creation of customer master data
In practice, new customer master data often come through "chaotic" processes in SAP® SD (Sales and Distribution), because the necessary information is rarely bundled, but rather usually present in emails and caller records. Therefore, errors can result from the manual transmission of the data to the SAP® system.
In addition, the time and expertise to check if existing customer data can be used or updated are frequently lacking. Instead, employees often create redundant master data.
The effort of providing customer master data to the necessary sales areas and company codes should also not be underestimated.
The digitized creation of customer master data increases your performance
With EASY Customer Creation Process, employees are able to start the customer master data creation process easily and compile all the information in the digital process before it is automatically entered in SAP®. As a result, it is always possible to document how the new data entered the system. In addition, a duplicate check helps prevent redundant customer master data in SAP®. An simple interface in which only the fields you actually need are visible increases the satisfaction of both occasional and experienced SAP® users.
Fully integrated in SAP®
No programming knowledge is needed for the EASY Customer Creation Process. The process can be adjusted in consultation with the employees to meet their needs.
Our process supports your SAP® technology 100 percent and uses the SAP® Business Workflow, so that no further training is needed. EASY Customer Creation Process requires no interfaces or additional hardware. Our solution also uses the existing privileges or role concepts in SAP®. Additional features are multiple languages and Unicode-capability.
The advantages at a glance
Structured creation of customer master data
Participating departments are automatically included in the workflow
Easy and adjustable interfaces
Validation of the customer master data
Automated duplicate check
Automatic customer master data creation for multiple sales areas
Approval history shows the exact process flow
360° process transparency: the process statistics show the point at which the process currently is in real time. As a result, bottlenecks can be identified early
You can adjust the process flow to meet your needs with no trouble
An optimized creation process works this easily
1. Customer data record
A field service employee would like to record a new opportunity and needs a new customer to do so. They enter the basic data and perform a duplicate check.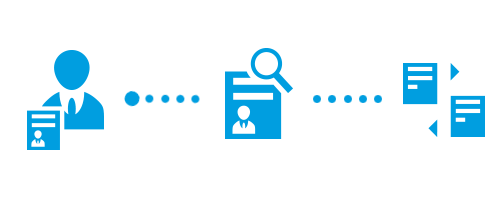 2. Enriching the customer master data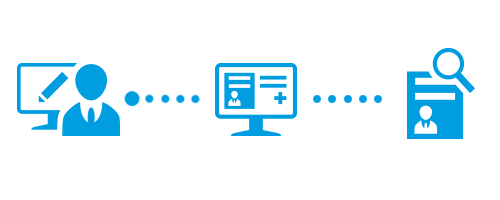 A sales office employee expands the customer master data in accordance with the internal specifications and has them checked. Alternatively, the data could also be automatically added via customizing tables.
3. Check data quality
In order to increase the data quality, a sales inspection team can double-check the entries before the new customer master data is actually automatically entered in SAP®.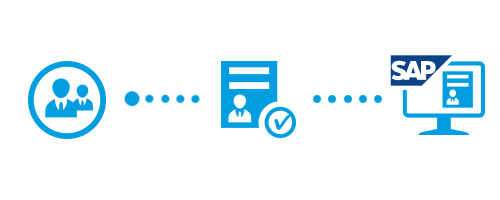 4. Company code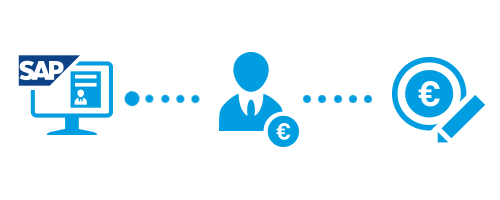 Accounting maintains the company code data. Alternatively, these data could also be entered automatically via customizing tables.
5. Credit rating and dunning
Credit rating, sanction lists, and dunning can be optionally integrated.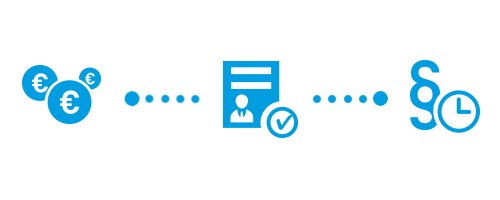 6. Data creation in SAP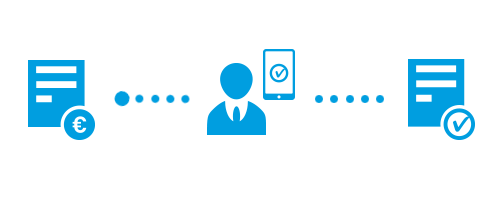 Then the customer is automatically entered into SAP® (in the company code and, if applicable, in multiple sales areas)
Discover useful whitepapers, webinar recordings, guides and checklists on master data management.
Master data is basic information about all operationally relevant objects such as customers, suppliers, employees and products. All other data in the company can only be used in a meaningful manner if it is linked to the correct master data. We have learned from experience that unclean master data is one of the primary reasons why digitalization initiatives fail.
You have recognized that clean material master data leads to success in your company? Now it' s time to move on to the next steps: The selection of a suitable service provider for the digitalization of your material master creation process.
You have always wanted a tailor-made software for SAP solutions? Good News! – It is possible with EASY Material Management
Bei Verkaufstransaktionen oder im Falle von Rechtsangelegenhei­ten ist es ein immenser Vorteil, wenn die Papiere nicht landesweit in den Forstbetrieben verteilt sind, son­dern zentral vorliegen.
SSI Schäfer Shop GmbH, one of the leading mail order companies for office equipment in Europe, receives 800 invoices per day. The quantity is a challenge from an accounting point of view. Regardless of whether invoices arrive by mail or e-mail, they must be transferred directly to the SAP ERP system.
At ÖBB, EASY SOFTWARE implemented a digital HR solution. The goal: Complete digitization of core processes in the HR division.