Optimizing SAP® master data
Efficient creation, maintenance and administration of material master data
Reduce errors in master data management
Material master data are an essential component of all SAP® logistics processes in companies. Ideally, they are up to date, correct, and reliable. But if they are flawed, it will affect every operating process in your company.
Employees often have to struggle with errors and duplicates, because creation and maintenance in SAP® MM® is elaborate and complicated. A wide variety of data are maintained by different departments, such as Purchasing, Sales, and Dispatching. The countless plant views and input fields are often an unreasonable demand, especially for occasional SAP® users!
Redundant, outdated, and erroneous material master data in the manufacturing industry lead to incorrect deliveries and material shortages, which in turn lead to significant disruptions to business processes in materials management. The result is dissatisfied employees, dissatisfied customers, and superfluous costs.
A solution for your material management
EASY Material Management is integrated 100% in SAP® and thus supports the IT platform strategy in reproducing as many company processes as possible in one system: a homogeneous IT and process landscape should minimize technical and organizational problems in interfaces, thus significantly reducing operating costs.
Improve the quality of your SAP master data with EASY
With our EASY Material Management for SAP Solutions you receive permanently better data quality. You can shorten cycle times in production and the supply chain in next to no time and gain the transparency you need for your individual role.
Clean, correct database: All necessary fields are filled
No duplicates: Only material masters that do not yet exist are created
Clear responsibilities with data governance: Each department has its own view of maintenance
Automated processes: Notifications are sent, 360° process transparency
Control and escalation of material master creation processes
Full integration in SAP: no further programming knowledge required; access via SAP or Web, available on all mobile devices
Best practice workflows in one product
Vetter Pharma
Pharmaceutical production "just in time" - SAP-integrated workflow instead of paper
Fully automated material management in four steps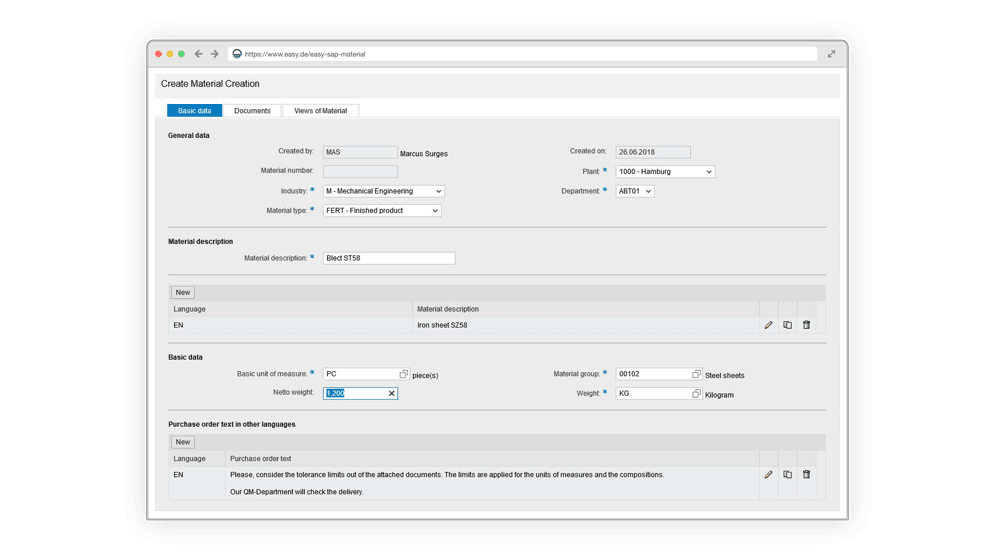 Request material
An employee – an engineer, for example – requires new material and fills out the basic data 1 & 2. They see only the fields which are important to them in their customized view. If needed, they can attach documents to the request.
Approve material
The master data center receives a "work item," checks the request, and can return it to the requester if there are errors.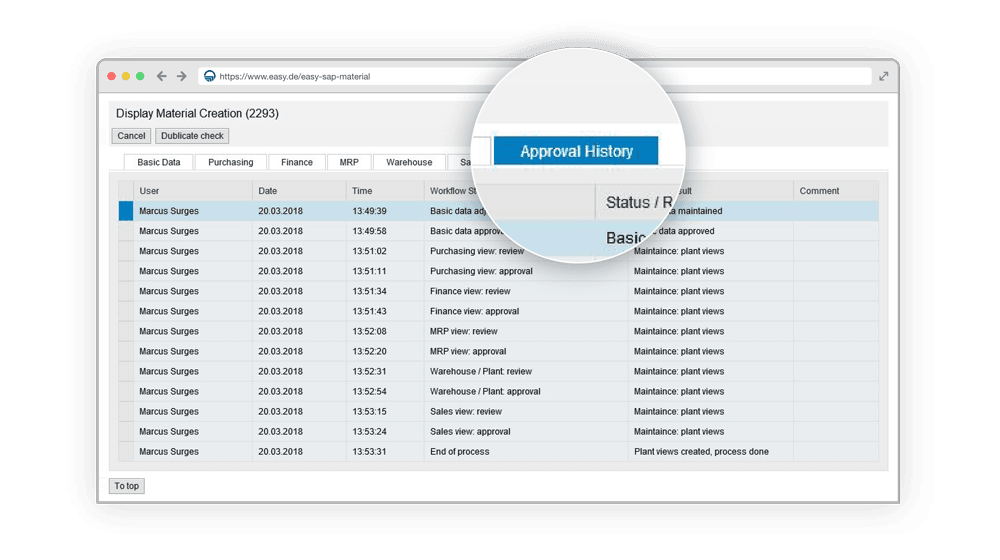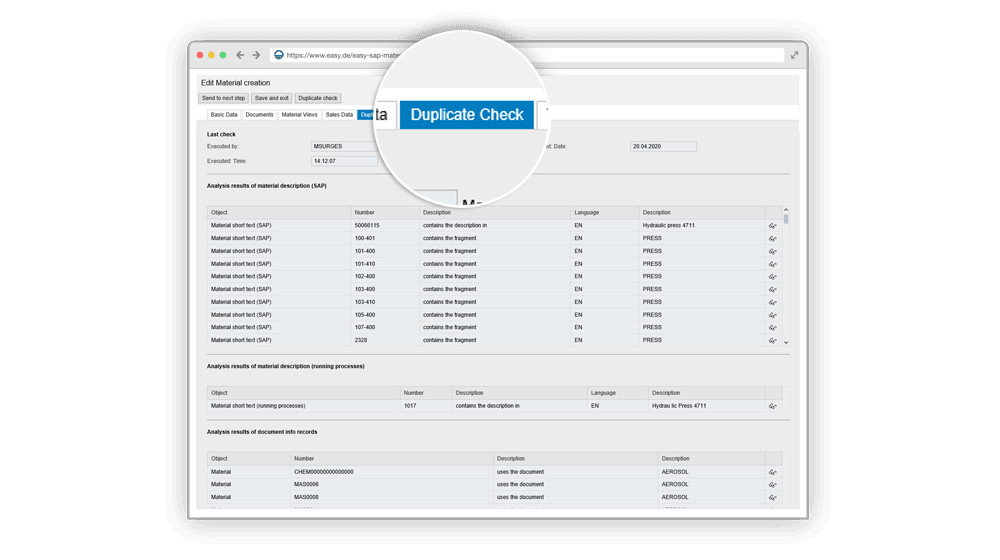 Duplicate check
The system proactively indicates potential duplicates. The material descriptions and drawing numbers are used, among other things, for the check. The check can be individually expanded entirely according to your requirements.
Cross-plant
Basic data, classification data, and document links are created completely automatically for all company's plants, not just one.
Plant-specific
Different plant views can be defined through a control table, independently of the material type. The system creates the relevant views for the defined plants completely automatically. Individual departments, such as Purchasing or Dispatch, can also be custom controlled to maintain plant views manually.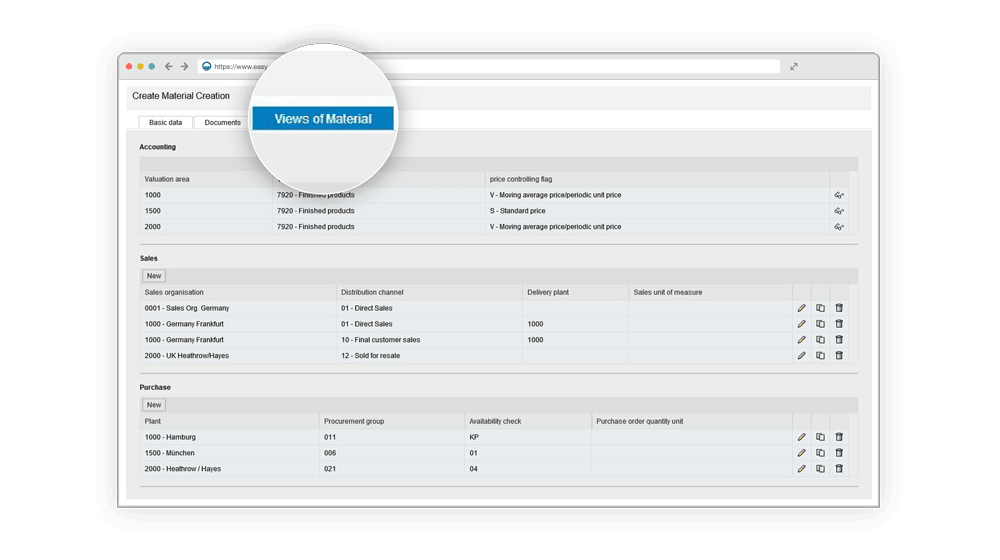 Discover how EASY Material Management can support your company.
Standard project phases
EASY Material Management is developed on the EASY Process2Design® platform. The platform enables your company to easily, quickly and flexibly design, maintain and evaluate individual business processes. This technology enables standard projects to be implemented in the shortest possible time. Depending on the size and complexity of your company, the duration of a project may vary.
Plan your investment with EASY and make an appointment for a return-on-investment analysis.
Project Overview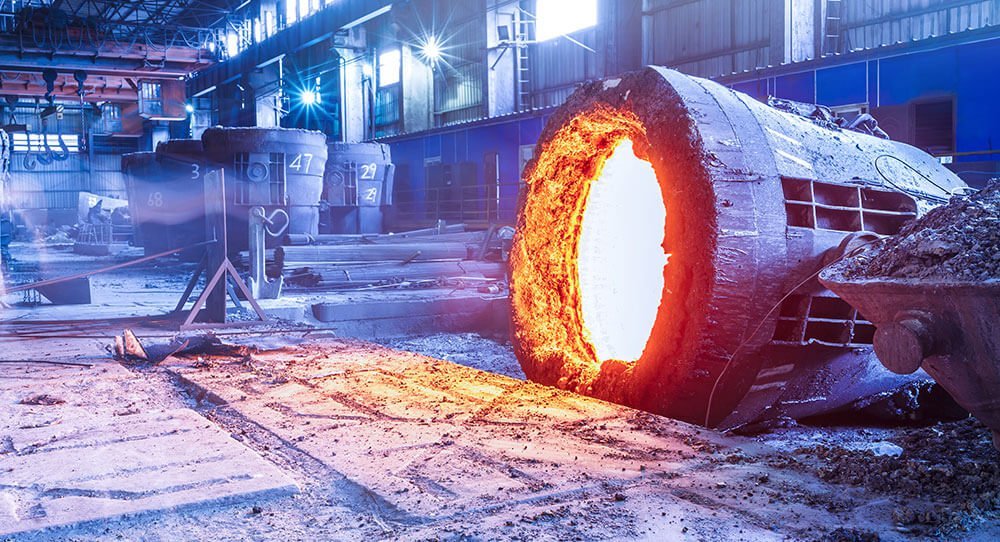 Equipment manufacturers steel industry
The quality of the master data is crucially important, particularly in global plant engineering. Because only through optimized SAP master data and high transparency – in the form of quickly "purchase requisitionable" materials in the system, for example – can critical advantages be generated. In the case of this EASY customer, that includes, among other things, an annual reduction of process costs in the high six-figure range and significantly reduced personnel costs.
5 SAP® systems migrated to 1 S4 / HANA® system, global use
15,000 material master data per years
10 plants around the world
200 process participants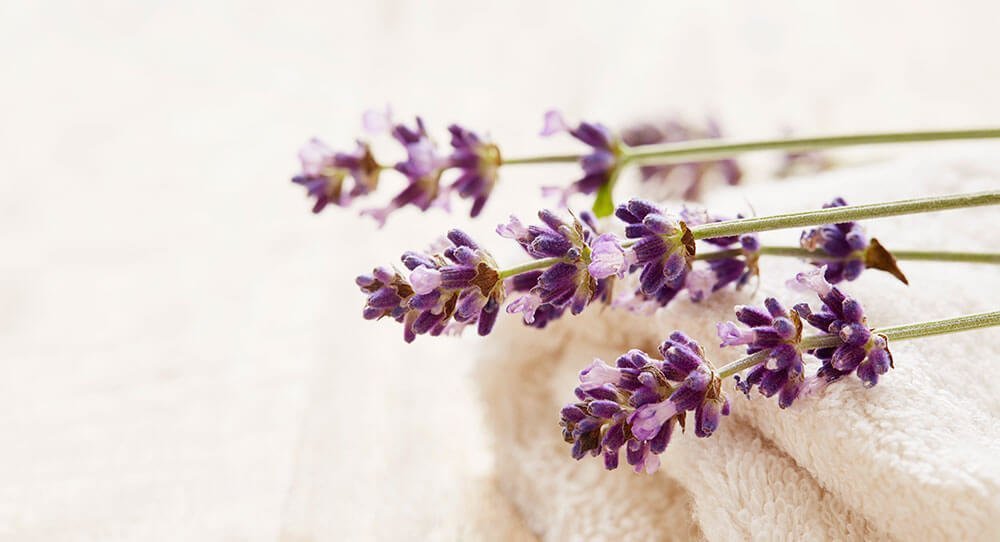 Cosmetics industry
In a large cosmetics company which markets in 23 countries around the world, the material master system and material destruction process take on whole new dimensions, because new products are added depending on the season and herbal medicine products have a limited shelf life as well. The EASY solution used here for automated material master systems and material destruction shortens the cycle times and provides transparency through efficient process documentation.
1,500 material master and bill of materials recording processes per year
Material destruction process
Multilingual (including Japanese)
2 production plants in Germany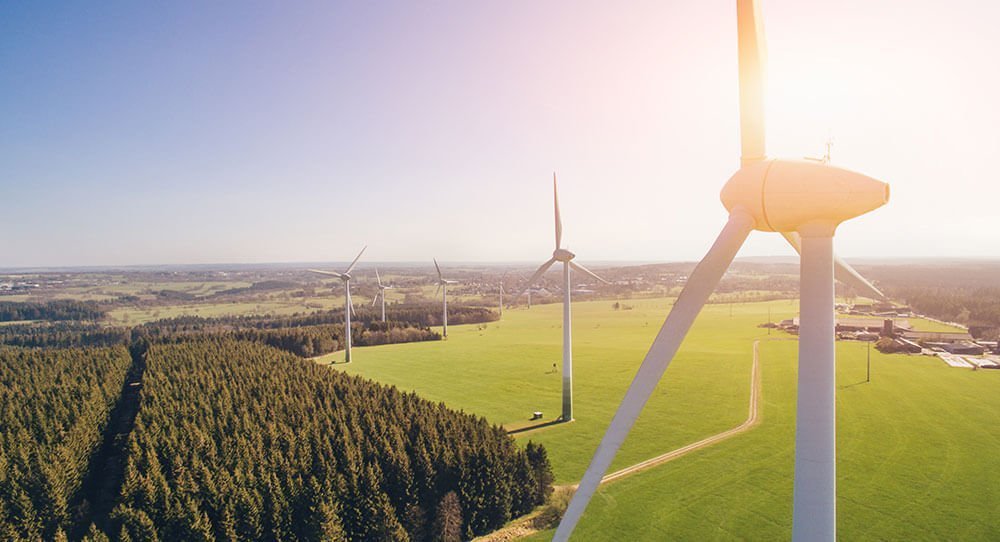 Wind energy
The expense of product changes is generally very high, since all departments, from development to purchasing, check if materials were ordered, if a change is technically feasible and if it is economically profitable. The customer had to struggle with several phone calls, e-mails and five different order forms. Thanks to the EASY solution for digital change management in SAP, the process is now coordinated and flows quickly.
Corporation (4,000 employees)
Elimination of paper and media disruptions
Evaluation of change implications from all relevant departments (Procurement, Production, Engineering, Sales, Service)
Integration of the SAP change service for performing the adjustments on the systems
Gerneral questions about EASY Material Management for SAP Solutions
Technical questions about EASY Material Management for SAP Solutions