Optimizing SAP® master data
Time for sanitized material management with the EASY solution for SAP®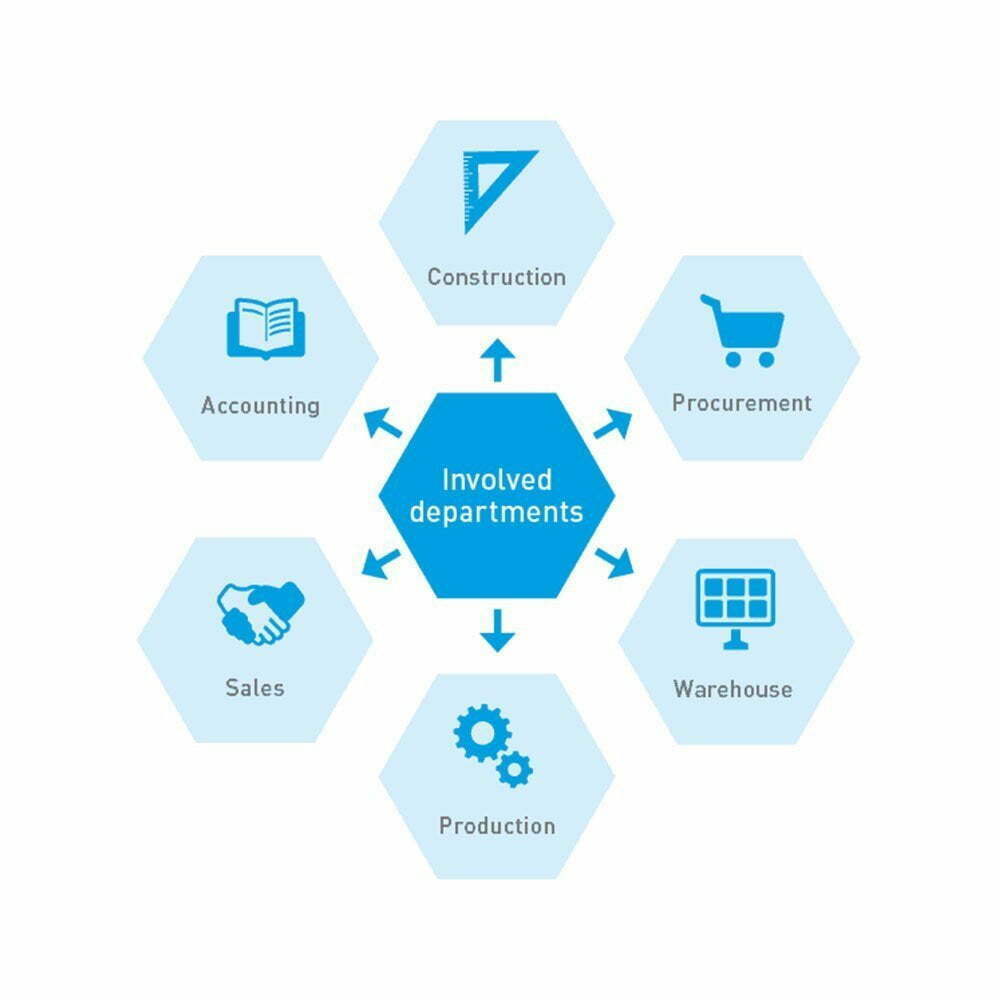 Who benefits from sanitized master data in SAP®?
Material master data are an essential component of all SAP® logistics processes in companies. Ideally, they are up to date, correct, and reliable. But if they are flawed, it will affect every operating process in your company. Purchasing employees in particular suffer from master data which are redundant or have been recorded multiple times, thus quickly losing an overview.
Do you use SAP® MM in your company and wonder how you can optimize, automate, and simplify your SAP® master data? We have the solution!
Reduce errors in master data management
Data users often have to struggle with errors and duplicates, because creation and maintenance in SAP® MM® is elaborate and complicated. A wide variety of data are maintained by different departments, such as Purchasing, Sales, and Dispatching. The countless plant views and input fields are often an unreasonable demand, especially for occasional SAP® users!
Redundant, outdated, and erroneous material master data in the manufacturing industry lead to incorrect deliveries and material shortages, which in turn lead to significant disruptions to business processes in materials management. The result is dissatisfied employees, dissatisfied customers, and superfluous costs.
Material Management 4.0: Discover opportunities for automated production
Master data has a life cycle. This requires an organizational structure, design and documentation. Despite the use of software solutions such as SAP® MM®, there is often a poor database in production. Low data quality delays processes and drives up costs.
In this whitepaper you will learn what clean material master data means for your industrial production and how you can create the basis for a fully digitized company.
Improve the quality of your SAP master data with EASY
Time for a change! With our EASY Material Management solution you receive permanently better data quality. You can shorten cycle times in production and the supply chain in next to no time and gain the transparency you need for your individual role.
Get your free webinar recording
A feeling of lightness – Material Management in SAP® with EASY SOFTWARE
Would you like to greatly improve the data quality in your company?
Would you like to avoid duplicates and long wait time due to time consuming paper processes?
Then our webinar is the right place for you!
Fully automated material management in four steps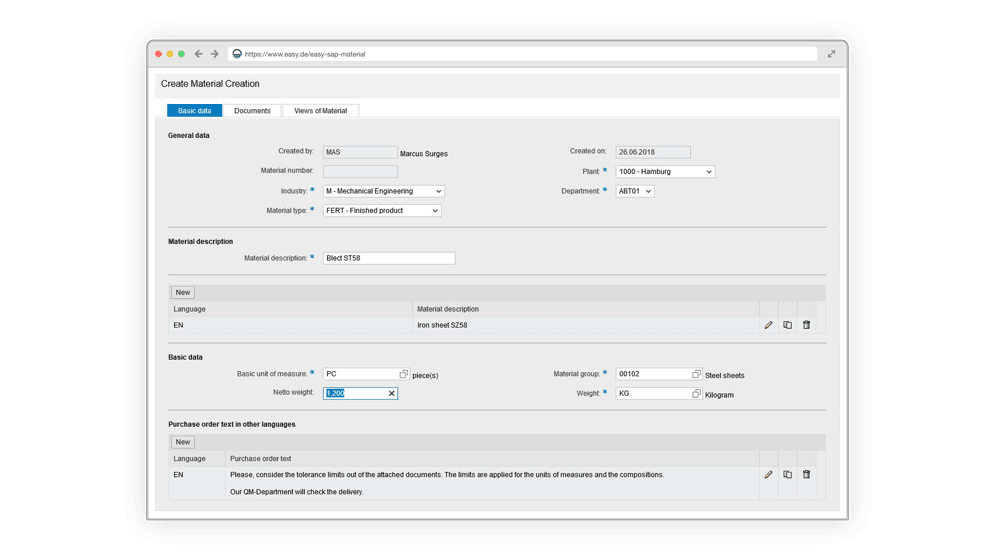 Request material
An employee – an engineer, for example – requires new material and fills out the basic data 1 & 2. They see only the fields which are important to them in their customized view. If needed, they can attach documents to the request.
Approve material
The master data center receives a "work item," checks the request, and can return it to the requester if there are errors.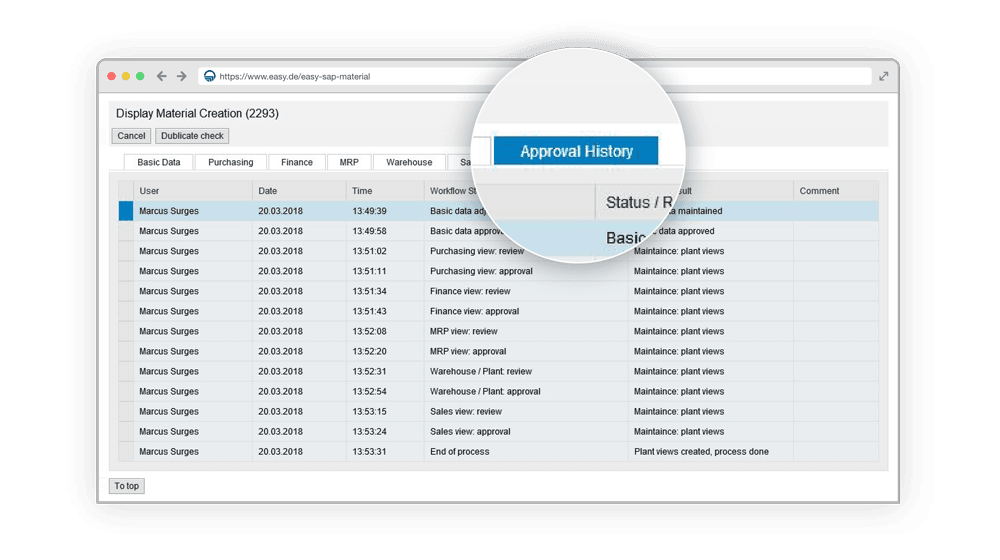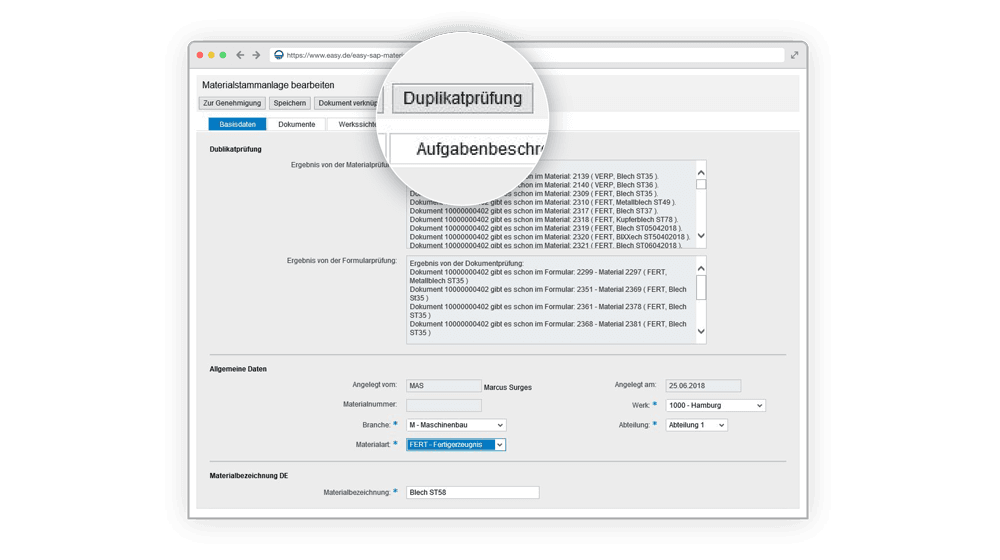 Duplicate check
The system proactively indicates potential duplicates. The material descriptions and drawing numbers are used, among other things, for the check. The check can be individually expanded entirely according to your requirements.
Cross-plant
Basic data, classification data, and document links are created completely automatically for all company's plants, not just one.
Plant-specific
Different plant views can be defined through a control table, independently of the material type. The system creates the relevant views for the defined plants completely automatically. Individual departments, such as Purchasing or Dispatch, can also be custom controlled to maintain plant views manually.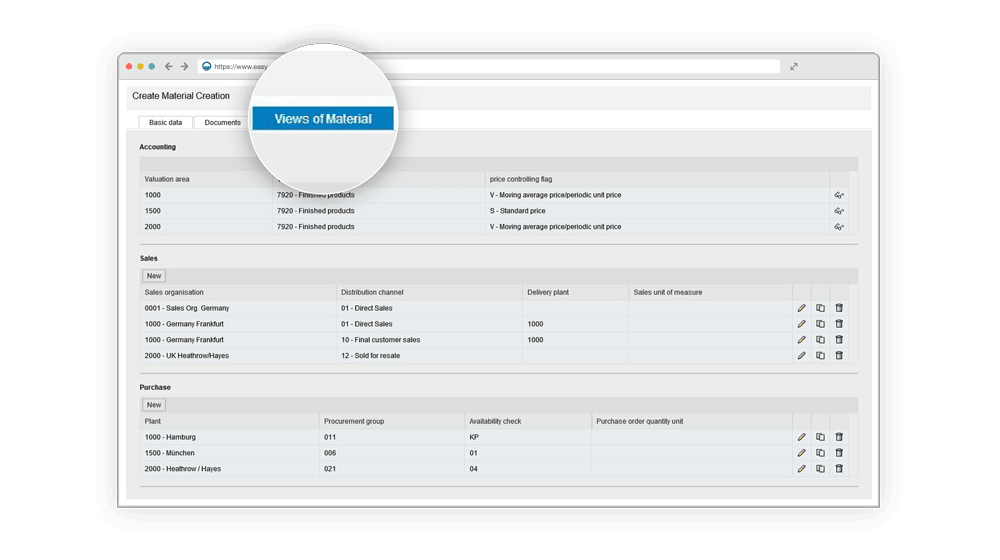 A solution you won't want to do without
EASY Material Management is integrated 100% in SAP® and thus supports the IT platform strategy in reproducing as many company processes as possible in one system: a homogeneous IT and process landscape should minimize technical and organizational problems in interfaces, thus significantly reducing operating costs.
EASY in use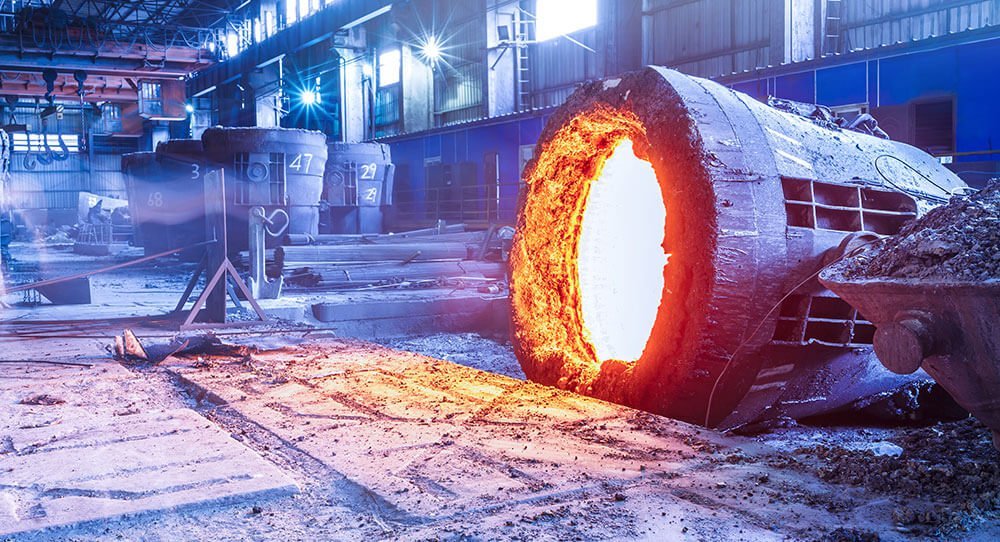 Equipment manufacturers steel industry
5 SAP® systems migrated to 1 S4 / HANA® system, global use
15,000 material master data per years
10 plants around the world
200 process participants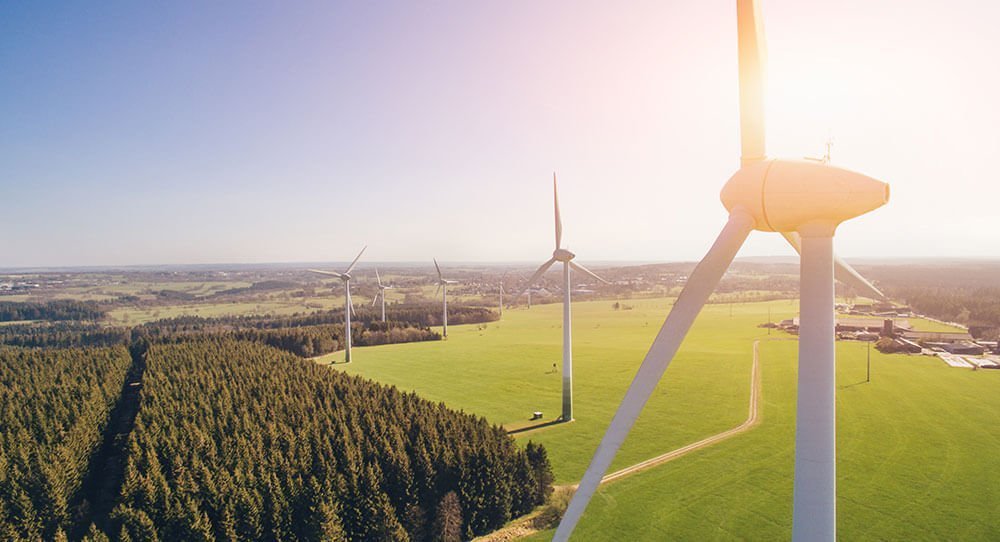 Wind energy
1 SAP® system, global
Approximately 5,000 material master data per year
6 plants worldwide
100 process participants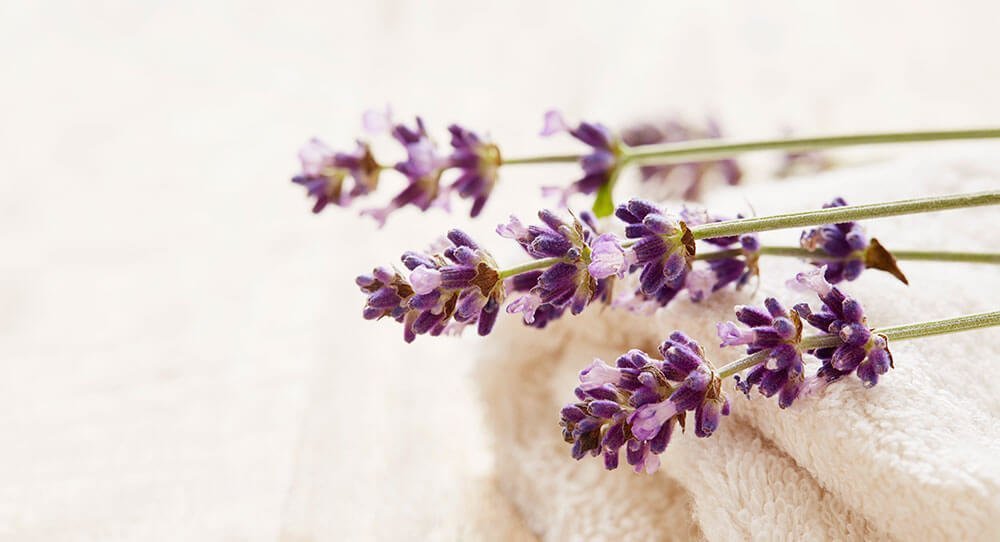 Pharmaceuticals/cosmetics
1,500 material master and bill of materials recording processes per year
Material destruction process
Multilingual (including Japanese)