The ApiOmat has recently become an integral part of EASY SOFTWARE. The EASY ApiOmat combines the best of two worlds. It is an enterprise Backend-as-a-Service (BaaS) and a mobile multi-experience platform at the same time. Buzzwords? No, a cleverly combined idea from new technologies.
As a Backend-as-a-Service, ApiOmat combines a variety of systems through standardized communication and brings digital services to the market significantly faster – using low-code development. With that, the EASY ApiOmat is the perfect tool for rapidly changing markets in which customer focus enjoys the highest priority and new business models must be tested at an accelerated pace and iteratively adapted.
Enables project accelerations of up to 95 percent. Gartner listed the ApiOmat in the Magic Quadrant for 2018 as a pioneering technology platform for good reason.
Quo vadis: What changes companies, what moves them?
It is true for almost every business: the shorter the time from business idea to market entry – the time-to-market – the better. Because others may be working on the same idea. Or is the time calculated for the digitalization program enough? Being two steps ahead there and having a clear calculation basis saves time, money, energy and ultimately leads to success.
This is exactly where the strengths of the EASY ApiOmat lie. There are only a few moments – compared to traditional project development approaches – from the idea to the implementation. At the same time, the ApiOmat picks up the idea of the "digital twin" (Gartner, Top 10 Strategic Technology Trends for 2017). Physical and non-physical objects can be modeled digitally and significantly improved. Space for new business models emerges – and so does the opportunity for customer services, indeed for services of every kind.
That way, the ApiOmat facilitates the trend toward more customer orientation and excellent services that can be seen and felt everywhere. Knowing full well that service quality also increases the demand for services, which in turn inspires a corresponding willingness to pay for good services – a typical win-win situation, which leads to tremendous opportunities.
ApiOmat – the enabler
Rapid description of the data sources within the BaaS, permit project accelerations of up to 95 percent. Gartner listed the ApiOmat in the Magic Quadrant for 2018 (Magic Quadrant 2018) as a pioneering technology platform for good reason. But what is the secret behind this revolutionary idea? What puts the ApiOmat in the fast lane?
ApiOmat as a scalable enterprise Backend-as-a-Service
By default, the ApiOmat has a number of standard interfaces. Push notifications, integration in CMS systems or social media platforms are naturally present. Does the front end of your business idea require push notifications – it is easier than plug-and-play. Mark that service for your service with the click of a mouse, no matter what front end it will ultimately "live" in. But that's not all. Do you also need a link to a Cloud service with AI functionality, such as Amazon AWS Machine Learning or simply a Google Cloud platform or other service? No sooner said than done. Just a few mouse clicks create the link to approximately forty connectors – from SAP to Oracle to Microsoft and many more. And we register new additions every week. It is that easy to implement APIs for microservices, apps and more – the perfect basis for your business idea has never been faster and easier. By the way, changing project requirements are also easy to implement in the course of a project – does your microservice need another API? EASY ApiOmat has it, because the name says it all.
As easy as it is to get your business idea started, it is just as easy to meet its hopefully growing popularity. Sudden peaks and growing user numbers are no problem. You can make more resources available in no time with ApiOmat. Et voilà – ApiOmat scaled as a solution, problem solved. Whenever you need it. Iterative adaptation and growth are part of the key characteristics of the ApiOmat. And the best part is that the backend services are hosted on AWS or a private Cloud in Germany – and gladly even in your company's private Cloud.
Monitoring: 360° view of accesses and resources
Keep an eye on everything. The IT governance of the ApiOmat controls employees' access to resources; an advantage not to be underestimated, especially for large companies, for example in the onboarding process. Of course, the ApiOmat has a fine-grained role and rights concept. Certain user groups only need certain rights. You define the specific roles and assign those roles to the user groups. The audit log provides you an overview of changes to the source code and backend accesses at any time. Perfect for the basis to meaningful reporting or maintaining compliance guidelines or as part of the "provision of data" for the GDPR.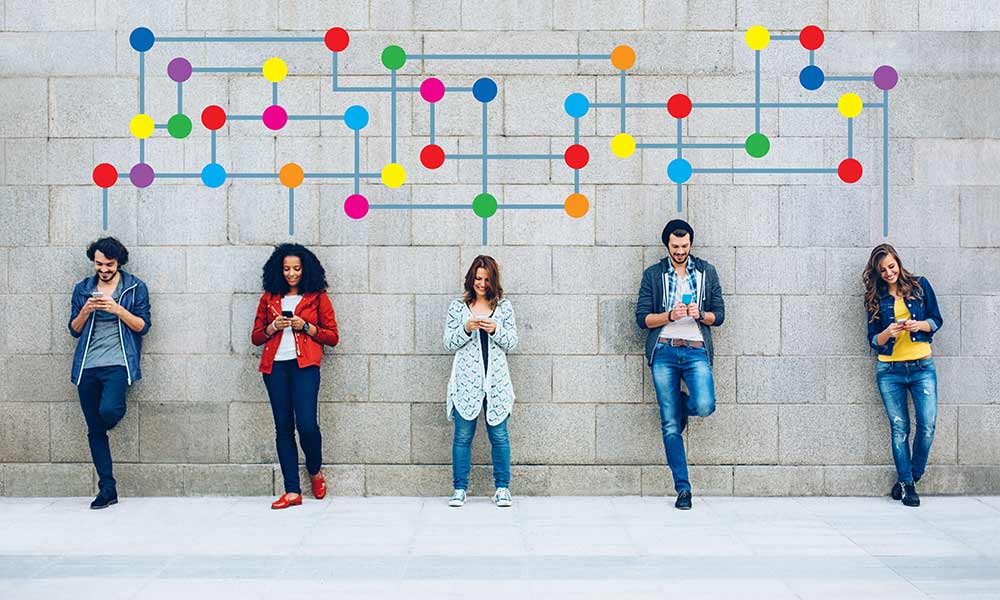 Measure service success – thanks to the analytics layer
Even in early test phases, you would like to know how key users are receiving the service idea, for example materialized in an app. With the integrated analytics experience management, you can immediately see how the user acceptance is turning out and what is working – or not. The big advantage is that you can quickly spot mistakes in the user navigation, and program changes are just as quickly updated.
The kickstarter: multi-experience – for every device, for every service
One tool to rule them all, no matter if it's websites, wearables, chatbots, voice assistants or just an app for your business idea – the ApiOmat makes it easy and provides individually generated and well-documented SDKs for the front end development. Be it for iOS/Android, Backbone.js or native JavaScript, etc., from now on front end developers can focus entirely on their main task – creating a perfectly operated, extremely good-looking user interface. As a reminder, the interfaces for the apps are already defined in the Backend-as-a-Service of the ApiOmat. All it needs now is a front end. And that can be created in the shortest possible time with the ApiOmat. Low-code is the key word and the magic word. With it, you can reach your goal three times faster – to the finished app, the prototype that can be tried and tested by key users. The perfect basis for a really agile development process in which iterative improvements and error corrections flow back into the app. That is how you get to the finished product as quickly as possible.
Summary: Experience technology now – and use it!
With all these lovely words, you must be wondering if this is all just hype. The answer is a clear, "No." From the user's point of view, the ApiOmat has impressed – you can read how simple and fast our customers have implemented their innovative and digital ideas here (reference customers).