Invoice processing is a routine process that is perfectly suited to standardization and optimization. Unfortunately, this is easier said than done. Most organizations receive invoices in a wide variety of formats – including paper, digital PDFs and electronic invoices in different formats. All of these must find their way into the SAP system so that you can enter, check and approve them there.
Would you like to optimize and digitalize your invoicing process? If so, you're in the right place! In this blog post, you will learn about the challenges posed by manual invoice processing and what an alternative, digital solution can look like.
Three Challenges in the Manual Processing of Incoming Invoices in SAP
Companies have often developed paper-based invoice processing systems over the decades. Even after the introduction of ERP systems such as SAP, many businesses still stick with their established processes. Unfortunately, these can cause serious problems, which are becoming more and more apparent due to digitalization.
1. Inefficient and slow
Manually entering and processing incoming invoices in SAP is complex and incredibly time-consuming. The process is often slowed down by long idle times. Invoices pile up in the accounting department because they are not processed immediately. In addition, manually checking and approving invoices requires a lot of effort and time. Approvals become a bottleneck in the process and unnecessary pressure is exerted on employees who are authorized to grant approvals.
As a consequence, the accounting department has a hard time preparing month-end and year-end closings in a timely manner and presenting concrete figures for cash flow planning. There is no reliable overview showing which payments are due in the near future.
2. Lack of process transparency
It's not easy to see the status of each invoice in a paper-based process, which makes it tricky to provide information on current transactions. Employees must tediously search through folders or ask colleagues to find out the status of an invoice.
As a result, you cannot guarantee reliable budget and cost control. This also poses a threat to compliance. It's much more difficult to track whether you're adhering to guidelines during the process.
3. Error rate
Paper-based processes are often a source of error, which can be expensive if missed due dates lead to delay costs. Discount deadlines are also sometimes overlooked. In some cases, employees enter invoices more than once, and, in the worst case, end up paying them twice. Although incoming invoices have a retention period of ten years, you can easily lose originals during a manual process.
But there are other ways, as we will explain in the next section.
The Alternative: The Digital Invoice Management Process in SAP
A digital processing procedure for your incoming invoices has the potential to eliminate the problems mentioned once and for all. Here, we describe what such a process could look like in detail, using easy Accounts Payable for SAP Solutions as an example.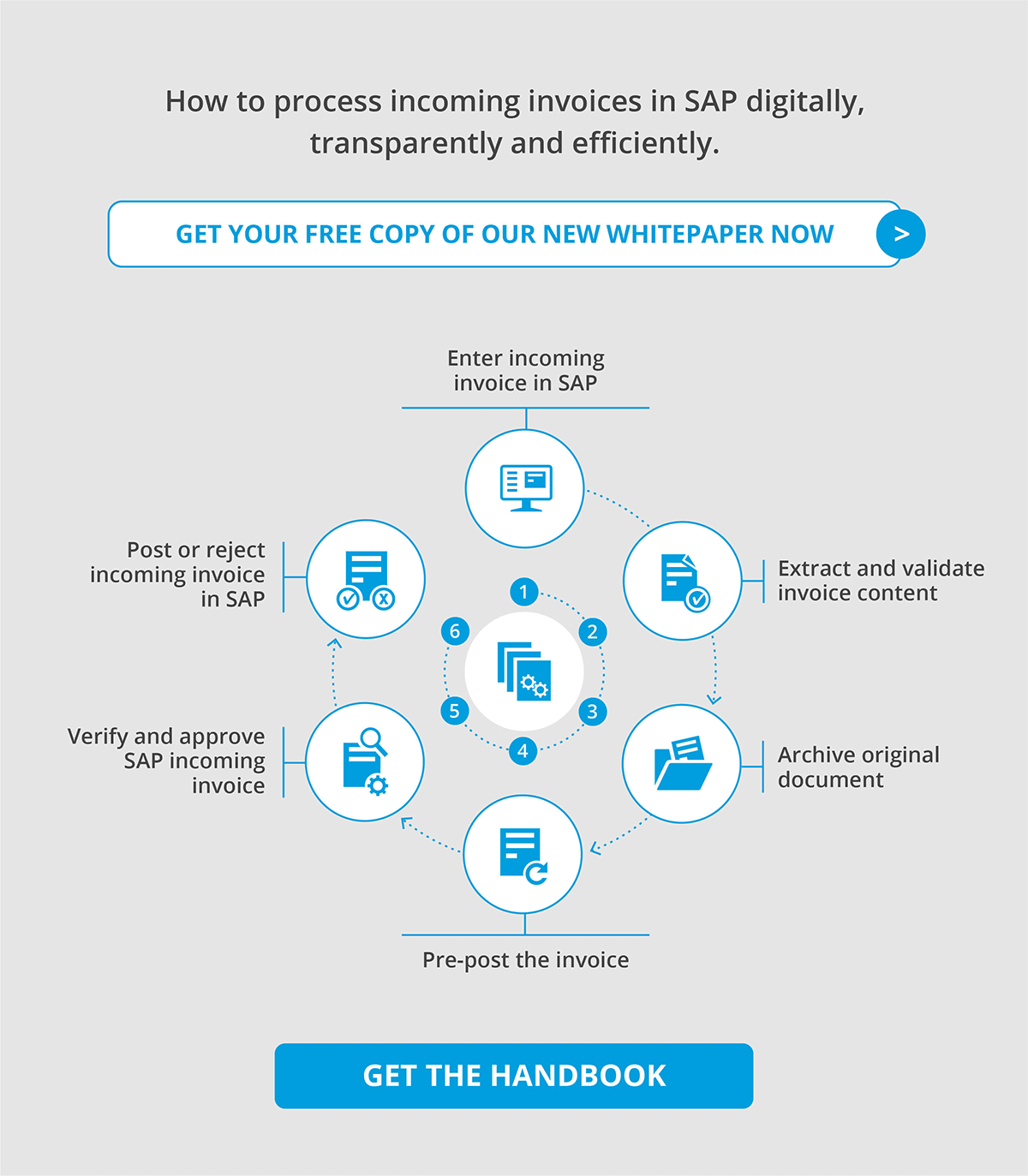 1. Enter incoming invoice in SAP
Companies receive incoming invoices in three formats: on paper, by email as a PDF or in an electronic invoice format (e.g. ZUGFeRD-1.0, ZUGFeRD-2.0, XRechnung and EDI). Paper invoices must first be scanned, while other formats can be processed directly. Successful solutions for SAP incoming invoice processing are characterized by the fact that they also enable decentralized, location-independent invoice capturing.
2. Extract and validate invoice content
You can do this using free-form recognition. The software extracts all important invoice content, such as the vendor, total amount, the invoice date and the individual invoice items.
The recorded data is then automatically checked for validity. Validation takes place using master data and transaction data from the SAP system.
3. Archive original document
The original invoice is now stored in a digital archive. This archive is audit-proof, as you cannot change the document once it's been archived. The paper invoice can then be destroyed and no longer needs to be stored. This not only saves space and costs in the long term, but also ensures you observe the company's compliance guidelines. This way, the process becomes verifiable and audit-ready.
4. Pre-post the invoice
In the next step, the invoice is automatically made available in the SAP electronic invoice receipt book. This is an interactive invoice cockpit that provides a transparent overview of the status of the individual invoices.
5. Verify and approve SAP incoming invoices
A flexibly configurable check and approval workflow will now start in SAP for each invoice. This workflow depends on value limits and responsibilities and contains, among other things, an automatic check in accordance with the applicable Value Added Tax Act. If necessary, you can also perform this check when extracting the invoice content (see above).
Departments can easily adapt the workflow to their needs. It can have almost any number of steps. In the case of invoices with an order reference, background processing is also possible; for example, triggered by a three-way match. This means that the system automatically checks and grants approval, without any human intervention. This saves employees and approvers both a lot of time and effort.
6. Post or reject incoming invoice in SAP
To make the subsequent posting of the invoice as simple as possible, the system automatically proposes account assignments and allocation to cost centers. Multiple account assignment (splitting) is also possible in this step.
If you want to reject an incoming invoice in SAP, you can generate a suitable rejection letter using the document generator filled with templates and text modules. With an SAP incoming invoice solution, you achieve accelerated processing and consistently high-quality results.
Solution: EASY Accounts Payable for SAP Solutions
The process described above is completely implemented in the easy Accounts Payable for SAP Solutions. This software provides largely automated processing of paper-based and electronic incoming invoices.
The benefits are clear:
Your invoices are stored in an audit-proof manner throughout all processing steps and you can access them at any time with just one click.
The SAP-based invoice receipt book supports your accounting department in their daily tasks.
Approvers can access a web-based approval mask that is available on smartphones and tablets if necessary.
The system automatically reminds you of discount periods and due dates to avoid default costs.
Extensive KPIs are always available and facilitate long-term process optimization.
The system enables a fast-close for lean and quick month-end and year-end closing.
The administration of the SAP incoming invoice solution takes place in the SAP rhythm: rights management obtains roles and rights directly from the SAP authorization system, which provides an important advantage when it comes to compliance.
Conclusion
If you are working on digitalizing your business processes and are an SAP user, then incoming invoice processing is a procedure that you can map electronically with little effort and a high ROI. We typically implement SAP incoming invoice projects within two months.