Multi-experience – everything under one roof
As a universal bank, LBBW serves all customer groups with a comprehensive range of services. LBBW's key services include commercial and private financing, as well as asset, cash, and risk
management.
LBBW's new customer portal offers a future-looking and smooth user experience. According to Thomas Löffler, IT manager for LBBW's Commercial platform, LBBW is extremely satisfied with the current status of the project and the collaboration with EASY. In addition to the existing features, the result of the collaboration is a worthwhile basic investment that offers even more exciting opportunities for expansion. Among other things, the provision of further LBBW services via API is planned for the future. LBBW praises the agile way the EASY ApiOmat team works; the team prioritized the rapid implementation of goals instead of evaluating for a long time.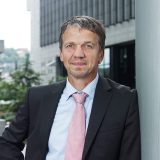 With the new LBBW portal, we are offering our users a flexible digital service that
meets the work practices of the future. (…) The customer portal created with EASY provides exactly these features in one single all-inclusive package. The resulting increase in flexibility and ease of use boosts customer demand; at the same time, the increased efficiency reduces LBBW's processing time. Companies must expand their digital infrastructure in good time with a focus on the future. This is the only way they can permanently assert themselves in a national and international competitive environment. With EASY, we see ourselves as well equipped for this challenge.

Download Customer Success Story
These references might also interest you: